My kids (like many other kids… lol) love toys!! Andrew and Ethan spend countless hours playing each day with their toys.  For Andrew – he's mostly into things with wheels and trains and cars and whatnot; but Ethan's mind is an OPEN slate.  He just loves anything that goes into his mouth nicely

While visiting a local store recently: Andrew and I discovered a new style toy that he loves.  And those toys are made from Playmobil.  What AMAZING detail and thought that goes into these toys – they are simply awesome.toys.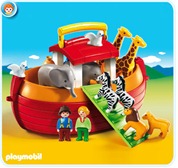 Being that Andrew is only 2 1/2 and Ethan is just a measly 7 months, we didn't want to get started with the big elaborate toys with lots of pieces that they can choke on – so we looked for some toys in their 1.2.3 line –  made for kids under 3.  I got in contact with the Playmobil Rep and we were able to review the 1.2.3 My Takealong Noah's Ark set!
While these toys aren't as exciting for mom and dad as a really cool big kids set would be, they are still fun and really exciting for the boys.  Andrew loved playing pretend and walking the animals up and letting them 'slide' down the ramp, exclaiming 'WeeeeEEEE!!' for them.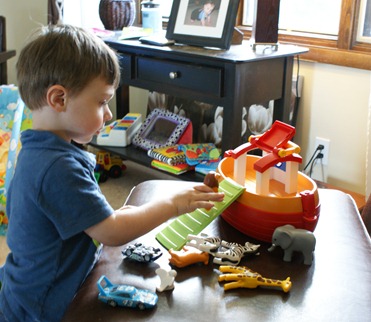 Ethan, While we made animal noises at him and held them up to him – he just wanted to eat them

I'm sure he'll love playing with these too – eventually!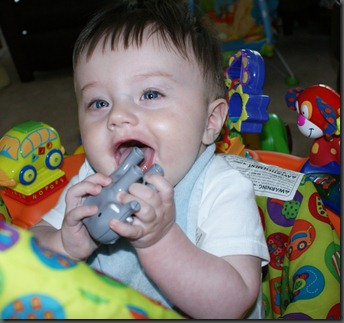 A few fun and practical things about this Noahs ark is that all the toys can hide inside, and then there is a handle – so this can be carried with him around the house (which he loves.)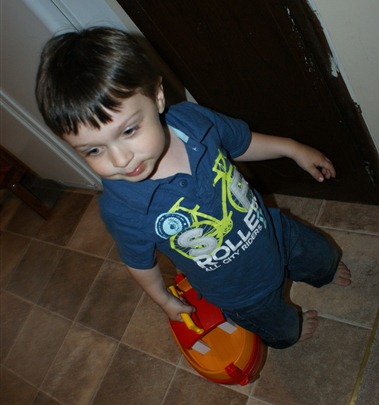 It can also be a bathtime toy – because Noah's Ark REALLY floats! Granted –

just a personal note:  I don't like putting toys in the bath tub that 'collect' water.  Because water siting inside of toys – creates mold, and then having a kid suck on them and essentially drink the mold – just doesn't work in my book.  So. I did not inform my son that this boat really floats – because while the boat doesn't collect water – I'm afraid that the animals are bound to follow into the tub – and they collect water.  If you're good and clean/shake/dry all of your toys after each bath – these toys are rather simple to shake the water out of… I just don't always remember to do that; so I just don't put them in the tub.
We have already had several hours of play time with this Noah's Ark playset – but I'm sure we'll have many more hours in the future.  Our home is surely bound to become a Playmobil wonderland… because, well.. MY imagination just goes wild when I look at these toys… And, it's not REALLY about the kids..

Right??
Win It!!!
One Lucky Winner will receive the Noah's Ark Takealong 1.2.3 Set from Playmobil!  Estimated Retail value: $29.99
Optional Extra Entries: (only after mandatory entry is done!)
Subscribe to my blog via email
Follow my blog publicly via GFC
Follow my blog via Networked Blogs
Post my NEW Button on your blog. This button is different from the old one and the coding will need to be changed.
Follow GrinCheek2Cheek on Twitter on twitter and tweet about this giveaway:  (this may be done daily)
Playmobil #toys are fun and addicting (even for parents!) #Win @GrinCheek2Cheek #bigkid #toddler #Giveaway Ends 7/02 http://tiny.ly/cIrL
Like GrinningCheektoCheek on Facebook!
Vote for me on picket fence blogs. One Entry per vote(per day).
Enter any of my other Current giveaways. 1 extra entry per CURRENT contest entered.
NEW: Post my link on any of

that day's

CURRENT

Public Giveaway linky for this giveaway.  Should say something like – GC2C– Playmobil Noah's Ark- Ends 7/02 *and the link*. Comment to me the link to where you submitted it. (i.e. for a Tuesday Giveaway Linky – post it anytime before midnight that same Tuesday) One entry per linky posted on

Open to U.S. only.  Giveaway ends July 02, 2011 at 11:59pm. Winner  will be drawn by 'andthewinneris…' the following day, and will be e-mailed. Winner will have 48 hours to respond or a new winner will be drawn.