When we purchased this house a little over two years ago – it was a foreclosed home that the bank had paid someone to come in and 'fix up' to make it move-in-ready. We didn't "fall" for the gimmick of thinking that everything was perfect and brand new, but rather we knew that we would have to be budgeting to do several large projects over the next few years. But at least we could move in and live comfortably without worry of moldy carpet and horrible wallpaper to tear down. Pretty much everything was 'new' – it was all just cheap and poorly installed.
In several blog posts I explained the condition of our flooring – being the floor obsessed person that I am – the floors have really been towards the top of my lists! One of our first projects was the Kitchen floor, where they laid linoleum down (and not very well…!).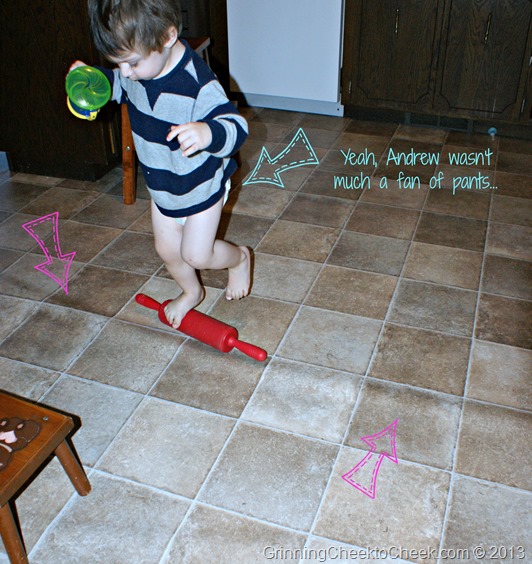 So we replaced this with some laminate wood flooring, which has made a world of a difference.
Now – it's time to tackle the cheap carpet that was here when we moved in. I'm pretty sure they purchased the cheapest and whitest carpet they could find! haha!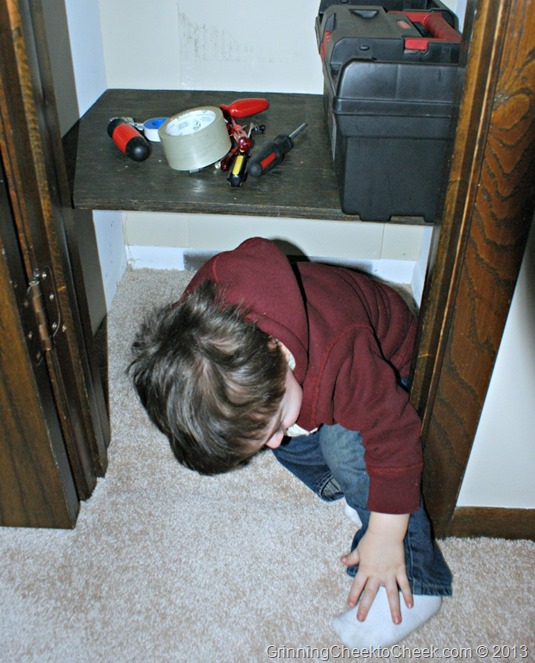 But, soon that shiny new carpet turned into pressed, dirty carpet. We don't wear our shoes inside and get to stains as soon as we find them, but with two toddler boys – cheap white carpet quickly turns into a gross looking carpet.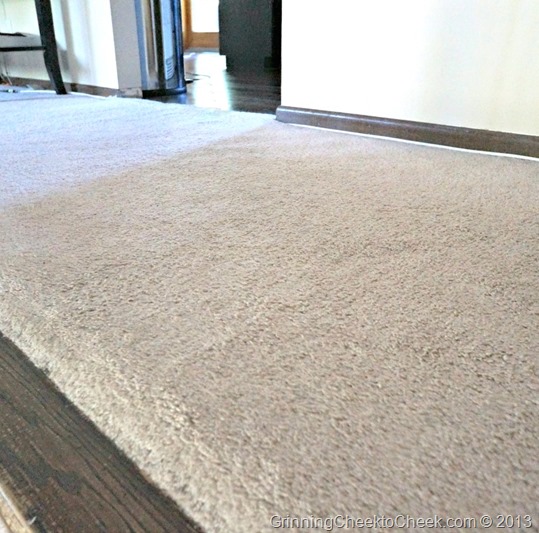 So I'm super excited to announce that we will be getting some new carpet Very SOON! I couldn't be more excited for it. Remember when I talked to you all about the crazy softness of our Tigressa area rug from Carpet One? We are still as much in love with that rug as we were when we got it. It's still our boys' favorite place to play (because it's so soft!) and my husband still likes to lay on that carpet because it's so cushy!
So when I was told that there was an even SOFTER version of Tigressa – I was a little bit hesitant to believe it…
That is, until I went into the Carpet One store and felt it! The Tigressa Cherish *IS* softer than the regular Tigressa Soft Style – Amazingly enough.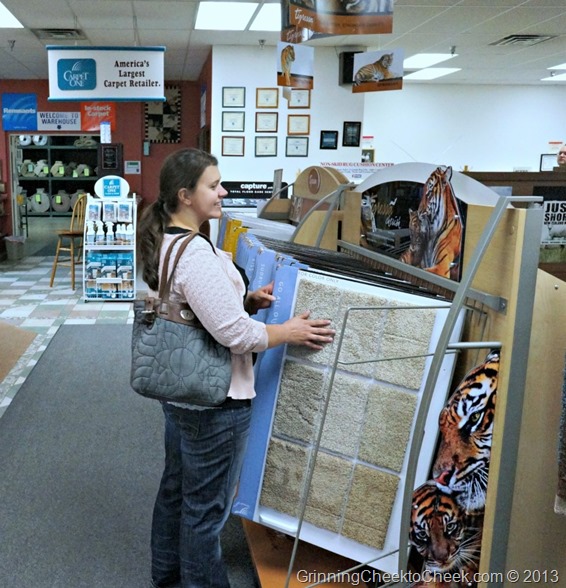 My husband and I worked one-on-one with the Carpet One Consultant to pick out our favorite versions of the Tigressa Cherish.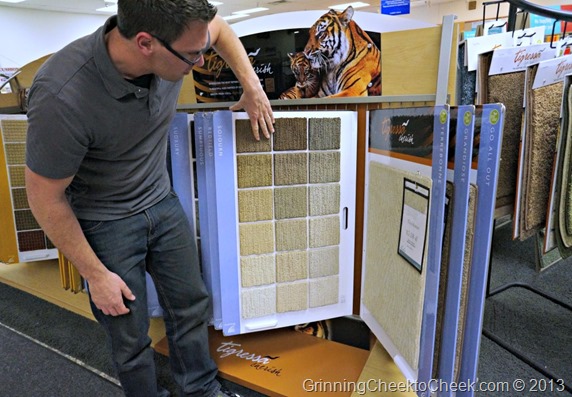 There are so many different styles, patterns, and thicknesses that it took a little while – but we finally narrowed it down to the 'Lay Your Hands' and the 'Ballyanny III'. We weren't quite sure if we would be doing the upstairs living room, hallway and stairs; or if we would be doing the downstairs – so we picked one for each.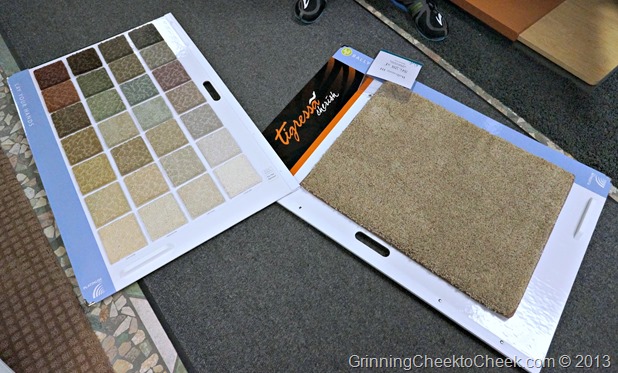 The upstairs one – the Ballyanny III – is plushier (if that's a word!) and has a really tiny amount of color 'fleck' in it. I don't think I would be able to handle a totally solid color – but I also didn't like the heavy 'fleck' look where it seemed that there was 'stuff' on the floor. I'd be vacuuming all day long!
Then the downstairs one we picked (Lay Your Hands) is a lower pile carpet which has a little bit of 'design' to it. There are portions that are looped and then others that are not. This creates a really neat look that I don't think we'll have to cover with an area rug to keep our downstairs open space looking nice.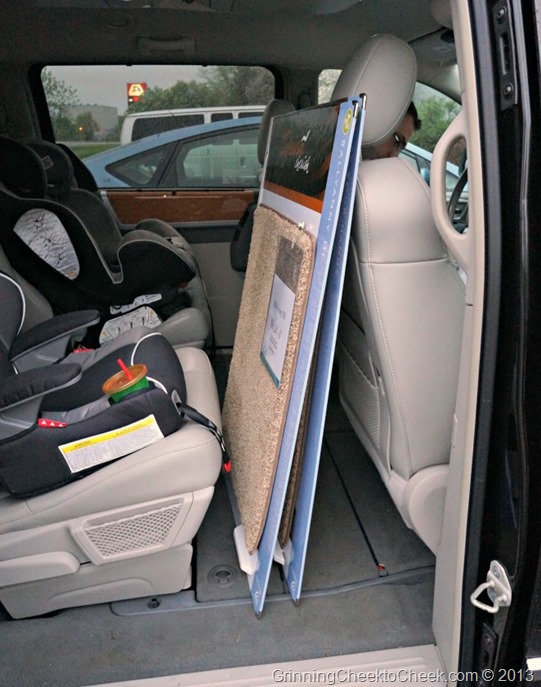 We were able to take home the samples over night so we could match up the colors. Then our sales-guy came over in the morning and measured our spaces. I am sure glad that we took home the samples – because the colors I was *positive* of at the store were not the colors that looked the best with my furniture!
I'm still not sure if we'll be doing both upstairs and downstairs or just one – but I'm hoping to be able to do both! – I'm SO excited for the carpet to be installed, and I'll update you on the installation process and the before/after – soon!
If you're looking to update your carpet soon – I highly recommend you check out the Tigressa Line from Carpet One. The Tigressa Cherish line creates carpet that's strong enough for playtime, yet soft enough for naptime.
I am working with Carpet One and they are providing us with carpet and installation for one of our spaces. Be sure to thank Carpet One and think of them for your next flooring projects!