Easter means…..
Easter is all-around good. Easter means Jesus rose back to life, proving once and for all that God can conquer death and save us. And that He loves us enough to do just that. Easter means chocolate and eggs and happy spring colors. Easter means warmer weather (hopefully! Sorry Minnesotans, AZ is beautiful already!). Easter means fun, family, ham, church, smiles, and Easter egg hunts! Put Me In The Story wants to add some personalized excitement to your Easter egg hunt!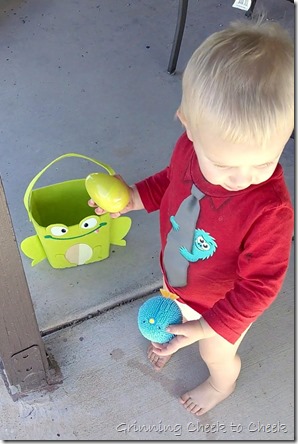 Put Me in The Story
Put Me in The Story sent me a personalized If I Could Keep You Little Micah book to share with him this Easter! Though he is too little to understand how special that is, he does love reading books and will eventually think it's totally awesome that his name is in a book. That's right, his name is right there on the cover! And on the pages! And I got to put a picture and a little personalized message right in it!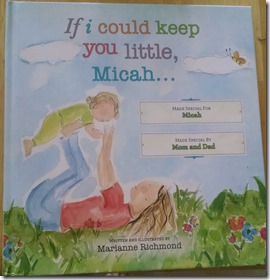 The best part of the whole thing: it was super easy. All I had to do was click Personalize, upload a picture, type his name and a little message, and order! It was actually really simple, even cropping the photo was easy and quick.
We celebrated Easter a little early when Peter's family was in town, they got him a little Easter basket and eggs and he had a good time finding his eggs and discovering the treats inside. Now he walks around with his little egg halves and leaves them all over the yard again! He's super adorable and I love watching him play. He didn't really understand the egg hunt yet, and he won't understand the real meaning of Easter for a while, but it was fun anyways.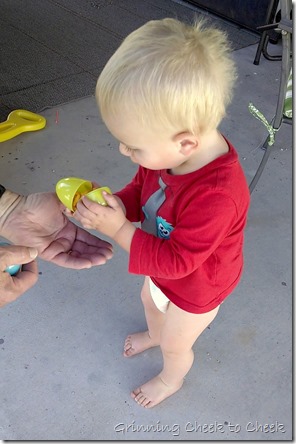 Win a Personalized Book for Your Easter Basket!
Win If I Could Keep You Little or I'll Never Let You Go personalized by you!
How to Enter: Leave a comment about your favorite Easter tradition.
Then: Fill out the Rafflecopter form and complete other options daily for more chances to win. Don't worry, it's easy!
Rules: You do not have to be a blogger to enter/win. An email address is required to enter. Entering this contest allows us the permission to use your email address for our Newsletter which may be unsubscribed to at any time and subscribing is not a requirement for winning. The winner will be chosen randomly through Rafflecopter and contacted via the email registered in Rafflecopter. A reply to the winning email is required within 48 hours before a new winner is chosen. One person entering per household please. US only please.
This giveaway ends at 11:59 PM CST on April 2nd, 2014 (so you can have it by Easter!).  Good luck!