One thing that I'm very familiar with, being that I'm from Minnesota – is the Hotdish.
Don't Know what a Hotdish is?  Here's what Wikipedia has to say:
Hotdish is a variety of baked casserole that typically contains a starch, a meat or other protein, and a canned and/ or frozen vegetable, mixed together with canned soup.The dish is popular in Minnesota. According to Howard Mohr, author of How to Talk Minnesotan, hotdish is, "A traditional main course, hotdish is cooked and served hot in a single baking dish and commonly appears at family reunions and church suppers.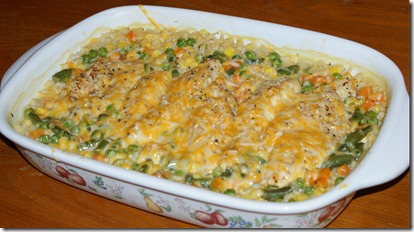 Click here for the recipe to this Hotdish
So in all essence to the average American, it's a meal that is usually easy and inexpensive to prepare, using a few items found in your kitchen – and it's prepared in one dish and baked.  It commonly appearing at places where you bring a meal to share: like a family or church gathering.
I tend to use the word Hotdish and the word Casserole interchangeably although their definitions aren't exactly alike.  Maybe Casserole is a little more familiar to you.
Several nights a week I make Hotdishes for dinner, but I also enjoy bringing them to other events and occasions when we're sharing a meal.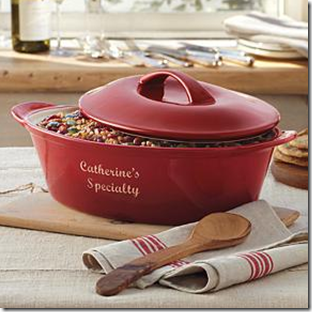 Sometimes for large events and Pot-Lucks – the casserole dishes get mixed up.  It's really nice to have your own Personalized Casserole Dish.  It's so easy to show off your beautiful cooking, without having to brag about which hotdish you made!  I love this one from RedEnvelope because the quality is high and because of the lid.   Seriously. The Lid makes ALL the difference in the world when you're bringing a Hotdish somewhere!! It's so beautiful!

So when you're looking for Christmas gift ideas this year for your family members – definitely check this Casserole Dish out from Red Envelope!  They have several more options as well!
Win It!!!!
As part of the Holiday Gift Guide Event – Red Envelope is also offering One Lucky Reader a $50 Gift Code to RedEnvelope.com!
Mandatory Entry:  Visit www.RedEnvelope.com and tell me something that you might purchase with your $50 gift code if you win!!