I don't make it any secret at all how much I love giving personalized gifts for any occasion. I love that I can give a gift to someone, and they know that I was thinking about them ahead of time.
I also love some of the things for myself and my family:
I was able to do another review of the Personal Creations site a few weeks ago: and can say overall I had a great experience. I was provided with a gift card to pick out whatever it is I'd like to order on Personal Creations' website: and then blog about it.
I typically spend WAYYYYYyyyy too much time trying to decide what it is that I want, because there are just so many options for me – all of which would be great.

I was highly considering picking out some Christmas gifts like this personalized tree-skirt because they are all so amazing.  But since Halloween is quickly approaching, I chose to get some goodies for the family for Halloween.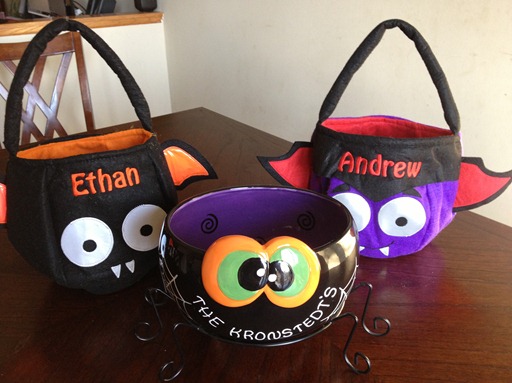 Last Halloween, Ethan was fussing while we were trying to remove his costume, and required four hands to take it off of him:  Meanwhile – we had trick-or-treaters at the door (Which I didn't hear). Andrew decided to answer the door, and help them get some candy – so he lifted our heavy glass bowl – and then DROPPED it.
It shattered.
So we were in the market for a new bowl, and I love this spider bowl design: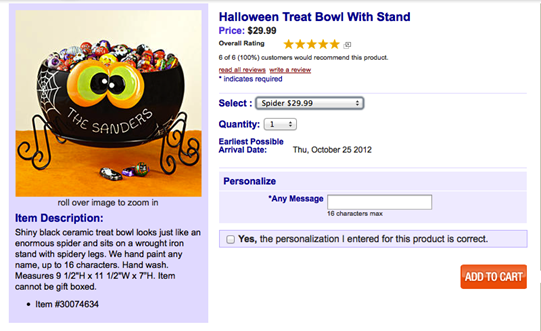 I also loved the idea of having these reflective personalized candy bags.  I like that they're smaller than something like a pillow-case, and so they look full, really fast (because we don't need too much candy!).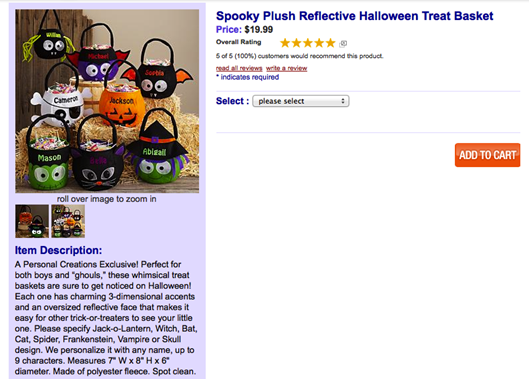 Ordering was so simple, too!  I selected the items that I wanted, Added the personalized names, and checked out.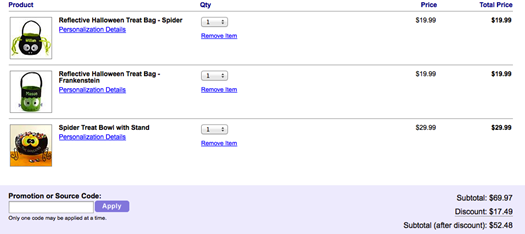 They also have some great coupon codes on their website, which give you several options for discounts on your order.
This year, impress your family and friends with some great gifts or home-décor from Personal Creations.  Find more information online at www.personalcreations.com or find them on Facebook!
I was given the chance to review a complimentary product from Personalcreations.com.  All opinions are 100% my own and in no way are affected by the gifts received.