Ethan was born with a size 2 foot – and now at 10 months old wears a size 5 1/2.  Crazy Kid! Andrew was the same way, although his feet were WIDE so most shoes didn't fit – but he's now in a size 10 at age 2 1/2.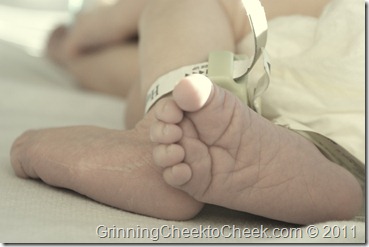 So even while the boys' feet are gigantic – they still need comfortable shoes.
I love that PediPed makes flexible shoes for babies that aren't otherwise accustomed to shoes.  It makes it so much easier for them to be able to feel the ground with their feet through the shoes, which is what pediatricians recommend for young children!
PediPed has a three large collections of shoes – so you're sure to find something for every wardrobe, and every child!
The Originals are made perfectly for infants and babies and have a leather soled bottom to keep the feet dry, and closely mimic barefoot walking.
Unfortunately my Ethans feet are already bigger than their largest size – so we had to go up to the Grip 'n' Go shoes.
We were able to sample the Grip 'n' Go Shoes – which are the second step in their footwear system – which are still very flexible but rubber soled shoes – and available in a much wider range of sizes. These are made for early walkers.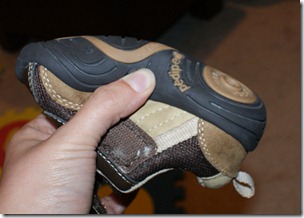 Then next comes the Flex line – that's more for confident walkers. These are also available in much more size varieties.
You can rest assured that you're buying the right size when you print out their handy sizing chart and stick to it!  Going up a size of course if you plan on keeping them in that pair for a while.  We typically buy just 1/2 to 1 size larger than they are measuring.
Favorite part about these shoes??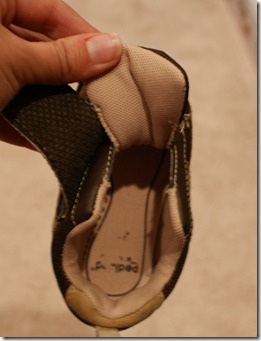 I love the wide opening for the foot – we had an especially hard time with Andrew when we tried to get shoes on his feet – it seemed like we had to SHOVE his foot into the shoe – and that it'd be all twisted inside.  These shoes open so wide you're practically setting the foot into the shoe.
They seem really comfortable for Ethan, as he doesn't complain when they're on his feet, and is able to stand up just the same as he can without them – so I'm sure they don't bother him.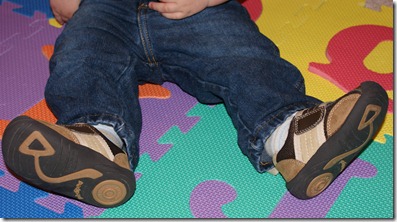 So when you're looking for the next pair of shoes for your child – don't go to Target.  Seriously. Get a good QUALITY pair of shoes for your child.  They're a little pricier, but it's your children's feet that you're toying with…. You wouldn't wear that flat-bottomed shoe with zero support, would you?  So why should your toddler who is just learning to walk!?
You can purchase these shoes at PediPed.com.