Like many others, our family decided that we were no longer benefiting from our home phone number. It was just another expense, and I usually ended up using my cell phone anyway! The one thing that most people forget about when switching strictly to cell phones though, is how frequently your phone is away from your side, or how often it's on silent. Not to mention, the spotty areas in the house where your cell phone just doesn't get much service! I have missed a lot of calls because I was in the kitchen and my phone was in the bedroom! Panasonic's Link2Cell has changed the future for home phones! The following is my Panasonic KX-TG7873S Review. I was given the phone in exchange for my opinions, but all opinions are 100% my own.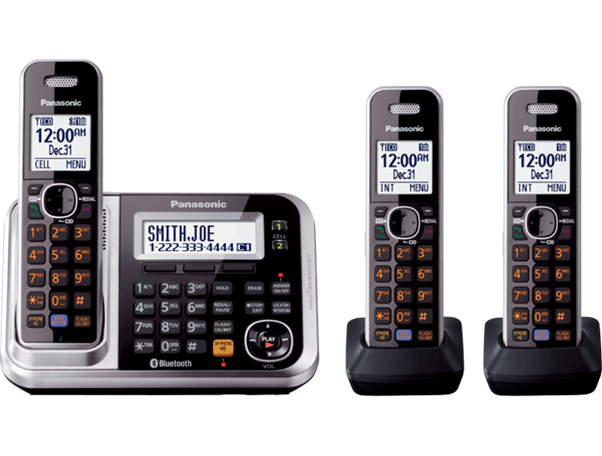 What is Link2Cell Technology?
Link2Cell uses the power of Bluetooth technology to link your cell phone with the convenience of a home phone. Panasonic KX-TG7873S Link2Cell is a cordless phone system that operates with your cell phone, allowing you to make and receive calls through the multi-handset home phone without even touching your cell phone!
So here's how it works: Simply set up your cell phone with Bluetooth to the base of the phone system, link them together and then leave your cell phone in a place that gets great reception. You can sync up to two phones at a time.
Our home is pretty consistent on reception: so we chose to set up the base where we usually end up putting our phones and keys when we get home. We've got a little window area between our kitchen and living room that has a charging station/speaker. The phone also has a USB port for charging phones as well.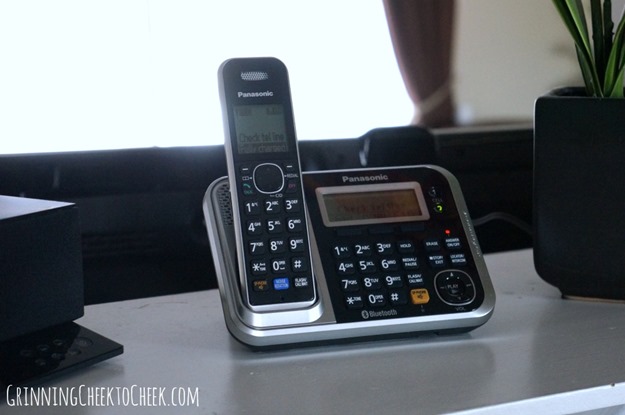 Then set the other handsets in places where are convenient for you. I usually use the base phone's cordless feature and have that in the living room when I'm blogging or watching TV. I have another phone in my bedroom, and another downstairs.
When someone calls here, the handsets ring. A normal ring first, then it channels my personal ring. There are distinctive rings for each phone, so you know who the call is for if you have two phones connected. The phone then announces the call using a text-to-speech technology: announcing the callers information. By using the Phonebook Transfer Feature (Simply press Menu #618 then select the phone you want to transfer over from) the phone announces the name of the person calling. If the person calling isn't in your phone book, it announces the phone number. by pushing a button on the phone you can silent the ringer if you're not interested in answering.
The Panasonic also has a Text message alert, so when you receive a text message through SMS (unfortunately not through iMessage) the phone also alerts you so you can check your texts on your cell phone.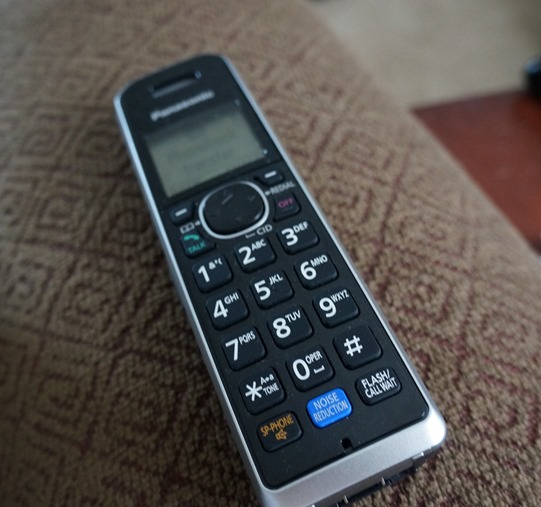 My husband is super impressed with the Panasonic KX-TG7873S. He thought at first it was just another 'thing' to have around that he has to figure out. He thought that having two phones in the house would make it complicated, like we'd have to switch back and forth manually. But once we got it set up (which was so simple!) it was just there as an extension of our phones. When we walk in the door our phone is connected automatically, so we don't have to think about it one bit. Just hearing it when it rings! Having my phone book set up means I can continue not to memorize peoples phone numbers, I can just pick up the handset and find who I want to call.
Overall, this has been a great addition to the family and we haven't missed many calls now! I highly recommend this for any busy family that likes to set their phone down and not think about missing calls. Or for the family who has to sit at the window in order to make a phone call because service isn't great in their home. (Our last home was like that, and this would have been fantastic there!).
You can purchase this Panasonic – Link2cell Cordless Phone System With Digital Answering System
at my favorite store: Best Buy!
Win It!!!
One lucky reader will win this Panasonic KX-TG7873S (ERV $129.00)
Rules: You do not have to be a blogger to enter/win. An email address is required to enter. Entering this contest allows us the permission to use your email address for our Newsletter which may be unsubscribed to at any time and subscribing is not a requirement for winning. The winner will be chosen randomly through Rafflecopter and contacted via the email registered in Rafflecopter. A reply to the winning email is required within 48 hours before a new winner is chosen. One person entering per household please. US only please.
This giveaway ends at 11:59 PM CST on March 29th, 2014.  Good luck!