I know I've written to you all about both Huggies and Pampers in the past.  Trust me: I'm not trying to be wishy-washy with you!
When my boys were younger: we absolutely ADORED Pampers diapers. (Not that I don't still.. But now we use a combination of the two!)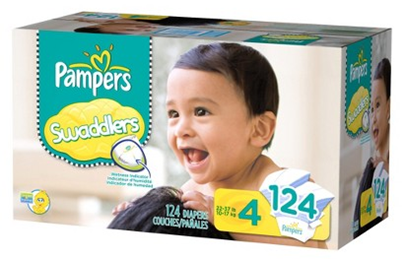 Pampers swaddlers are *SO* soft – and great for my newborn babies soft bottoms.  I loved the 'Wetness Indicator' line on the front of the diaper that told us it was time for a change.  I found that when we got to a size without the 'line' I started losing track of how long it was since the last diaper change.
We switched over to the Pampers Baby Dry diapers – which I faithfully use until size 5 – because they were still soft, thin, and held a lot!
But I still loved the Swaddlers diapers – so now I'm thrilled to know that they are now available in all sizes NB through size 5!
I Like Getting a Deal on my Diapers!
Right now through February 2nd, Target guests will receive a free $20 Target Gift Card with an in-store purchase of two (2) Pampers Swaddlers, Cruisers, or Baby Dry Economy Packs.
Right now you can print a coupon for $1.50 off one box of pampers: (Print two coupons!) on coupons.com.
This brings your total per price diaper down to $0.21 for size 4!
Have you tried the Swaddlers diapers?
Do you think you would appreciate having a wetness indicator on your toddlers diaper?
I am working in coordination with Procter & Gamble to share these great deals! I was provided with product and/or compensation in exchange for this post.