I was super relieved when the second 'fluff mail' item came to my mailbox. I opened it up, and it was the Oh Katy Diaper.
It was SO much smaller than the Thirsties diaper I had received, and looked much more familiar to what I had been envisioning in my head.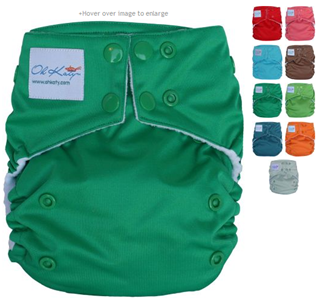 Overall – I'm slightly indifferent about these diapers. I mean – they're great! Don't get me wrong. But I'm not seeing that they have a big 'wow' factor. Not that a diaper NEEDS a big wow factor!
I've not had any leaking issues with them aside from leaving the kiddos in the diaper too long, no red marks, no ISSUES in general. They're a good – go-to diaper

One thing that I saw right from the beginning that I was really excited about was the fact that they roll up and stay snapped, to keep your mess inside if you aren't carrying a wet-bag with you.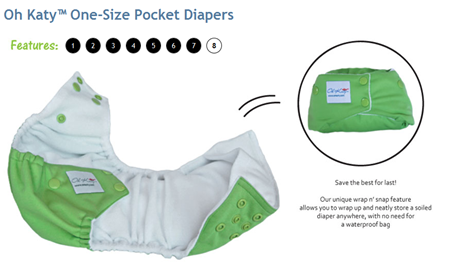 This is a really great feature for those moms-on-the-go, but I have yet to have used it other than for practicing. Actually there was one time where I WISHED he was wearing the Oh Katy for the purpose – but he wasn't. That's the bummer of only having one Oh Katy – is that when you need it, he's not wearing it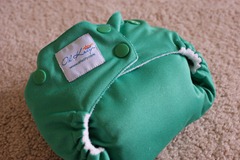 My Ratings:
See this post to find out more about my rating scale.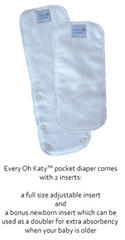 Two inserts come with this diaper. A smaller one for younger babies, and an older one for the bigger kids. The bigger insert is also size adjustable.
I have found adjusting the size by one snap is hardly worth it. It decreases the size of the insert about 1" and then adds 1" of bulk in it's respective place.
You can leave them single, or double them up for extra protection. Doubling makes the diaper pretty thick.
I love that they're labeled so well, so I know exactly which diaper these belong to.


These seem to fit well – For Andrew they are a perfect fit – so long as it's snapped tight around his belly
We can get the snaps closed all the way there (but he is pretty thin in his belly area.)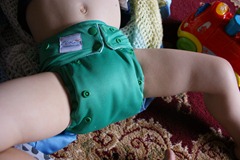 The diaper fits him as if it's a sized diaper just for him. We could very well loosen up the belly snaps a little more, but then it starts getting droopy on his waist.
This is Ethan's Waist with one snap undone, which he needs for his thighs, but then he needs his waist all the way snapped – which is an easy fix.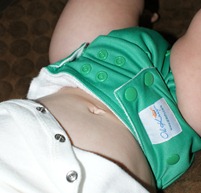 I'm not terribly thrilled that the opening of the pocket is in the front. Only because that means every time I pull out the insert I am getting wet with urine. I understand their thought process behind this – and agree that it is better than getting poop on your hands… but I less often change a poopy diaper than a wet one, and usually you can find one area that doesn't have poop in the back.
Otherwise, the diaper washes great and dries perfectly. It's one of the few diapers that I can have them wear right out of the dryer, without having to hang it for a little bit.


This diaper is cute

I love their color selection as well – So Cute!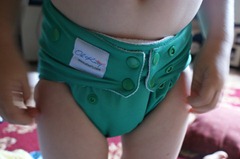 Great, solid price of 17.95 per diaper. Meant to fit from small to large babies. The tabs do overlap in the front, so I imagine it could fit a much smaller child as well. But don't take my word for it, because my babies are big!



Daddy isn't terribly thrilled. He doesn't like getting his fingers wet with pee for removing the insert – and often leaves it in for me to do, because he's stubborn. He doesn't like the buttons – or that he has to pull it tighter on Andrew's waist. When he has to make things tight, he ends up pinching the boys with his big hands, and he doesn't like that.
Then again, he's really not happy about the whole process any more…

Coming out of the dryer when I'm low on diapers, this is one of the first I can spot – and it's dry, therefore I use it first. The tags are great on the inserts for that exact purpose.
Like I said above… it's not really a WOW factor diaper for me, but it's certainly worth keeping in my stash, and for the price – I'd even add a few more to the stash or to keep in my diaper bag or car!
Giveaway!!!!
(Open to U.S. Only)
One Lucky winner will receive an Oh-Katy One Size Pocket Diaper!.
Click for Instructions for entry
This first entry is MANDATORY: Visit www.ohkaty.com and tell me what color you would love to add to your stash!
Optional Extra Entries: (only after mandatory entry is done!) All are worth one entry unless otherwise specified
Subscribe

to my blog via email (Be sure to confirm) – 2 entries

Like

GrinningCheektoCheek

on Facebook

Follow my blog publicly via GFC (Lower Right Box

)

Follow my blog via Networked Blogs (Lower Right Box

)

If you grabbed my Adventure To Cloth Diapering Button before 8/22 and left a comment

here

telling me that you did so, add 2 entries

Follow

OhKatyDiapers

on Twitter

Like

OhKatyDiapers on Facebook- Feel Free to Tell them You're entering their giveaway at www.grinningcheektocheek.com (telling them is not required)


Follow

GrinCheek2Cheek

on Twitter on twitter and tweet about this giveaway: Can be done Once per day

Next #ClothDiaper up for #giveaway in Adventures To Cloth Event @GrinCheek2Cheek is the Oh Katy OS Pocket. #Win here! http://www.grinningcheektocheek.com/oh-katy

Open to US ONLY. Giveaway ends September 9th, 2011 at 11:59pm. Winner will be drawn by 'andthewinneris…' and will be e-mailed. Winner will have 48 hours to respond or a new winner will be drawn