So I'm a little behind in updating you all about my progress on Nutrisystem.  I'm technically just finishing week 3, so I'll count back to week 2 for now.
Week 2 has been so much easier for me than the first week. I was better prepared at the grocery store for my smart carbs and power fuels, and overall – didn't do too much cheating. 
That is, until the weekend.
I'm pretty convinced that my husband (as much as I love him) is the sole root of my poor eating habits.

  Yes, I am actually blaming him right now.
Even though it's really me.  It's better when it's his fault… right?
No. I don't know what it is really – but when he's home, it's REALLY hard for me to stick to the Nutrisystem meals. All of a sudden when he walks through the door, I just want to eat sweets (which is what he eats a lot of!).
I'm either sneaking a little bit of what they're snacking on, or cooking a meal that all of us are going to eat.
Granted – I've been MUCH better in that department as far as cooking healthy meals for dinner that all of us can enjoy.
I've also been loving on these frozen dinners that I got! This one is Citrus Barbeque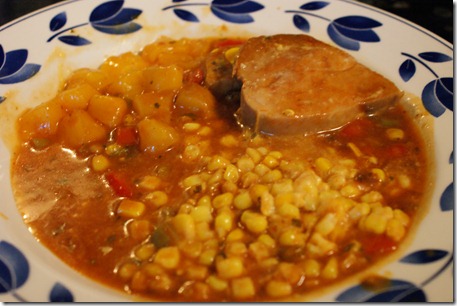 Over the weekend, however, I've again ditched the plan completely.  Which isn't good.  We are just out and about – and usually it's noon before I have breakfast/lunch – and then we scurry for dinner, and often have a desert.  So weekends are bad.
I've found that I absolutely *love* the Vanilla flavored protein shakes (and despise the Strawberry flavor) – and I also love the granola cereal, the frozen omelets, and black beans and rice lunch.  I haven't had a bad breakfast or lunch yet.. again, it's dinners that throw me off. I'm learning to tolerate diet Dr. Pepper (and have even mostly cut soda from my daily drinking patterns). 
Good News?  At the two week mark I was officially down 5lbs since day 1 of the diet!!  I haven't noticed much on myself yet – but my scale does!
WaHooo!!!
Want to lose weight and get healthy on Nutrisystem? Join today by calling  1-888-853-4689 or by visiting Nutrisystem.com
I received the Nutrisystem plan free of charge in exchange for my reviews and experience with Nutrisystem.  My opinion is 100% my own.