A few weeks ago I shared with you about the two Nikon cameras that I received for review from Best Buy:  The Nikon Coolpix S01 review I did a few weeks ago, and the Nikon Coolpix S800c.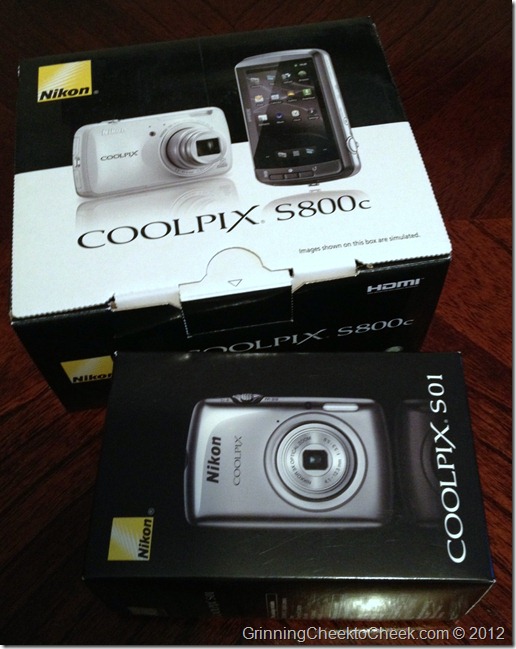 I shared with you how I was so excited to receive these cameras, since my previous point-and-shoot camera had gone missing during my toddlers 'throw away' stage.
But I also had to admit: that I did not like either one of these cameras very well.  The S800c was the least favorite camera I reviewed: Ill explain more below.
Nikon Coolpix S800c
This camera has the greatest concept.  It's LIKE a smartphone – but it's a camera.  It has Wi-Fi, an Android platform, and allows you to integrate your social media life and your photography life seamlessly.
What this camera lacks though, way outweighs the great concept.  I have to admit: it was a good first try.  Really. But I would not recommend this camera to many people.  In all honesty – I've seen MUCH better quality photos from my iPhone than from this camera.
I do have to preface: I am an iPerson. I have tried a few other Android products before and very much disliked them – Mostly because I find the system complicated and not very user-friendly. 
The a few of the basic design flaws I noticed:
There is no 'external' battery charger.  The battery only charges by way of USB cord from the wall or your computer to the camera, which holds the battery.
The battery can be inserted backwards, and the door closed.  This lead to me waiting 4 hours impatiently for the camera to charge – only to realize the battery was in backwards and not charging at all.
The battery life is very small for a 'smart-camera' with Wi-Fi capabilities. When running Wi-Fi and using the camera and apps, there is approximately 4 hours of battery life.
When you power down the camera – it really goes into standby mode.  Granted, it warns you: but I didn't realize that this meant it was essentially 'running'.  This lead to several moments where I thought I had a camera – only to turn it on and it's dead.
After several minutes of playing with the camera – I realized the biggest flaws:  Low light picture taking quality.
I have a very bright living room – with 6 overhead flood lights and two wall mounted lights.  The room is bright enough to take a picture on a cloudy day without flash with my iPhone.  However, I could not take a successful picture with the S800c.  It either was far too dark/blurry, or had terrible flash wash-out and/or red-eye.  These pictures were all taken within minutes of each other with both the S800c and the iPhone 4s. 
---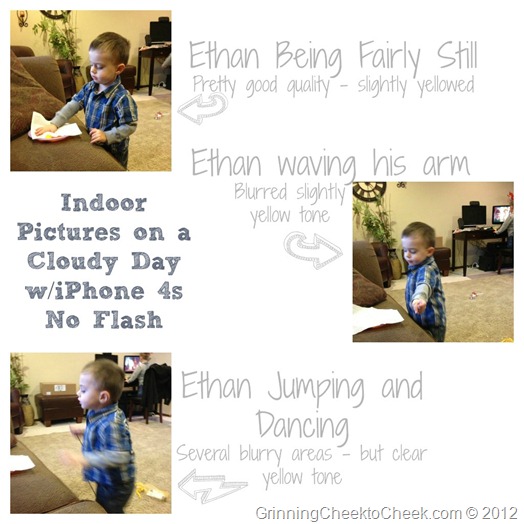 After a few days of playing with it, It started acting up.  The camera was freezing on me – and therefore making me pull the battery out and place it back in again to start over.
I brought the camera to Best Buy.  I *really* wanted to love the camera, and I figured surely I was doing something wrong.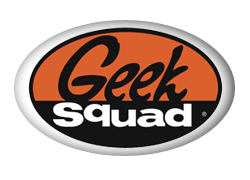 The guys at the support center counter were very helpful. They also called in the camera expert, who explained the camera a bit better to me.  They showed me that I had 11 applications running, and that was bogging down the very weak Gingerbread version of Android. They could not for the life of them understand why they used such an old, slow version of Android for something that's intended to be quick and responsive.
They showed me how to kill the apps that I was not using, and a few other features that I could play with to try and take better pictures.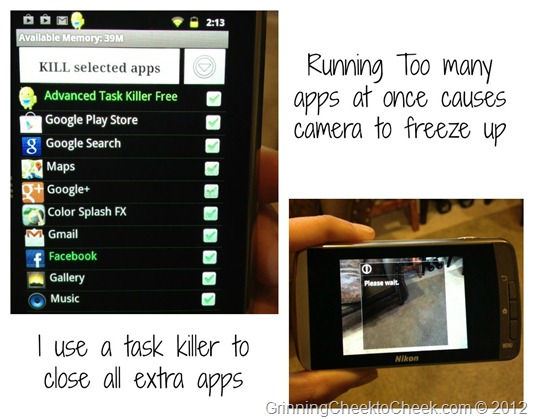 Ultimately – I got overly frustrated with the camera taking poor pictures of my toddlers even in the day time.  And because every time I wanted to use it, it was dead – I ended up not using it very often – it sat on my dresser for weeks without being touched.
Then, when I came to write the review (about a month ago) I turned the camera on to try it again.  One LAST chance to talk to you about this camera in a more up-beat manner. 
But…. The screen was dead.
The camera turned ON, I could hear it working – and it would even "snap" a picture and send it to my computer via Wi-Fi (with my Eye-Fi SD card), but it wouldn't show anything on the screen. 
At this point I decided it was time to start looking for a better camera.  I went back to Best Buy, where this wonderful camera expert girl showed me around the cameras so I could pick out the best option for us.  She was very helpful in me making my decision based on my needs and uses for the camera.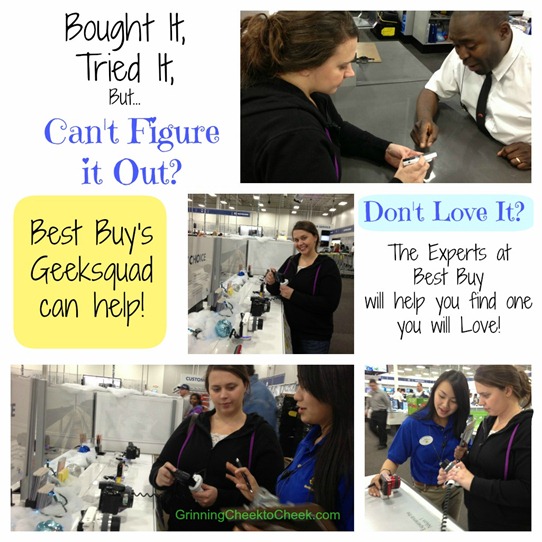 I *highly* recommend that you use Best Buy when you're making a costly purchase like a camera:  Not only do they stand behind their sales with expert staff to help you out when you're having troubles, they also have a great return/exchange policy. I also always recommend their 3 year geek squad warranty – so should something go wrong (like it did here) they would repair or replace the camera for you, hassle free.  I can only imagine the trouble I would have gone through had I purchased this camera online – and finding that I didn't love it and then it breaking.  Yuck. 
Not only that, but Best Buy is currently continuing their price-match policy with all major retailers, including major online retailers like Amazon and Newegg.  If you find a better price, just let them know – they will price match it!
I was given this camera for review as part of the Best Buy Blogger program. All opinions are 100% my own and in no way influenced by compensation.