Well, Not any more – But, a little less than a year ago, this was what I was crying about.  Every time I took a shower I would run my hands through my hair and get a clump of hair in my hands.  It was scary.  I was terrified that I was going to be bald after just a few more showers!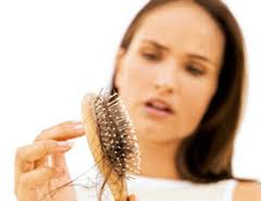 Of course one of the first things I did was take this concern to the internet!
Looking at sites for hair loss in women I found a lot of information about hair loss in women that is more age related, but then came across the hormone related "post-pregnancy" hair loss.
I had had a baby (Ethan) just a few months before – and had some of the best hair days of my life. I went from that, to needing to change my hairstyle from the side part that I so typically love to have back to that boring center-part… because I was balding in a 'widow's peak' fashion, leaving an extra bare area where my part would be.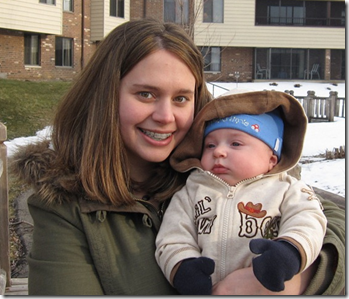 I was SO excited to read that it was NORMAL to lose hair after pregnancy!
It apparently happens in about 40-50% of women post-pregnancy.  I guess for me it happened after I discontinued breastfeeding.  It has to do with the hormone levels returning back to normal from their increased state.
When you're pregnant your high levels of hormones causes your normal cycle of hair loss to get put on 'pause' and that's why you're left with such amazing hair (and nails, and skin…).  So after the hormones go back to normal, all the hair that should have been released over those 9 months of pregnancy tends to start coming out all at once.  It can be isolated to specific areas as well.
Personally I found that the more days I went without showering, the more hair would fall out at once.  Also – putting my hair in the 'Mommy Ponytail' also seemed to add to the loss of hair.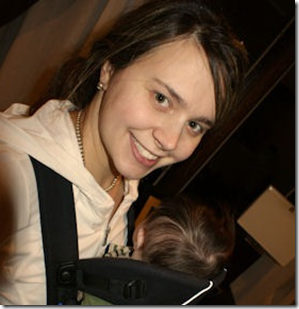 It seemed to me like that hair was never going to stop falling out or even grow back – but did start to eventually.  Now I've got several areas of hair that is JUST long enough to get into my eyes… Growing hair out can be tough.
Now.  If we could just get the rest of my hormones under control now so that my FACE can get back to normal… we'd be Golden.
Did your hair fall out after pregnancy??