So my grandparents live in Arizona. They used to come back to Minnesota over the summers, but they've decided that it's become too much work for the time being with my grandpa's health deteriorating.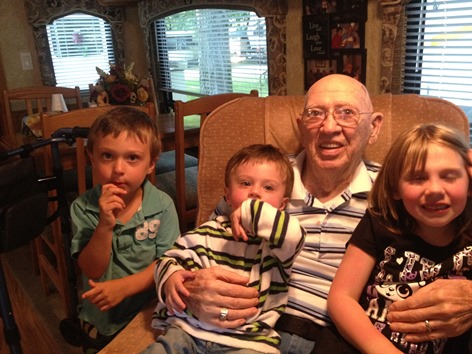 They don't have the internet at home… so Aside from sending them actual pictures through snail mail – they have no way to keep up with my kids and how much they're growing!
Until a few months ago… my cousin with a new baby found a solution!  She was texting grandma pictures on her cell phone (which grandma has used for some time now to keep long distance calls free and the same phone number when she's in MN!)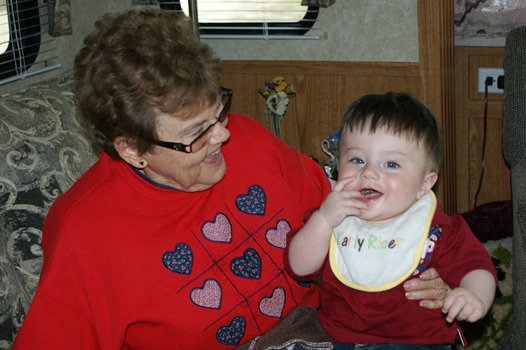 Grandma said… 'I'm not sure what she does – but the pictures just show up on my phone! Almost every day!'.  I made sure that she wasn't getting charged extra for the texting photo features – and started sending them. 
She never replied, but will call every now and again and we'll chat, and she'll thank me for the pictures I've sent. (Although I've been slacking lately)
Well, Yesterday I found out that I was officially hired at a Dental Office for a permanent position (something that I've been working at and that she's been praying about for quite some time!) but because I was so busy and excited and whatnot yesterday, I decided to text her with words – because at least I know she knows how to see the texts, even if she can't reply..
But this morning I got a text back from her!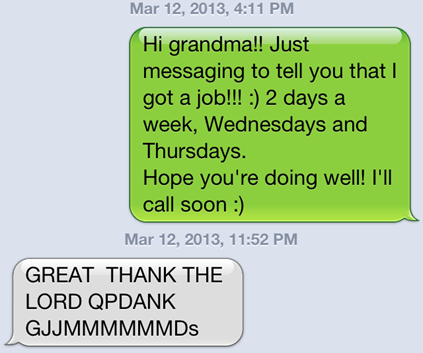 Well – she got the first part down

  Got to love technology!
Do your grandparents do technology?