A few days ago I wrote about how my 3 1/2 year old just started riding his big-boy bike with out ever using training wheels, and how fast he's getting bumped and bruised.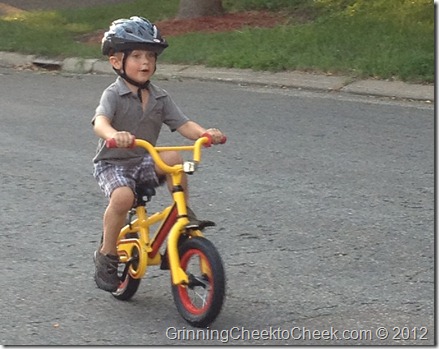 It got me thinking about how I really need to get my act together here and get myself organized and ready for injuries.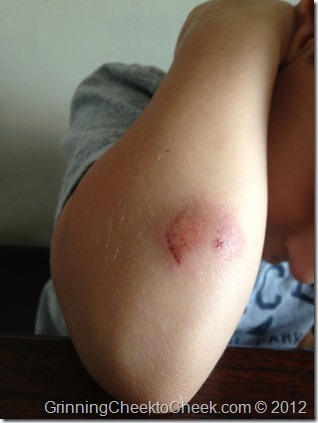 I would describe my medicine pantry (aka top-shelf-of-the-linen-closet) as "non-organized chaos." I've got everything I need up there – but…. Organized, it is not.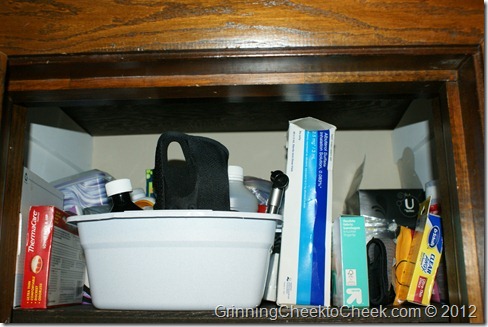 So when catastrophe strikes, I go to the cabinet and find what I'm looking for. But usually I have to rummage around for a few minutes to find the things I need.
And even then – I forget to grab something most of the time.
Often times don't even *Think* about applying any ointments until I get the wound half bandaged. And even then, finding the ointment is impossible.  We often-times would just finish bandaging and tell ourselves, 'We'll find it later…' only to then forget.
What does this have to do with MRSA?
I've been pondering this MRSA stuff, and realizing that using SAFESKIN* Kids Antibacterial Gel when caring for a wound when it happens can help protect my children from dangerous staph infections like MRSA.  It just got me thinking about *how* I can get myself to remember to USE the cream each and every time I need to use a bandage for my boys.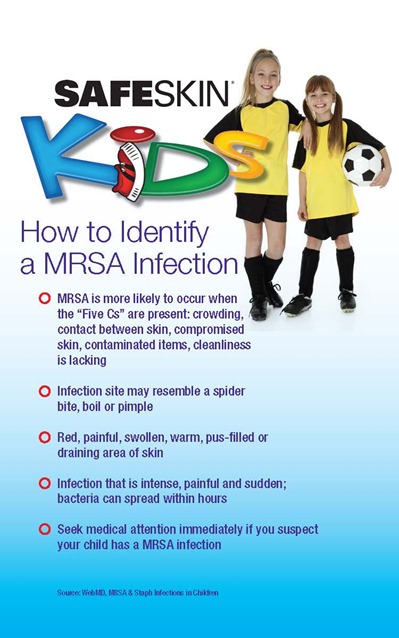 So – recently, with the amount of times that we've needed some antibacterial ointment, like SAFESKIN Kids Antibacterial Gel, I've been storing the gel – INSIDE – the band-aid box.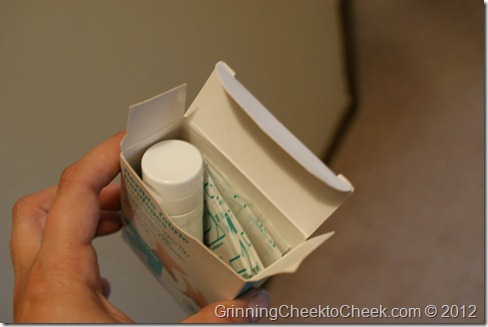 I mean – they kind of go hand-in-hand.  Band-aids and Antibacterial Gel.
Also not too far away is my SAFESKIN Kids Wraps – because my 1 1/2 year old, Ethan *hates* band-aids – so we have to wrap them up.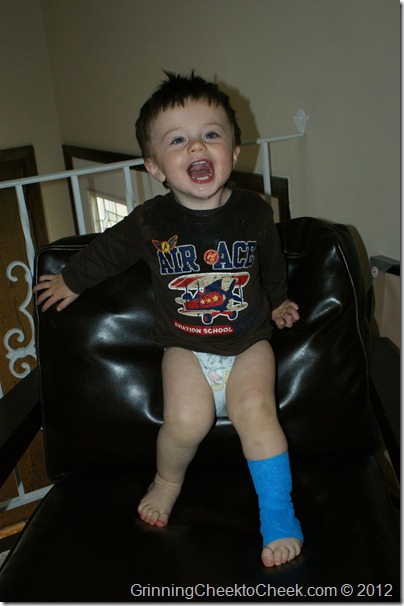 SAFESKIN* Kids Antibacterial Gel is a must-have for any mom's first aid kit. Unlike topical antibiotic ointments, SAFESKIN* Kids Antibacterial Gel provides a barrier to MRSA, an infection that spreads via skin-to-skin contact when playing sports like wrestling, football, baseball or rugby, or from hard surfaces in gyms and locker rooms.
To learn more about Safeskin and their goals to help protect your family, or to find valuable coupons to help you purchase their items – check them out on Facebook!
SAFESKIN* Kids Antibacterial Gel is available at select Walgreens locations with a suggested retail price of $4.95
So to help you make your First-Aid kit more up-to-date, and more convenient, I have teamed up with SAFESKIN to give away a $100 Walgreens Gift Card!!
Win It!!!
One Lucky reader will win a $100 Walmart Gift Card!!
How to Enter:
Mandatory Entry: Leave a relevant comment on this post.
Then: Fill out the rafflecopter form.
Be sure to come back each day for extra entries!!
Rules: You do not have to be a blogger to enter/win. An email address is required to enter. The winner will be chosen randomly through Rafflecopter and contacted via email. A reply to the winning email is required within 48 hours before a new winner is chosen. One person entering per household please. US ONLY please.
This giveaway ends at 11:59 PM EST on August 31st, 2012.
I received compensation from Kimberly-Clark Professional in the form of a gift card and product samples to participate in this campaign promoting the SAFESKIN* Kids Antibacterial Gel. In addition, Kimberly-Clark Professional provided the gift card I am using as the prize in my promotion.