Even though Microsoft 8 is nearing it's completion and will be released soon – I still wanted to level with all the people that are still stuck on XP (or heaven forbid, an even earlier version of windows!! EEK!)
There are so many features that I love about Windows 7 over previous versions.
Tabbing: By hitting the windows button with the tab button – you can scroll through the programs that you have open.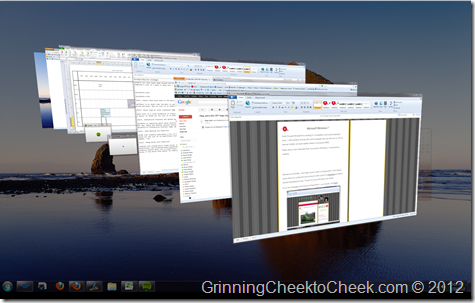 I love this option a lot more than just picking the program name.  It just looks cooler than this (even though this is way better than XP):

Task Bar: I love the task bar.  I love that you can pin anything you want to it – which helps me have quick and easy access to my most-used programs.

Previews:  I also love that I can hover over the icon when I have multiple windows open, and be able to choose the right one.

Libraries: I very much love the 'Libraries' in the file explorer. I'm able to combine folders into a subject heading – so I can find what I want much easier and faster.  I have my most used files set up this way.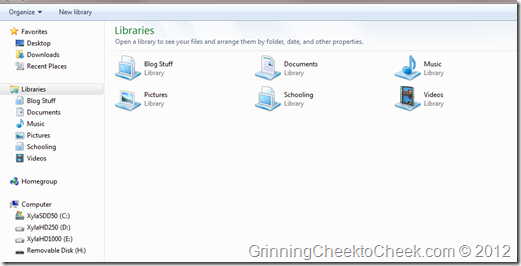 Windows Live Writer: This technically isn't part of Windows 7 – but the improvements made between the XP version and the most recent version are incredible.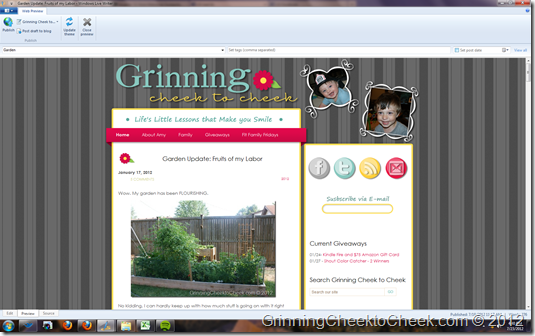 How else would I write my blog posts?!  Even being away from my computer and trying to write a post on wordpress by itself is almost impossible for me. I *have* to have Windows Live Writer.
If you're a blogger and have not tried WLW – you should. Just Sayin'. I only wish there was a mobile app for WLW…. Hint-Hint, Microsoft!
What's your favorite parts of Windows 7?  Are you stuck on an older version of Windows?