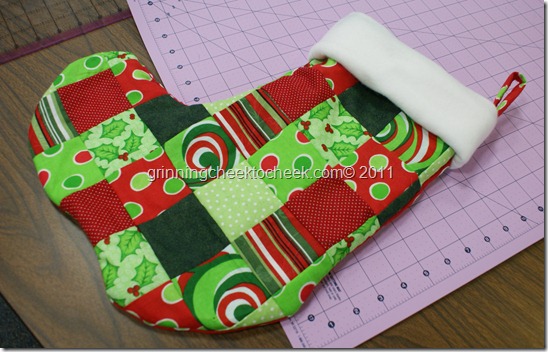 So I've been a little absent over the last few days.  I've been working long and hard on these beautiful 'qulited' stockings.  I'm making 10 this year.
Here's how I make them: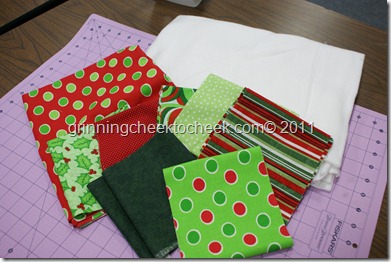 Pick out several coordinating colors of fabric – they don't have to be Christmassy – I've made some that are Reds and Greens and others that are pinks and blues and purples..
I picked 8 colors and got about 4" of each – except the one that I wanted to be the back of the stocking I got a larger piece of (3/4 yard). Then cut them down to 3" straight sections and lined them up in the order I wanted them.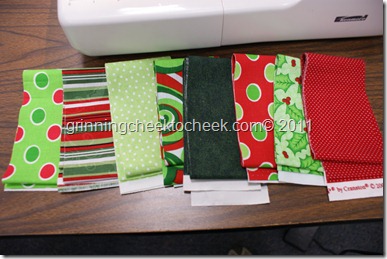 Sew them together in sections, and then sew those together until you've got one solid piece.
When you've got one piece – you line them up on the board and cut them into 3" pieces again.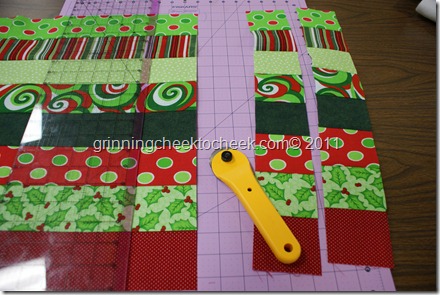 Lay them out in the pattern you would like, and sew them together.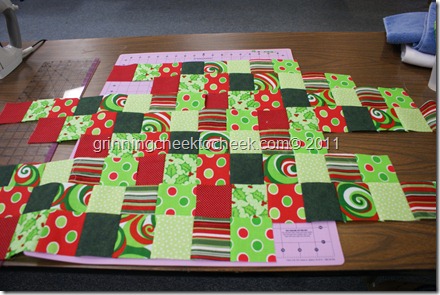 The first few times I made the stockings, I used another stocking and traced it out on the fleece.  But this time I didn't have a stocking to use – so I just did my best, and ended up re-sewing a few areas to make it more curvy.
Cut the fleece along with the front and back pattern.  I kept the fleece top a lot longer than my pattern allows, and then roll them 'cuff' style down when the stocking is sewn together.
Line the pieces all up together so you only have to sew once and turn inside out. 
Use some extra fabric to make a hanging section. sew it directly to the stocking, and then cut a small hole into the fleece to allow the loop to go through.
Embellish as you prefer.  For our home stockings I plan on sewing our names on someday – and have added other jewels and beads to the trim of the cuff as well.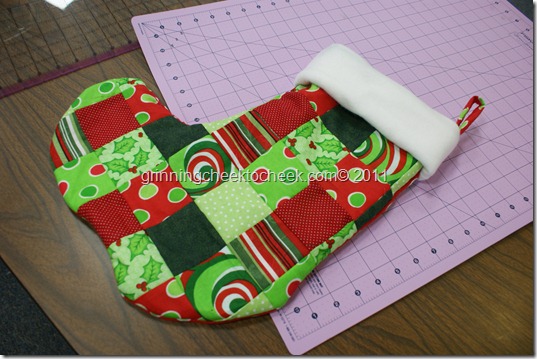 What do you do for your family for christmas?