You know how at weddings, the kids are always the first on stage to dance their little hearts out?  My boys were NO exception.
It seems that Andrew and Ethan have both been dancing to music in their heads since they were old enough to stand!  So it was really fun to watch them bust-a-move on the dance floor.
You'll notice Andrew in the Grey athletic pants and grey t-shirt at the corner of the stage.  He's a hip-kinda-dancer!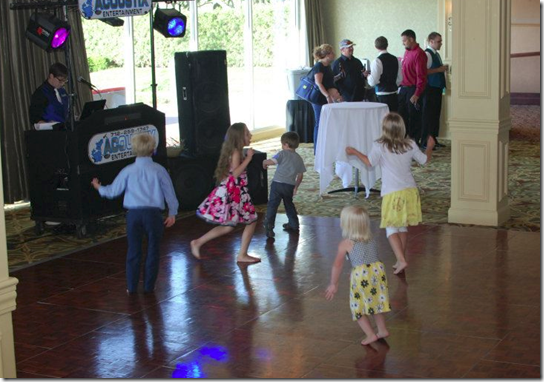 Not Quite sure where he got the idea to learn how to break-dance… but I think he's getting the hang of it…!  He's been practicing a little at home too – He's determined to get it right!
Yep – that's Ethan in the foreground.  He's dancing also – He's always dancing when there's music.  I could sing Twinkle-Twinkle and he'd dance!

Andrew had his little heart set on dancing with the bride (his Auntie) – so I gave him some money for the Dollar dance.  He liked that

So Cute, huh?
Do your kids dance??