Last week we were home (shoot, not home, old home, brain does not compute…) packing everything up. Everything. The storage unit, the house, my items that were still at my parent's house. Everything. When we had been researching moving companies and options, Budget and U-haul consistently came out as cheapest and most reliable. Then we calculated gas prices. At about 8 miles/gallon (about what a big truck gets), the gas costs to go from MN to AZ practically doubled our costs! So, we looked at pods. U-boxes, filled by us and moved by them, cost about the same as a big truck and gas, and then we wouldn't have to drive them! So we did it!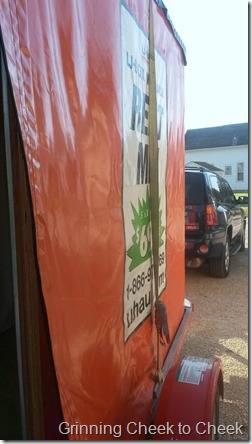 U-boxes are an Awesome Idea!
Pods aren't a new idea, U-haul has just jumped on board and made them more affordable. It's a fairly new service for U-haul so the employees had some rough patches behind the counter, but they knew their resources and we had no issues. They were easy to pick up, fill up, and return to the U-haul location. Then they will move them to the Bullhead City, AZ location within "8-10 days" and store them (for about $70 a month per box) until we have a place to unload them!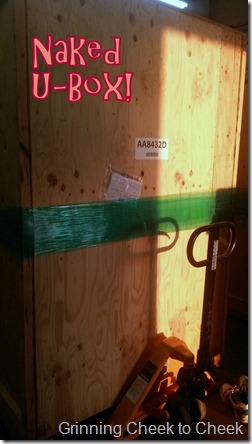 U-Boxes hold a Lot!
At 5 x 8 x 7.5, the U-boxes hold a lot! Our queen size mattress fit easily. And our big L-shaped couch (taken apart in 3 pieces). And our super tall shelves. Plus, since they aren't so tall you can't reach the top, we could truly fill them to the tippity top. We filled every single inch of 4 pods with all our belongings!
Basically, Peter rented ($15/day) a little U-boxes trailer, the U-haul peeps loaded on a box, and we took it home to fill. U-haul could deliver the U-boxes to our house, but that costs more. Once it was full, he closed it up, put on his own lock, and brought it back to the facility where they took it off the trailer and loaded the next one on.
Once all 4 were full, we returned the whole trailer with the last one on it and booked their trip to AZ!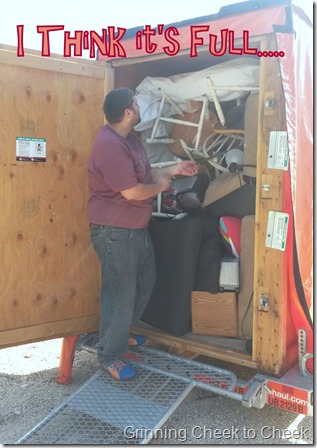 But not Enough…
We should have reserved more than 4 U-boxes. After the 4 were full, we still had enough stuff in the storage unit to fill 1.5 about more U-boxes. Our little family of 3 just has way too much stuff! Unfortunately, they were in high demand and we weren't able to get anymore right away. We had reserved them at least a few weeks ahead of time, and couldn't reserve extra "just in case", they all have to be paid for. So, we had a period of stressful "do we take it all to Goodwill or what?!?" before we decided to rent a truck and just drive the rest of it down. It was either that or wait for more boxes, pay for more boxes, and make our family go fill them since we would already be in AZ.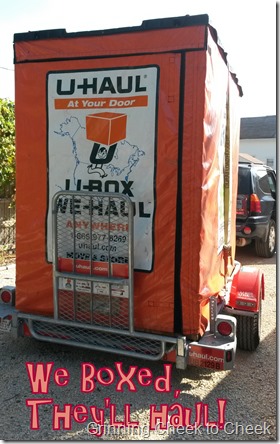 Our U-boxes are On Their Way!
U-haul will call us when our U-Boxes arrive. Watch for future posts about unloading them when we get a house! And read about our experience driving a moving truck cross country soon!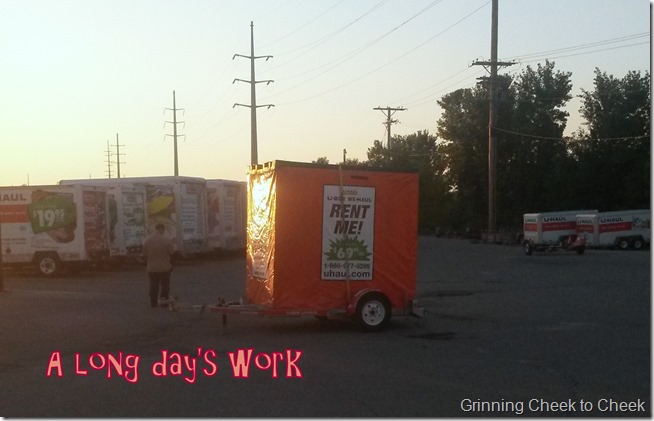 U-haul is Reliable
The employees at U-haul were great, very helpful, and pleasant to work with. Check out U-haul online for more information about moving and U-haul options like U-Boxes!
Check out U-haul on Facebook and Twitter for more awesome tips and resources!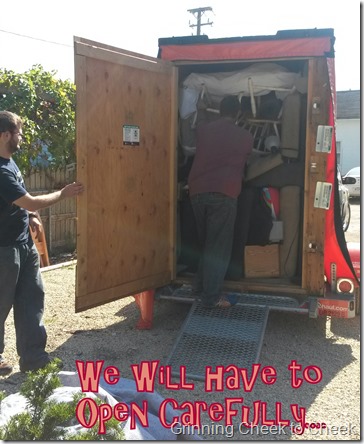 U-haul provided me with compensation for sharing this post with you. All opinions and experiences are 100% my own. Please note, we didn't pack everything totally un-breakably or perfectly. For the best experience possible, pack more carefully than we did!