Red Envelope is another one of those great Personalized websites that I love to order from.

It's a toss-up really between Red Envelope and Personal Creations of which store I like most.   Red Envelope has a slightly higher price point, but also has a slightly more upscale inventory. Either way – they both have great Unique Mother's Day Gifts.
I had a tough time deciding what I would want to order from Red Envelope – because so many things were really striking my fancy.
I decided to go with the Personalized Fireside Skewers – because we've got a TON of firewood in the back yard – which means I'm going to gain 5lbs this summer on S'Mores alone!  (or not.)
I would like to preface this message with the fact that these skewers really are decent – and I'm sure lots of people will love them – but their ordering system has a glitch – I'll be returning/exchanging my skewers.  Read more:
See how on this photo of the skewers, they have two words?
'Hudson Family'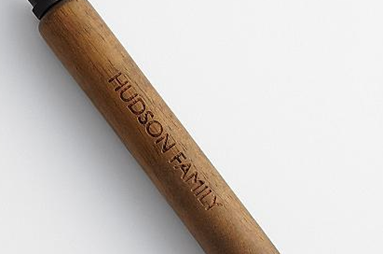 Well.  Trying to personalize my skewers – I wanted them to say, 'Mallow Luv' (as in Marshmallow love). Yes. I love Marshmallows.
*Interesting Fact* S'mores and Doughnuts are my LOVE language. Period.
Anyway – I wanted them to say 'Mallow Luv' but – It wouldn't let me put a space in there.  I called customer service – and they said it was because the word 'Family' was automatically imprinted, so you can only do one word – no spaces.
Well, I didn't want MallowLuv Family – So I'll do 'Marshmallow Family'.
Well, This is what I got.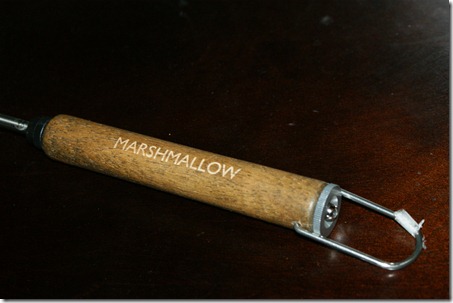 Not exactly what I was expecting. I'm a little bummed, but I'm sure they'll get it right when I talk to them about it.  I'm guessing that customer service was confused, and that the system just has a glitch not allowing a space to be put in. – We'll get it right!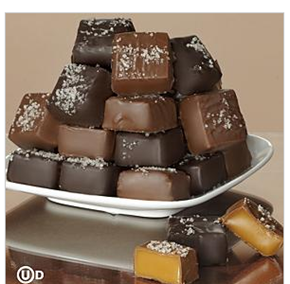 Oh Yeah, and I also ordered some Handmade Gray Sea Salted Caramels…
No one can really go wrong with Sea Salt Caramels.  'Nuff Said.
Anyway – I'll try to update as far as my return/exchange goes with them, I'm sure they'll be great – but we shall see

Do you purchase gifts at a retail location due to the fact that it is easier to do returns or exchanges?
Oh yeah – And… Do you LOVE S'Mores like me???

Win It!!!!
One lucky winner will receive a $75 Gift Code to Red Envelope!
How To Enter:
Mandatory Entry: Visit RedEnvelope.com and take a look around. Leave a comment telling me what you might purchase if you win the Gift Card!
Then: Fill out the Rafflecopter Form below.
Be sure to come back each day for Extra Entries!!
Rules: You do not have to be a blogger to enter/win. An email address is required to enter. The winner will be chosen randomly through Rafflecopter and contacted via email. A reply to the winning email is required within 48 hours before a new winner is chosen. One person entering per household please. US ONLY please.
This giveaway ends at 11:59 PM EST on May 24th, 2012.