My Baby Crawls Everywhere!
Micah is a very busy boy, and he loves toys. And things that aren't toys. Especially in the church; he loves to play with pens, bulletins, and any set of stairs around. When I have the time and energy to watch him closely and stick behind him on the stairs, that's fine. When my energy drains, it's time to break out the toys.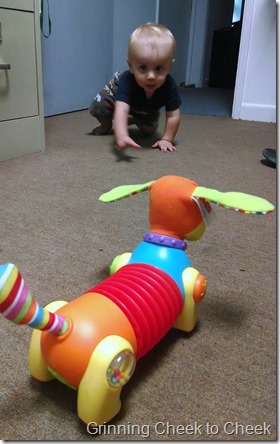 Follow Me Fred
One new toy that Micah adores is Follow Along Fred by Tiny Love. Fred, a little puppy, crawls along and makes fun noises to entertain Micah and draw him away from pens and stairs. He loves grabbing Follow Me Fred's tail and chasing him down the hall. Or around in circles.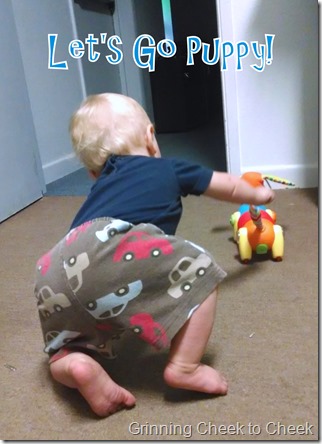 Follow Me Fred is Good for Babies
Follow Me Fred has some great qualities for babies; he is brightly colored, makes fun noises, and moves. Plus, he crinkles and shakes. Definitely baby material. For sitting babies, Fred can just run circles around baby to entertain him and encourage core strength.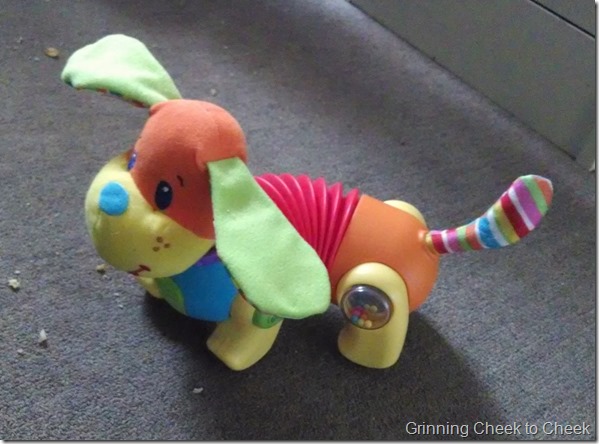 For crawling babies, Fred can go straight to strengthen crawling and grabbing skills.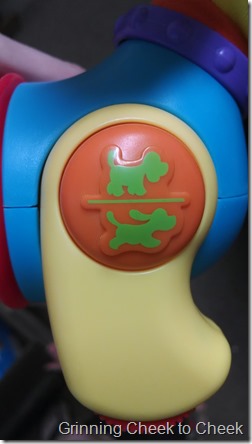 Follow Me Fred is Good for Moms
Fred is also safe; his wheels don't move when they aren't on the floor, so no hurt little fingers. He bends side to side so he can move in varying degrees of circles, or go straight. Unfortunately, he doesn't move for very long periods so baby only gets a few feet away, which is good for mom but Micah is too fast for such short distances. Thankfully, all it takes to make him move again is a little push or pull and off Fred goes.
The best thing: Follow me Fred has a mute option. He'll move but he won't make a sound. The quietest puppy ever.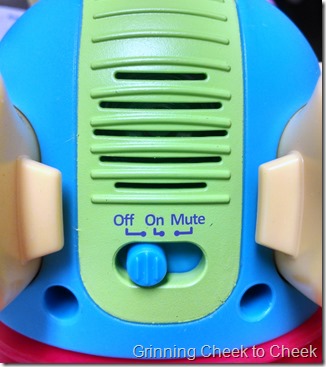 Tiny Love My Nature Pals
We also like to be on the move, and Micah often gets loaded into the stroller for us to go running or go for a walk. Or he gets loaded into a car while we drive to a park, or drive around town looking for a place to rent. Tiny Love's My Nature Pals is a great car seat or stroller toy. Or just anywhere toy! It makes noise, has brilliant colors, and can clip anywhere. Literally. Each side has clamps and the whole thing bends at 5 different points so it can clips onto anything.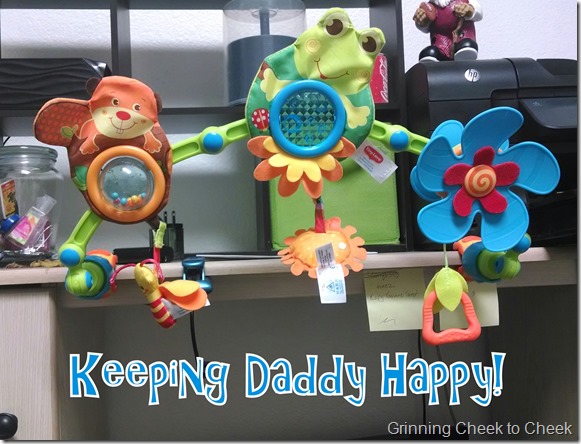 The animals are attractive, the pieces are fun to play with, and Micah loves his new Nature Pals. He loves being out in his stroller, but My Nature Pals makes any trip more fun.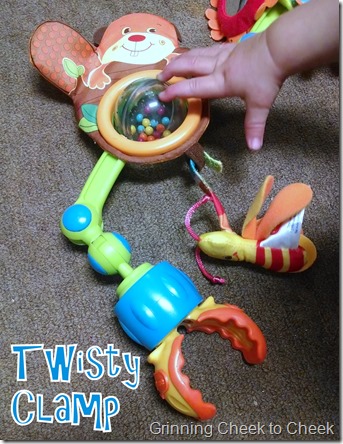 These two are great toys. Not the best toys I've ever heard of or seen, and still occasionally beat out by the box depending on Micah's mood, but definitely would make great Christmas presents for a little one.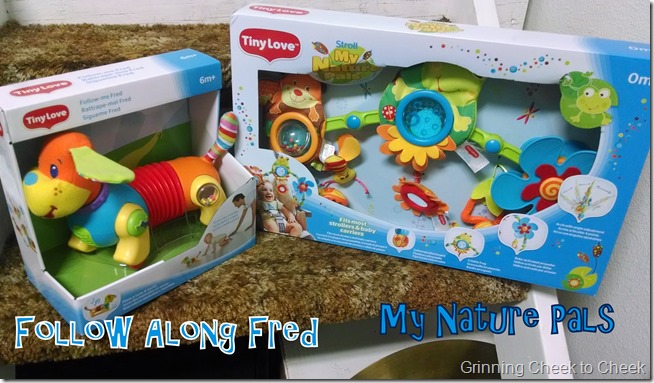 Both of these great Tiny Love items, and many more, are available online or at Babies 'R Us! Check out Tiny Love on Facebook and Twitter too!
Win Your Own Tiny Love Toys!
Win a Follow me Fred (Or Fiona for girls) and My Nature Pals for your loved one!
How to Enter: Comment about your favorite animal or animal name.
Then: Fill out the form and complete other options for more entries.
Remember to come back everyday for more entries!
Rules: You do not have to be a blogger to enter/win. An email address is required to enter. The winner will be chosen randomly through Rafflecopter and contacted via the email registered in Rafflecopter. A reply to the winning email is required within 48 hours before a new winner is chosen. One person entering per household please. US only please.
This giveaway ends at 11:59 PM EST on November 30th, 2013
I was given my own Follow Me Fred and My Nature Pals in exchange for this post. Opinions are 100% my own and not influenced by Tiny Love in any way.