More Activities for a 6 month old baby!
There are tons of activities for babies, especially in the summer, so this is the second of many posts to come about various activities Micah does throughout the year. He is such an active baby and we do new things almost every week.
Micah has almost mastered sitting, so when mom and dad need to get things done, he spends lots of time sitting on the floor surrounded by toys.
Beach Bum Baby
But when mom and dad have time, we get to go explore the world! Last week, Micah had his very first trip to the beach. And he loved it! He sat and played with the sand and actually didn't try to eat it (at first)! Then we dipped his feet in the cold water and actually didn't get any tears over the sudden change in temperature. Babies can go to the beach and enjoy it. Of course, we smothered him in sunscreen first. Sunscreen is okay for babies at 6 months old, although I put sunscreen on Micah at 2 months old during our trip to Arizona and didn't have any trouble.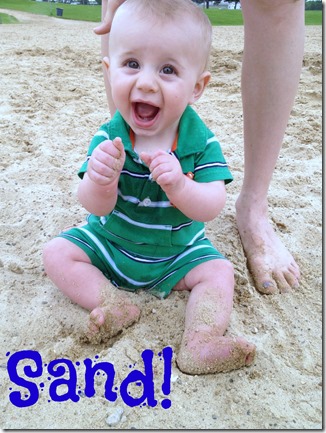 Of course, as soon as he hit the sand, he was covered. So I was able to test out a trick I read on Pinterest: use baby powder to get sand off skin painlessly! And it worked like a charm!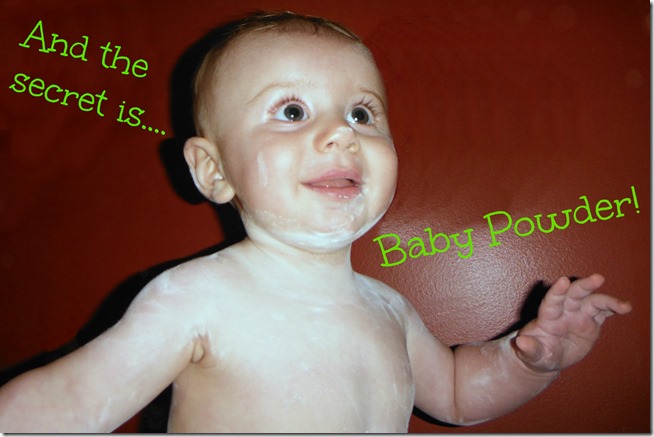 Learning to Play Cards
We also took a day trip up to the Twin Cities to visit grandma and grandpa (and great-grandma!). And in that household, a trip is never complete without a few games of cards. So, Micah had his first lesson in how to play Hand-and-Foot, and fun and challenging multi-player card game that takes a bit to learn but is definitely worth the effort.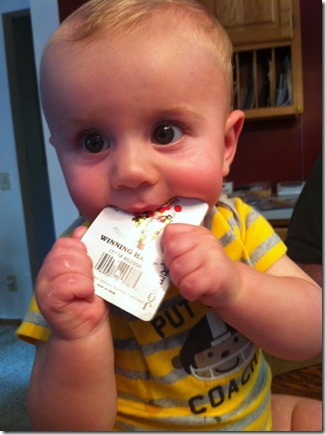 He was a "bad partner" per his daddy, but he sure had fun eating the cards! (We gave him his own personal deck to play with.) And he loved feeding them to his great-grandma! I was shocked that my 6 month old baby is already learning to share. It is so fun to watch them interact and I love relaxing as a 4-generation group.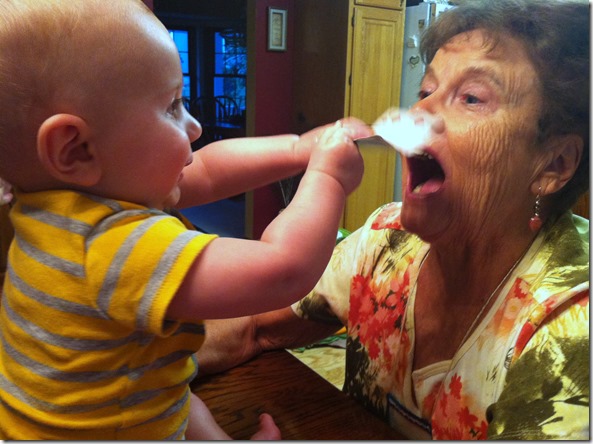 We are looking forward to more beach and family adventures in the coming weeks!