MiniMaestro is one of those companies that I hadn't really heard of a ton – but when I got the email from Sophie saying that she would love to be part of the event, I started looking into them a little more! And I'm glad I did!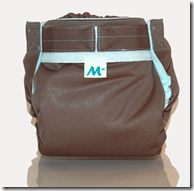 I have been so up and down with my feelings on sized diapers. I love them, but I can't afford them, so then I tell myself about how much I like One-Sized diapers.
Does anyone else do that? talk themselves into one-size because it's cheaper?!
It's not good.
I think you're going to see that I am slightly in love with my MiniMaestro Diapers…. although I was not at first (due to a slight mishap in product, which shouldn't normally happen – and was lovingly corrected right away!)
Great customer service is sometimes a HUGE deal in diapers – and if you have an issue with the diaper – it's great when you can get that issue resolved with no questions asked!
My Ratings:
See this post to find out more about my rating scale.


Assembly of this diaper is really simple. Take the insert – shove it in. No folding, no wiggling to get the insert flat – Perfectly easy! The pocket is wide open in the back (thank you very much!!) and even daddy's hands can fit the insert inside. The insert lays perfectly well inside the diaper.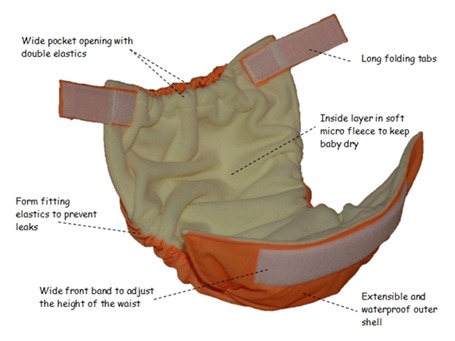 Although sometimes I feel like there's almost TOO much room. I guess that's maybe because the bamboo shrinks more?
Downsides? I wish that the diapers were labeled with sizes. I personally have to compare diapers to see which is medium vs. large. My husband? forget it, he would just put a medium diaper on our large child, hahaha!
I mentioned this to Sophie and she is seeing about adding a label to the diapers to say what size they are – so that is good



Being a sized diaper, this diaper fits great (when you have the right size on the right child, that is) <— poking fun of my husband!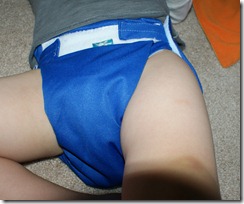 I love that the lining is such a soft fleece, it keeps the skin dry, and stays soft on their bottoms. This diaper doesn't create red marks or have any issues as far as I'm aware with the fit or comfort! I love them.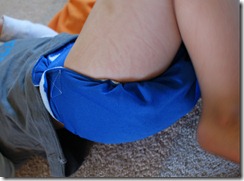 The outer layer of the diaper seems to be almost bulletproof! I've put my heaviest wetter (Andrew) into this diaper for three hours, and not had a leak, or a complaint. He's the kid who can wet through most other diapers in one-two pees (Oh why can't he just learn to use the potty with clothes on?!!!)


I believe this diaper requires that you pull out the insert before laundering. I typically do anyway – just because I'm too chicken not to! I want this diaper a lot, so when it hits the washing machine, I want it to go right into the dryer, and not have to be washed again!


How can you resist the cute contrasting colors?? I love that they're really trim in comparison to other diapers that hold my son's urine. I mean – I can get jeans on my boys with these diapers on, and not worry about having to go up a size!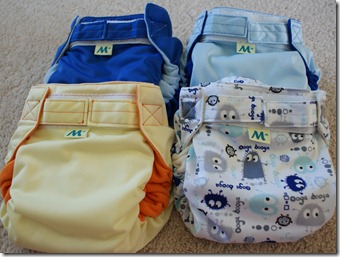 Again, the whole thing with Sized diapers vs. One-Size diapers – I definitely see the value in the sized diapers, however – I personally wouldn't be able to afford to get all five sizes of the diapers!
MiniMaestro sells these diapers in packages of 16 diapers, liners, and other goodies for around $200 (currently on sale). That's a little more than $12 per diaper (A GREAT Deal!).
Otherwise these diapers sell for apx. $15 each, or $17 for large (on sale) – and if you have your own liners already, you can get just the diaper portion, and remove $3.00 per diaper!


Besides the fact that dad doesn't know which diaper goes on which child (because for all he cares – the diaper just has to GO ON, and not be a perfect fit) these diapers are great for dad.
Just what I've been saying all along – Easy to stuff, Easy to put on with the velcro (hook and loop) attachments, Easy to pull the liner out without getting his fingers wet, easy to rinse when pooped on, and always dry when you pull it from the dryer.
Lets put it this way: If my husband had to pick one diaper to stuff – it'd be this one. If he had to pick one diaper to put on (assuming the size was known) It would be this one.


I do love this diaper. I wish I had more – I currently own four of them – two mediums and two larges. I love that these diapers are really trim. I mean – with the one insert in them, they fit as well as a disposable diaper.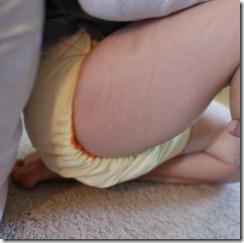 I do sometimes get concerned that the inserts are too small for the diaper – but, I have not had a leak ever in this diaper – so I'm finding that this might just be my imagination.
I love that the fleece keeps the boys' skin dry, so I don't need to add that barrier in the diaper.
I don't know why – but it seems that my boy's have a strong affinity for pooping in these diapers. I'm sure its just luck – but we haven't had these diapers in rotation for nearly as long as others, but they have been pooped in the most! Good news though – the poop rinses right off. No crevices or folds for the poop to stick onto. I like that.
I highly recommend that you all check out these diapers – I really liked them, and I think you will too!
**Updated to add: These were by-far my very favorite diapers, and the only cloth diapers that I actually purchased more for my own stash (vs. having just the reviewed ones available). I also ended up with a problem with ammonia smell. I stripped them multiple times (18 times through the washer…) and could smell the ammonia right away after they peed. It was such a bummer, since these fit the best and were by FAR the easiest for us!
To be fair: We pretty much stopped using all the other diapers since I had enough of this brand of diapers to keep my kids' bottoms clean – so I'm not sure if it was a problem with our washing or water or if I wasn't stripping them correctly or if it was actually a problem with the diaper.