I didn't officially make a 'Resolution' this year for weight loss – but rather a generalized sense of knowing that I need to change some things in order to be more healthy!
I explained in my last post that I am quickly becoming a Juicing 'Convert' and find myself craving the juice in the morning (battling my coffee cravings!). My favorite juicing recipe is one that I've adapted from a few of my favorites: I call it Pineapple Green Lemonade.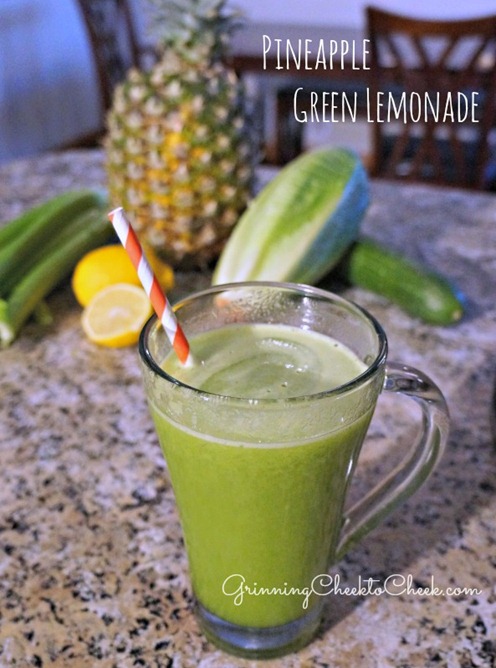 Through my partnership with Best Buy on the Blogging Board – all of us bloggers were given a Cuisinart – Compact Juice Extractor
and a Fitbit – Aria Wi-Fi Smart Scale
to pair with our Fitbit
.  They challenged us to a Million Steps logged in the month of January between the nine of us!
Best Buy is excited to have the nine members of our Blogging Board participating in a Million Steps Challenge in January. These bloggers are using health and fitness products, found at Best Buy, to keep track of their steps during the month of January with the goal of hitting 1,000,000 steps together by February 1st. To see how they're doing, follow @BestBuyWOLF or search #MillionSteps on Twitter. Make sure you post your steps, send them a word or encouragement, or grab a team of your own and see how many steps you can take in January. We're starting out 2013 with a New Year's Resolution to live healthy – please join us!
The Fitbit Aria Scale is a *very* effective motivating tool.  I know when I'm not doing well with my diet (eating a ton of junk food, not moving as much as I should, etc..) so when I go to step on the scale to see the damage: it's not just ME that sees it.  It's everyone that I have on my friends list.
I have it set so they don't see my actual weight: but rather a graph. So it looks a little like this:

The downside of this is that if I step on the scale fully clothed, mid-day: that records the heavier weight as opposed to yesterday morning when I just woke up.
As far as the juicer goes: I really enjoy having it. It's very easy to take apart and clean.  The only complaint that I have is that the juice container that comes with the machine is slightly on the small side. It is a "compact" juicer – so that's expected. I just use a larger container.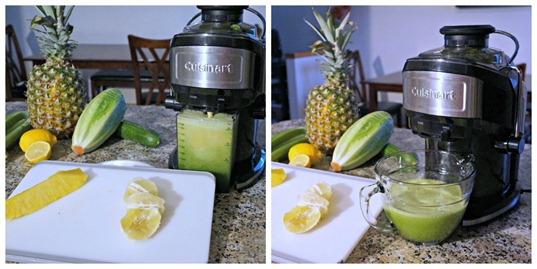 I've been loving the juicing; and trying to juice as much as possible. It's definitely a change in the way our fridge looks as well as the amount of time for us to get ready in the morning: but I feel the difference.
Click the photo to see Amy's Pineapple Green Lemonade Recipe!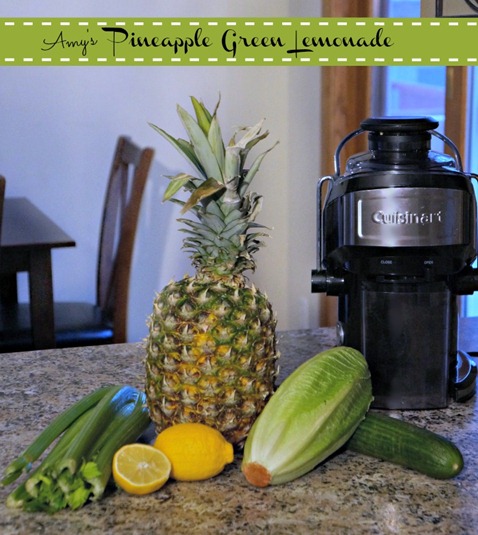 The last week and a half has been hard for me: we've eaten out a lot – and I worked a lot; meaning I didn't have much time to prepare juices. I feel it in my body; more bloated, and even a few extra pounds.  I've got to get back on track!
These products sold at Best Buy are a great way to jumpstart your workout routine. I absolutely recommend all of them! For a limited time, there are a few coupons available!
Coupons!!
Looking at purchasing a new small appliance or Health/Fitness item from Best Buy?  I've got some great coupons for you as my friends/family! Click the links to print the coupons:
Enjoy 20% off any small appliance                  Valid through 2/13/13
Enjoy 20% off any Health or Fitness item        Valid through 2/11/13
How are your New Years Resolutions coming along?
I received the juicer and scale as part of my relationship with Best Buy Wolf Blogging Board in exchange for my opinions on the products. This is no way influencing my opinion on the products.