I love holiday weekends – they usually mean sales and family and lots of really good food

Unfortunately here it's calling for rain, but it's only Thursday – so HopEfuLLY that changes by later in the weekend!
I thought I'd clue you all in to the great sale going on over at Step2!
EVERYTHING has free shipping this weekend!

(Yep. Everything!)
and –
If you've ever been in the market for a Step2 Kitchen – now is the time to get one!  The Step2 Grand Walk-in Kitchen (the one that I won at BlogHer!) is on sale for only $188!!!  That's $70 off!
Use coupon code S2GW512.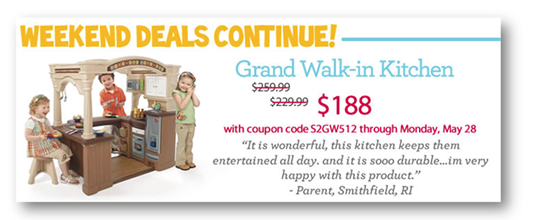 Just think: With the Step2 Walk-in-Kitchen – your little one(s) can play Chef and create the most fantastic recipe for Father's Day that will melt daddy's heart!
All sales are valid now through Monday, May 28th!