My 4 year old started preschool this year.  He has really enjoyed his time outside of the house – but his learning skills are definitely not developed like some of the other kids in his class.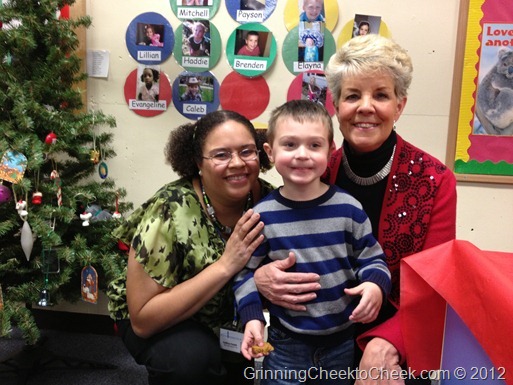 We had conferences with his teacher, she mentioned that he has an 'akward' grip on his writing utensils – which could possibly be hindering his ability to learn to draw shapes. 
I'm not terribly concerned at this point, considering that he just turned 4.  I'm sure he won't be entering High School without knowing how to hold a pencil, but I have been on the search for other ways to help him out in a fun way.
It does make sense that he's not sure how to properly hold a pencil because he's not much for arts/crafts <with the exception of finger painting!> – and hasn't ever enjoyed picking up a crayon, let alone a pencil. And, well – the majority of our learning activities consist of programs on the computer or the iPad!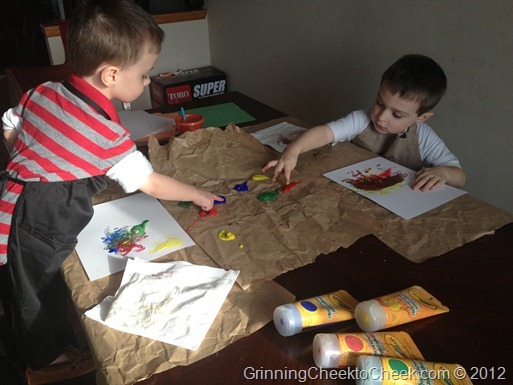 I've decided that there has to be a fun way to learn through some preschool workbooks.  I was searching the isles at Target – and noticed some fun ones for preschoolers made by Mead®.  And imagine what happened the very next day? They emailed ME asking me to review a few of their new products.
Mead® Early Learning products are endorsed by professional educators, and tested and reviewed by parents. Featuring workbooks, flash cards, games and more, these products build basic learning skills for kids in preschool through third grade, while fostering the bond between mom and child. With fun activities and tools that equip mom to both teach and engage, Early Learning products give parents a fail-proof teaching guide to supplement classroom learning and build fine motor skills for their children after school hours, during summer breaks or on the road.
They sent me a super pack filled with all sorts of activities to do ranging from Kindergarden through Third Grade.  There is some pretty cool stuff that they carry!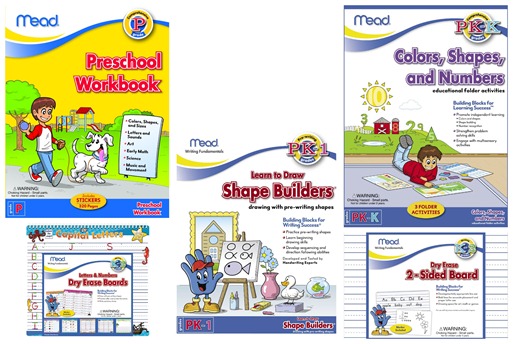 I love the dry erase boards – allowing him to work through some of the items without having to waste paper! And it's fun to use!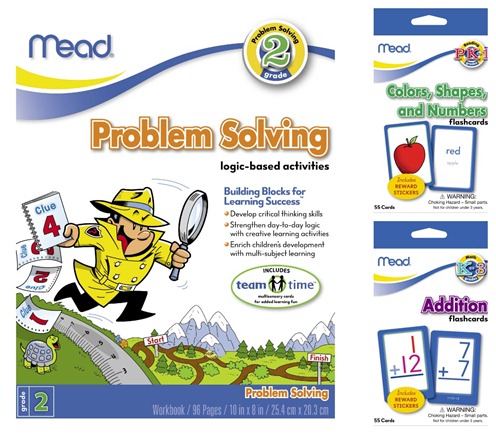 A few of the books they sent are a little bit too 'old' for my oldest, but I'm sure we'll be using them in the near future!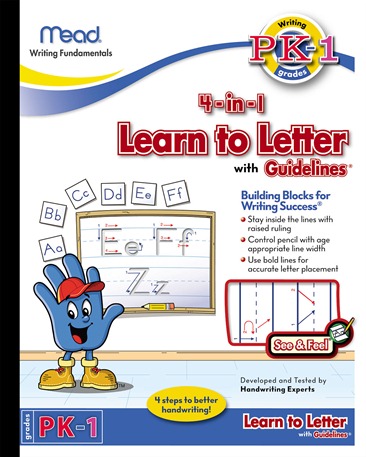 My favorite workbook that they sent was the 4-in-1 Learn to Letter with Guidelines.  This book is *SO* cool, because it has indentations where your pencil is supposed to sit.  It encourages him to use the pencil and actually follow the lines, while keeping steady. The book has both upper case and lower case (Separated, of course!).
All of these learning tools, plus SO many more – are available online at Mead.com
But: Great news! I've got a prize pack identical to the one I received – which includes everything I've pictured below plus a few extra items – valued at over $75!
Win It!!!!
One Lucky GC2C Reader will Win a Mead Early Learning Prize Pack (ERV $75!)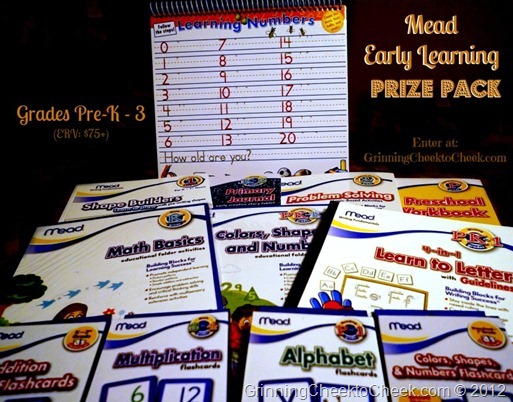 How to Enter:
Mandatory Entry: Leave a relevant comment on this post.
Then: Fill out the rafflecopter form.
Be sure to come back each day for extra entries!!
Rules: You do not have to be a blogger to enter/win. An email address is required to enter. The winner will be chosen randomly through Rafflecopter and contacted via email. A reply to the winning email is required within 48 hours before a new winner is chosen. One person entering per household please. US only please.
This giveaway ends at 11:59 PM EST on February 15th, 2013.