While walking through Toys R Us and other toy isles with my kids in the cart – I often get frustrated at Andrew – because he's CONSTANTLY pulling the Cars2 Toys off the shelf and sticking them in the cart. 
"I *love* them, Mom"
One of the favorites to grab and pull is the Lights and Sound Items.
I'm sure if you've spent any time in the Toy Isles, you've seen these – They're really cool. 
We've let him keep one in the cart to play with, and then hand it off to the cashier telling them that we're not buying it.  Andrew gets pretty sad when he gets home and can't play with McQueen and Mater – But he'll get some good toys sooner than later – because Mattel Sent us the Cars 2 Lights and Sound Francesco Bernoulli!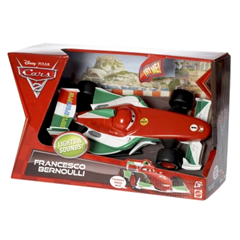 Fast-paced fun races into your child's playtime with an assortment of oversized vehicles from the action-packed Disney/Pixar movie. Bring Francesco Bernoulli to life with the realistic flashing LED lights and lots of entertaining sounds! Also check out Cars 2 Lightning McQueen and Mater (sold separately).
But what Joe and I are really excited for is the new Lightning McQueen Alive.  We also received this from Mattel – and are super excited to open it up and play.
This McQueen is Die-Cast sized, but is fully plastic and painted. No stickers.  He talks, while moving his mouth! His eyes also shift, and then he moves forward, backward, and spins in circles.
It's supposedly for the 'grown-up collector' but – We're going to let Andrew (or Dad and I) enjoy it.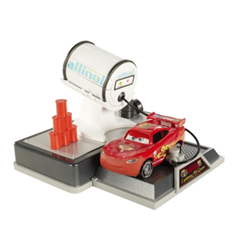 Mcqueen uses his 'allinol' gas pump to recharge his battery – which is super creative. Andrew loves to have things like gas stations and car washes…
This is a *super* detailed review of Lightning McQueen alive–The fun starts around 2:00.
This is how McQueen rolls! The popular Cars 2 character is now geared up with the latest in micro-technology. His daring personality, humor, and charisma come to life in an amazing animatronic car that can speak phrases, drive forward or backward, and even show off dance moves!
1:55 scale vehicle with slick styling and fun character details
Includes rechargeable battery and charging base
Kids can act out scenes from the exciting Disney/Pixar movie and create their own adventures!
And just as a bonus item for Andrew this year, Joe and I bought him the Cars 2 Siddeley the Spy Jet Transporter.  He'll love putting his die cast cars into the jet and flying it around.  We're really excited for him to open it!
So now that I'm a *ton* more brand conscious when I'm looking through the toy isles – I'm definitely seeing a trend, that Mattel has all the 'Cool' toys.
Check them out on Facebook and Twitter! I'm sure they've got lots of fun stuff going on too!