Have I mentioned how much I dislike my floors?? Oh wait, I had almost a whole post about it!  For those who haven't read that post: I hate my floors.
Ok – but seriously – my condo had a B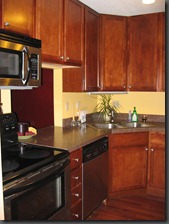 EAUTIFUL (yet quite tiny) kitchen with nice laminate floors.  It was a little bit darker stained; so I could constantly see every little speck of dirt and every tiny crumb. It was great.  Some people probably think that would be a bad thing – but I loved it.  I loved that every single day I would grab my Lysol wipes (which I am obsessive about) and get down on the floor and go around the perimeter of my kitchen floor – getting all the crud.  My floor was always clean. Always.
Now this floor..  This floor is someone's idea of a mean joke. Whoever did this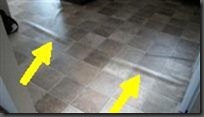 floor is supposed to be working behind a desk – not laying floor.  First of all – it's a roll out type of the plastic floor.  They pretty much rolled it out across the floor and used a dull scissors, and cut along the edges, and let it fall.  That's it. No glue; no measurements; who cares if there's a gap between the wall and flooring, "oh! that part tore… well. whatever! not my floor!"  And secondly; the floor is colored multiple colors; so you CAN'T see the dirt.
I *hate* that I can't see where my crumbs are landing and how dirty it is.  I *hate* that when I walk on this floor with bare feet that I can walk right into a sticky area on accident or get crumbs in my toes.  I can go around the perimeter all I want on this floor – but its everywhere. The dirt just won't go away.
I have given up daily hands-and-knees cleaning with my wipes because I feel like I'm not even sure what I'm accomplishing. But then I quickly realized after way too many 'occurrences' of getting crumbs in my toes; that I needed to do SOMETHING.  I tried vacuuming – but that's just a pain.  I tried sweeping – but I still never seemed to get it all.  And then finally, I was given a Lysol Clean-Flip Sweeper to use – and this is about the only thing that I know I can use; and it will work – every time.
Here are the product features:
Disinfecting Abilities: The Lysol Clean-Flip Sweeper's wet cloths feature the disinfecting power of Lysol so you know you're not leaving any germs behind
Versatility: The innovative "flip" feature allows you to get into tight spaces and clean the floor and baseboard simultaneously
Power: The Clean-Flip uses the entire cloth, giving you 66% more cleaning power enabling you to clean faster and more efficiently
Easy-to-use: With a simple, no-touch way to attach the cleaning cloth to the sweeper, the Clean-Flip reduces the drippy mess and hassle associated with other sweepers
Availability: The Lysol Clean-Flip Sweeper is available at retailers nationwide including: Wal-Mart, Home Depot, Kroger, Lowes, True Value
Price: The Lysol Clean-Flip Sweeper Starter Kit retails for $10.00 and includes the sweeper, 2 dry cloths and 2 wet cloths
What I don't like?  I'm not a big fan of buying wet cloths all the time – because I'm a daily mopper.  I *need* clean floors.  The rest of my house can be disaster zone; but if my kitchen floor is dirty; I go crazy.  They do sell the refill mop packs in a set of 24 cloths for $8.50 –  but to be honest; I've been using my Lysol wipes and just attach them to the sweeper, because it's Velcro and then every few days I get serious and use my wet cloth. But until I get new floors in my kitchen; I'm just going to have to deal with my frustrations of not being able to see my dirt.

Giveaway Ended
I received free product for review purposes. All opinions here are 100% my own.