What happened to winter, or spring?  It feels like summer up here!
You may have heard me (or most people in the upper-Midwest) mention about our crazy warm weather here!  Here?  Oh yeah, Minnesota.  a.k.a. Minne'Snow'Ta.
A typical winter here for Minnesota starts somewhere between September and November.  We are usually covered in snow by Thanksgiving, and for sure by Christmas.  Then – in January the sub-zero temperatures kick into high-gear – and most of Minnesota stays indoors until April or May.  Sometimes June.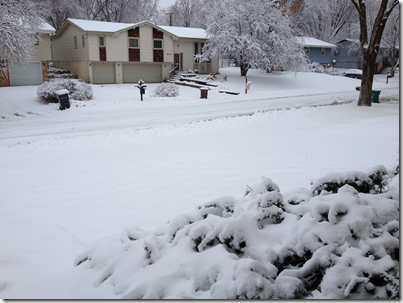 This year though? I'm pretty sure there was enough snow to shovel my driveway 3 or 4 times. THAT'S IT! It was for sure the first Christmas I ever remember without snow on the ground.
And since January our temperatures have been anywhere from 10-70 degrees….
But then this week, our temperatures have been in mid-upper 70s – and even broke into 80 degrees on Sunday. So we've been outside constantly, and building gardens!
Usually spring breakers are fleeing Minnesota to see the sun and take off their parkas for a bit.  But  – this year, it seems as we're just as lucky as those in Florida.  I'm super excited about it.
I was emailing with one of the reps from Step2 about the water table that I'm reviewing, and she told me that she was jealous of our 70 degree weather.
It's about DANG time that someone is jealous of MN weather

I am slightly weary of June.  I'm hesitantly betting on a blizzard somewhere in June – that's how weird this is.
What's the weather like in your neck-of-the-woods?