This past spring, I gave you all a glimpse into the project that we were entering into with Carpet One. They know how much I've absolutely raved about their Tigressa carpet line and how everyone likes to lay on our area rug because it's SO soft. They even sponsored me last fall to get to Brandcation so I could share my Tigressa love with everyone else there.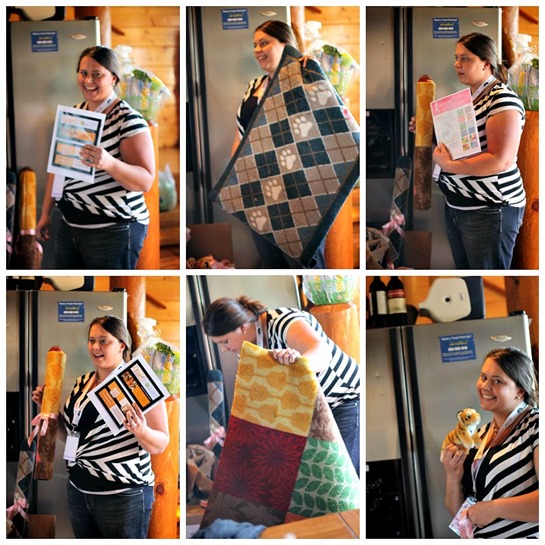 So when Carpet One came out with their newest Tigressa line and they were ready to promote: they thought of me (first, of course!). They offered up the chance for me to not *just* have an area rug of their newer, softer Tigressa Cherish carpet… but they offered an entire ROOM!
I knew right away, given my obsession with clean floors, that my living room is the highest traffic area and the carpet has gotten so terrible there in the last two years. I asked them if I could get carpet on my stairs as well so it would match the living room. They weren't quite sure if they'd get the approval for that much carpeting, so they had me pick a backup. The backup plan we had was the downstairs family room.
My husband and I went to the store to pick out the carpets that we really wanted, and found ourselves settling on two different types of carpeting. One type that we would prefer if we could do the stairs and the living room, and a totally different style of carpet if we had to go with the downstairs living room.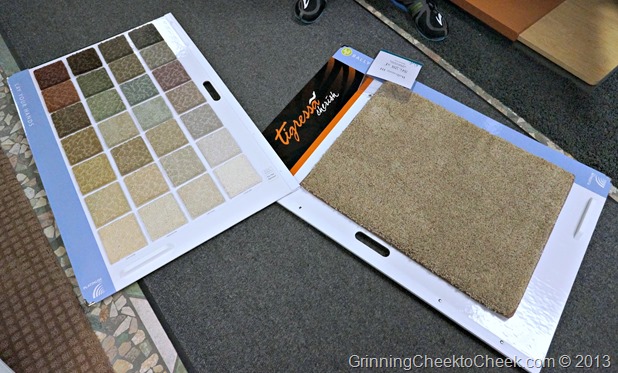 To our shock and total surprise, they decided to let us do BOTH! I was literally 'Grinning Cheek to Cheek'!
So the day came where our carpet would be installed. Unfortunately, it was also the day after our air conditioner went out and of course it was 85 degrees outside… Poor installers! (FYI I did call ahead and offer them to reschedule when we had our A/C back).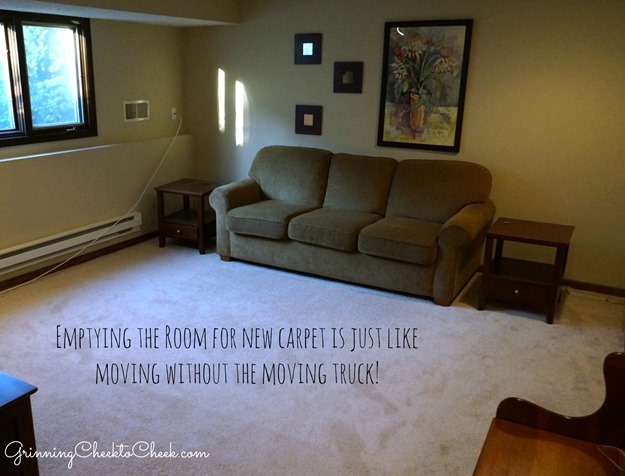 My husband and I worked much of the evening before getting everything out of the living room and entry so the guys could move the furniture and lay the carpet. It's kind of like moving – except you get to move into your own new space!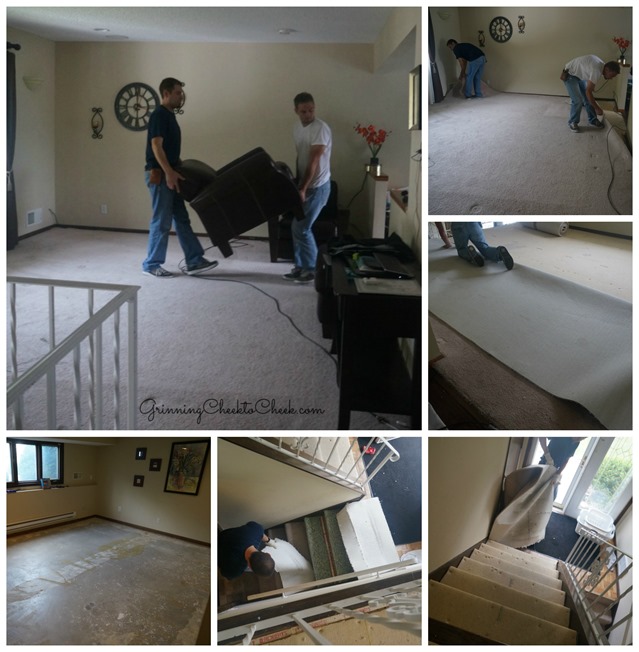 They were super quick when they arrived. They took all the furniture and carefully moved it into other rooms, and started ripping out the old carpet.They even took the care to lay our wires back under the carpet and be sure that none of them were being peirced with the carpet nails.
Ethan and I waved 'BYE!!!' to our old carpet. (Although I was a little bit more celebratory like, 'Laterz…Peace Out!!').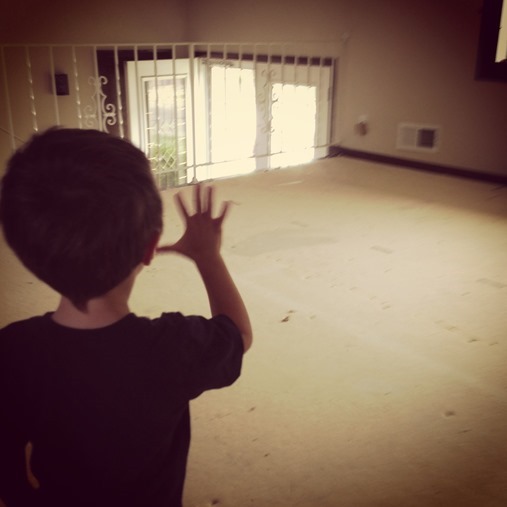 After they started laying down the pad, The kids and I headed out for a few errands. We came back a few hours later and they were just getting out the door. It was SO soft and beautiful.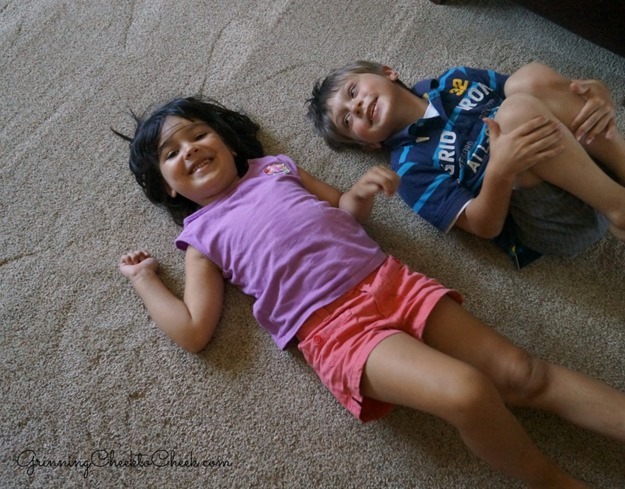 The kids instantly went into the living room and laid down on it, cuddling up to the softness. Ethan even fell asleep (We had a busy day with no nap, and he's a sucker for softness)!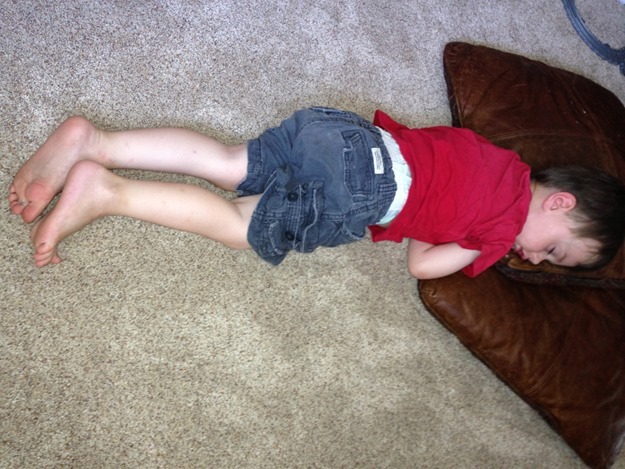 Along with the carpeting I have a 20 year warranty. Yep! 20 Years.. So, this carpet should still be looking good when my kids go off to college.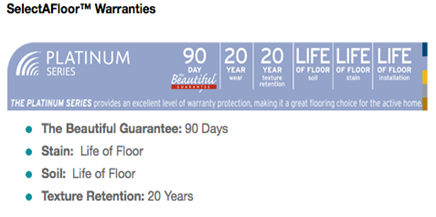 The one bad side? I did have to give up my beloved Dyson Vacuum. Apparently Dyson brushes spin too quickly and can melt the nylon fibers a little, creating a bad texture, and therefore voiding the warranty. We're still on the hunt for the vacuum that we can use (since it needs a good height adjustment) so meanwhile we are just spot cleaning using the suction only on our Dyson Handheld.

You'll have to take my word for it – but without any hesitation I absolutely recommend the new Tigressa Cherish line. The price wasn't any more expensive than quality carpet you would find at Home Depot, and the quality of the Tigressa is so much better. I've verbally recommended this product to so many of my dental patients, too – who talk about their home projects and needing new carpet. I send them ALL to Carpet One. One patient so far has come back and said how impressive the carpet was compared to the other specialty stores they were looking at – and the price was about HALF of what they were looking at – so they were thanking me for the recommendation and spreading the word themselves. It's *That* Good.
Keep your eyes peeled for one more post regarding the choices we made and the final look and layout!
Disclosure: I received carpet and installation in exchange for my opinions. All opinions are 100% my own.