A huge plus of living in Arizona is warm (at least compared to MN!) weather, even in November, so we can go on lots of walks and play outside all year round. Radio Flyer sent me a EZ Fold Stroll 'N Trike to use and share with you! Opinions are 100% my own, and my opinion is that the EZ Fold Stroll 'N Trike is fantastic! It grows with baby, is awesome for mom (or dad), seems solid, and it folds!

EZ Fold Stroll 'N Trike Grows with Baby
Micah is growing fast. He's physically bigger and way more capable of doing things, like fitting the wooden pieces of his train together or pushing his hippo sit 'n stand toy. And he will continue to grow, so there is no point in spending much money on toys that will only work for now. The Radio Flyer EZ Fold Stroll 'N Trike will grow with Micah. It has 4 stages! And the different parts that remove for the different stages are actually really easy to take off (or put back on for the next kid!)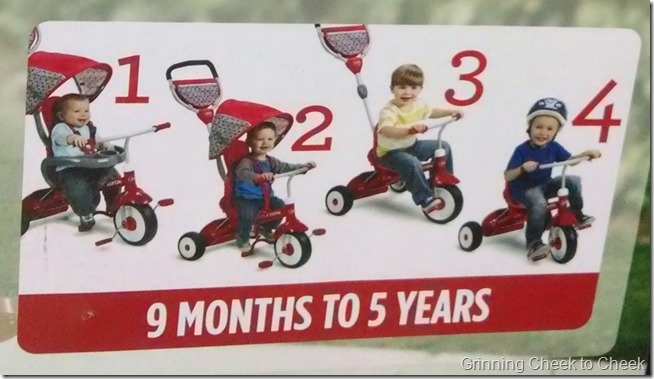 EZ Fold Stroll 'N Trike Baby Stage
Micah is in the first stage right now: the seat has a harness and a tray, and the trike has a handle for pushing. Plus, the wheel is "locked", so the pedals don't do anything. They are there, but totally non-functional. He can push them if he wants (his feet don't quite reach) but they won't propel the trike and if they hit his foot, they just sit there and don't hurt him.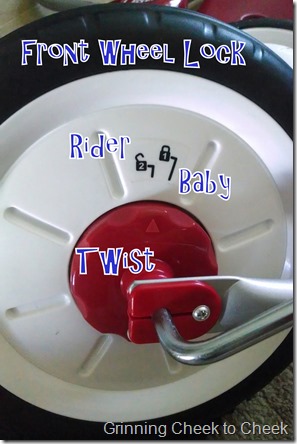 This works great for my little man! I was a little worried his feet would catch on the wheel, but it's smooth plastic and he has no trouble with it. My only other issue: It is a little hard to get him in – the tray is a pretty small opening, but once he is in it is easy to buckle the harness and off we go! And now that we've done it a few times, it's getting easier.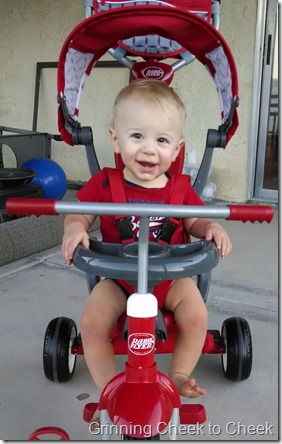 EZ Fold Stroll 'N Trike is Mom-Friendly
Except for the "some" assembly required (it took me about an hour while Micah napped, the instructions are super easy to follow), the EZ Fold Stroll 'N Trike is incredibly mom friendly.
My favorite part: the mom handle. It's padded, extendable, and controls the front wheel. So, when I turn the handle, the wheel turns, and the whole trike rolls that way, super smoothly with very little resistance. It's awesome. In fact, the whole thing drives really smoothly.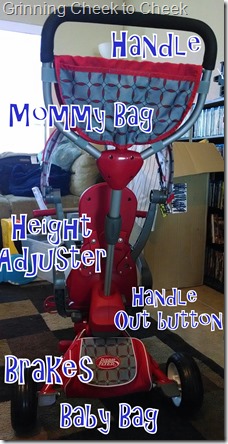 Other mom perks: the handle has a little bag for a cell phone, keys, or whatever else you bring with you. Plus there is another bigger bag at the base for mom or kid. No cup holder, unfortunately, but those can be bought pretty cheap. And…
The Radio Flyer EZ Fold Stroll 'N Trike Folds
Easily too! The EZ Fold Stroll 'N Trike has one lever to pull and the whole thing folds in half. With all the stage 1 stuff (especially the handle), it doesn't fold very small, but it's still smaller than trying to shove a whole trike in your car, or anywhere. Or the handle can be easily removed and then it folds a lot smaller. It does seem to fold the opposite way as natural and takes thought and focus when we fold it, but it works well! It's actually in my trunk right now, after our excursion to the Singspiration at Lake Havasu.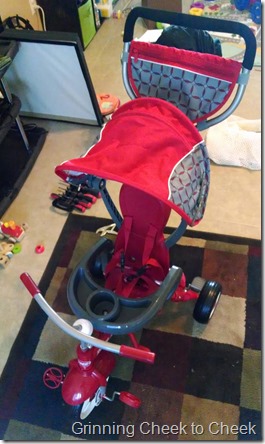 People Love the EZ Fold Stroll 'N Trike
Speaking of our excursion, every time we take it out, Micah gets tons of jealous stares. People love our Radio Flyer EZ Fold Stroll 'N Trike! Lots of people smile, point, and say "that's great!" or "I wish I had one of those!" Some people stop and ask us about it and then say they are going to get one for their kids, nieces, or grandkids. One older couple loved it and remembered growing up with Radio Flyer wagons and vouched for the awesomeness of the brand.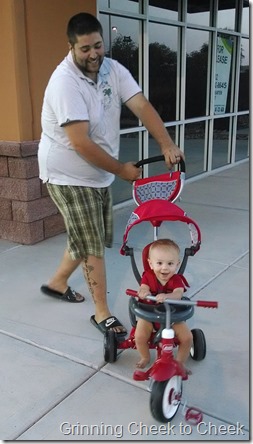 And what's most important, Micah seems to love it. Whenever we go out in the EZ Fold Stroll 'N Trike, he grins from ear to ear. He loves sitting up and interacting with the world. It's a smooth ride and the tray keeps him safe while giving him a place for toys or snacks. He can put his feet on the footrests or try to catch the pedals. The harness rubs his neck, the headrest has zero padding, and the canopy is flimsy and small, but he doesn't mind the harness or the sunshine and loves all the attention from having the coolest stroller in town.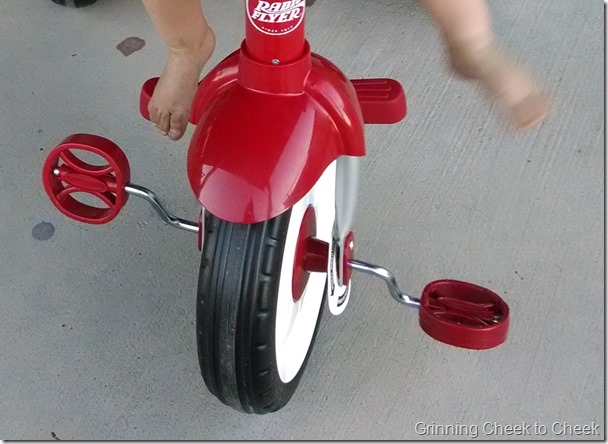 EZ Fold Stroll 'N Trike
Overall, the EZ Fold Stroll 'N Trike is a fantastic grow-with-me trike. At $140, it is more than I would spend most things, but for something that will be fun for at least 4 more years, it's not bad. And it's Radio Flyer and the parts seem solid, so it should actually last that long. It'd be a great present from a grandma looking to spoil the newest baby of the family.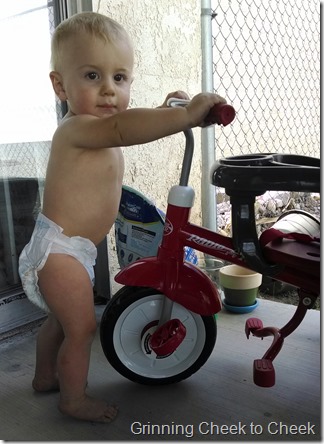 Micah loves his EZ Fold Stroll 'N Trike. He holds onto the handle, is thrilled when there are snacks in the cup holder, and loves going for rides because he can sit up and see everything, unlike in his strollers. I'm looking forward to continuing to use it with him and have no doubt it would make a fantastic Christmas present if the price is right for your budget!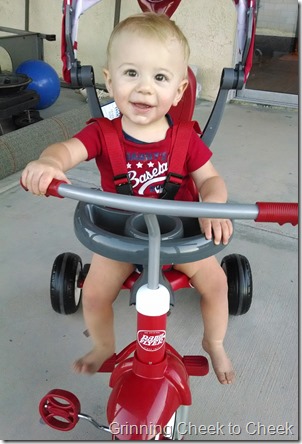 Check out Radio Flyer and the EZ Fold Stroll 'N Trike online, on Facebook, and on Twitter!
Even better, for every toy bought on Radio Flyer.com, they will plant a tree!