So, Have you seen the commercials yet?  Or better yet, have your Kids seen the commercials?
Lite Sprites are just about the coolest toy I have ever gotten to play with.  Even my boys (ALL of them) agree – even though it is technically a girls toy.
Lite Sprites use color and light to express their moods and feelings. Each Sprite has her own personality and domain in the natural world.
The Sprite Sisterhood includes: Prisma, Astra, Meadow, Brook, and Bleak.
Bleak, the naughty Sprite, rejects color and uses her powers to eliminate or disrupt color in Lite-Topia.
I received the Tree of Lite, The Windmill, The Flower, 2 wands and Prismas, Bleak, and the Pet set.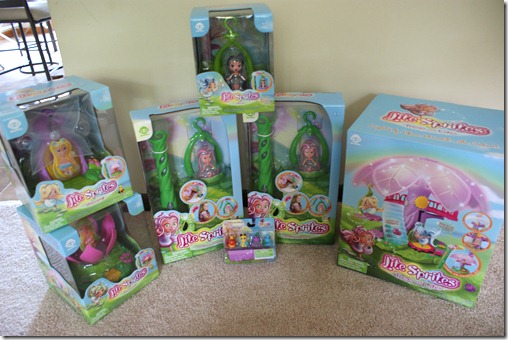 The Toys are easy to set up, and so fun to play with!
The wand is the most important feature – You can collect color with the wand from anywhere around the house, or sort through the 'factory' colors available.  Then you point the wand and push the magic button, and the toys change colors!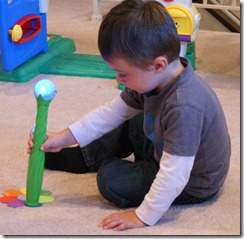 The day that we got these toys, we set them all up – Andrew was mostly interested in spinning the tree around, which makes the colors change continuously.  Joe and I spent a while trying to figure out how the whole set works, and all about Bleak and how to use the wand.
It does take some getting used to at first!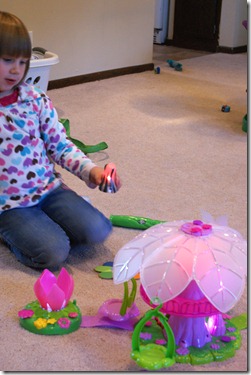 It's not exactly easy enough for a 2 year old to figure out – or even a 4 year old for that matter – but it's still fun at every level! The older the child, the more in depth the play will be, and the more fun they will have!
My 5 year old Niece Isabella came over to play with the Lite Sprites – of which she has seen the commercials for, and has been dreaming of for a little bit now…  She had such a great time here, she told grandma on the way home that she wanted to come over every night to play with my toys – and that I needed to be sure that I am careful with the toys so they don't get broken – so they're still here when she comes to play next time!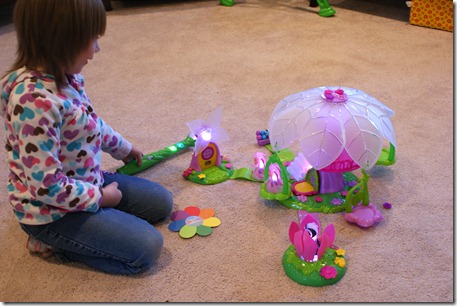 Isabella wasn't really interested in figuring out the deep details of the spells and Bleak – so I just put the Color spell on Bleak so that she stopped stealing color from Lite-Topia so she can act just like the other Sprites.  I think if she had seen the show – she might be more interested.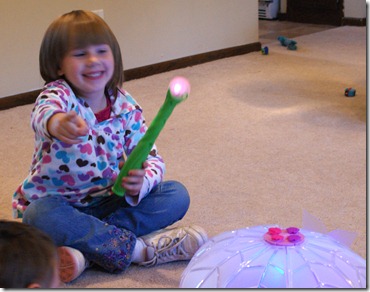 My Thoughts:
Originally I signed up to review the Lite Sprites specifically for my two nieces for Christmas presents – but now I keep second guessing if I want to keep them for myself and Andrew!! But – I know that my Nieces will appreciate them so much more than Andrew, so – Merry Christmas Girls!  – Hope they're not reading my blog

Personally – I think that the Lite Sprites are going to be the next BIG toy for 2011 and a tough item to find this holiday season.  If you think your kids might want them, you better find them now!
Being that there are several smaller pieces to these toys and I have a little babe where everything goes in his mouth – I just put all the little pieces into a baggie – They really aren't necessary for the fun. Good to know if you've got varying levels of ages in your home.
You're going to want to buy some batteries with these toys, because there are quite a few needed.  The good news is, that all of the toys have battery saving features, turning them 'off' after a certain time period.  We have logged several hours into these toys and left a few on for days at a time, and have not changed any batteries yet!
You can Find Lite Sprites™ at Target, Walmart, Kmart, Sears, and Amazon.com. – They're already starting to be sold out (hence the high prices at Amazon)! Kmart/Sears still has some in stock though at the normal prices.
Well – Who wants to win an AWESOME set of Lite Sprites??
Giveaway!!
(Open to US Only)
One lucky reader will win a Lite Sprite Package Including:
1 Lite Wand and Prisma Sprite Set
1 Extra Sprite (Assorted)
Lite Pets
1 Other Playset (Assorted)
($77+ Value)
Visit Here for instructions on how to enter
Click 'More' to see the Rafflecopter info to enter!