Many of you know, I am a Dental Hygienist.  And as much as I'd like to believe that being a hygienist automatically exempts me and my family from any dental pain, problems, or issues – It doesn't.
So just about a week ago – I was flossing my teeth for the first time in a long time.  My gums were bleeding and I just knew that gingivitis had set in – BIG Time.  I started thinking about it – and realized that the last time I brushed the boys' teeth was almost a week ago….
(BAD HYGIENIST and BAD MOM!!) <—-I'm scolding myself.
The realization above quickly made me re-evaluate our home care habits – and take a closer look at what I need to do to get back on track. I know that brushing alone is not going to bring my oral health back to healthy – so I need to gather some tools – and get to it.
I decided to join the three-week Sweet Smart challenge: brushing, flossing and rinsing twice a day with Listerine – and Listerine sent us an awesome package of products to help the cause.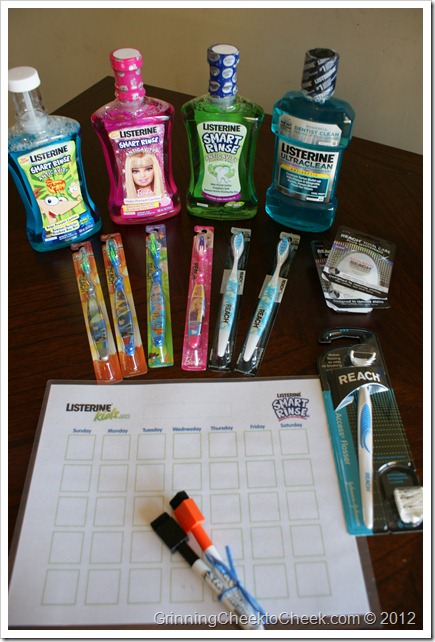 I also need a way to get the kids' oral care on track: but because they are so young (almost 2 and 4) their oral hygiene is still in my hands – (And should remain in my hands until they are at least 8 years old!!!) and they can't do the rinsing with any mouthwashes until age 6, because they might swallow some.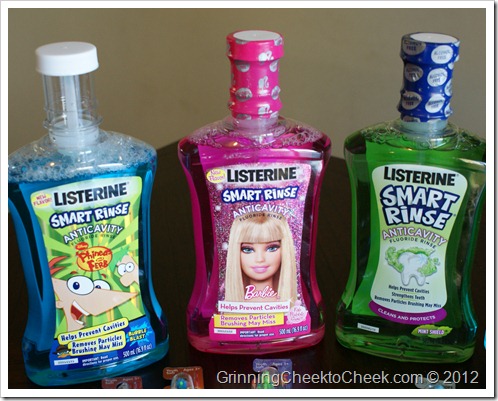 However, I am a big fan of the Listerine Smart Rinse for both adults and children (who are capable of rinsing and not swallowing).  Listerine Smart Rinse is a alcohol free mouthwash with fluoride.  I'm a huge advocate for fluoride (and If you're not… please don't comment here about how horrible fluoride is. I will just delete your comment, so let's just agree to disagree.) and I truly have seen in the office how much fluoride helps a person who not only has decay – but also sensitivity!
The Plan:
My goal for homecare is to brush and rinse at least twice a day, and floss at least once per day.  And for the boys to brush twice a day and floss once per day.  I'm also going to start teaching Andrew how to swish with water and spit it out, so he can start using the rinse sooner than later.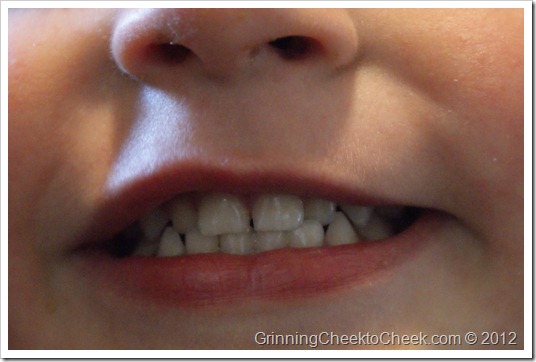 A lot of parent's forget that flossing is an important step in their childrens' oral hygiene routine.  If their teeth are touching, plaque can get stuck in them – and therefore they need to be flossed regularly.  Both of my boys' teeth are touching in several places, and therefore we floss them.
I've got the knowledge and the skills to take control of our hygiene practices – I just need the reminders.  Therefore, a lot of what I'm thinking of doing is reminder based.
I made a poster for the boys' rooms – because that's where we are when I tuck them in bed, and always is the place where brushing is last thing on my mind, but the most important time to not forget.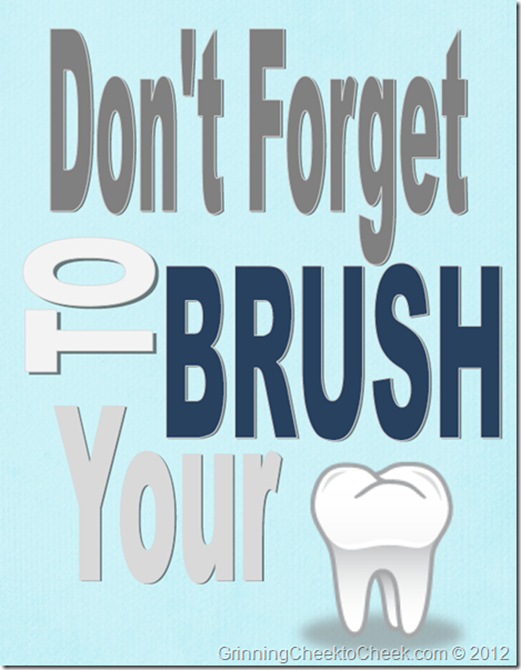 We also have the Listerine calendar which can be found online at www.listerinekids.com  that is laminated – so we can use dry-erase markers on it to create a rewards chart for the kids.  This will be on the fridge, so we can remember in the morning to brush the boys' teeth after breakfast.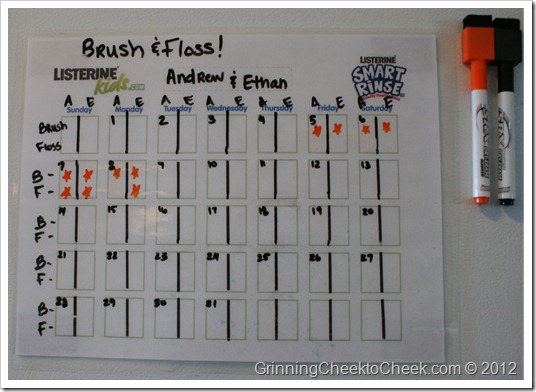 This October, LISTERINE is teaming up with America's ToothFairy for the third time to eliminate pediatric oral disease and promote overall health and well-being for underserved children.
This challenge came to me in perfect timing – because it's running over Halloween, which is one of the hardest times for most mom's to keep the sugar out of their kids' mouth!
I'm not sure yet whether we'll be buying less candy (because heaven knows I don't need the extra calories!) or just brushing more…. or a combination of both!
What tips do you have for remembering to take care of your children's teeth on a regular basis? 
What do you do for yours and your kids' teeth around Halloween?
I received products from Johnson & Johnson Healthcare Products Division of McNEIL-PPC Inc. and The Motherhood as part of my participation in the Listerine Smart Rinse Sweet Smart Challenge.  All thoughts and opinions expressed in this post are my own.