Last week I shared our experience with the new
LeapFrog Touch Magic Rockin' Guitar
– and the cool contest that they are running to win $500!!
This week I'm going to talk to you all about the really sweet LeapFrog Touch Magic Learning Bus that we got!
Similar to the Guitar – the coolest thing about these Touch Magic products – are that they are totally flat and sensitive to touch.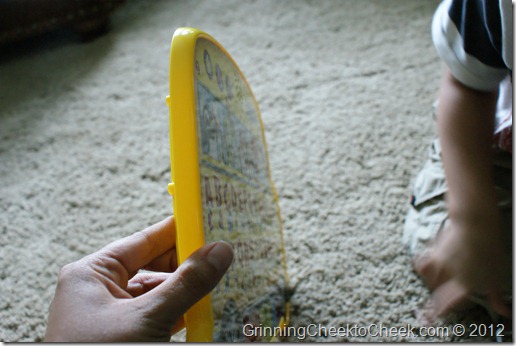 Again, the best toys ever are the ones that have the easy-remove back.  I would solely buy these toys only for gifts – because every thing that my kids open, they want us to open right away.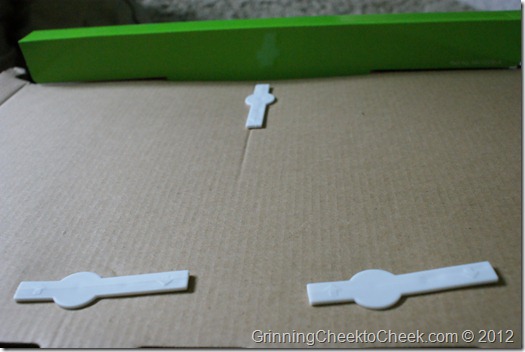 The Alphabet Bus is really cool for my 3 1/2 year old, because 1) He *loves* busses. and 2) he's super fascinated right now with learning letters and 3) he's really into the preschool songs.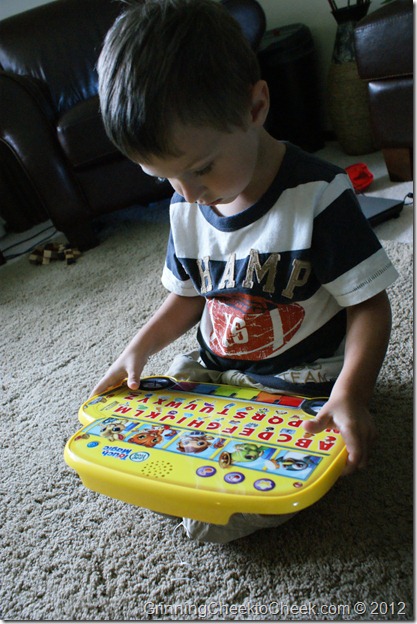 This bus kept him fully entertained for at least 30 minutes, which in my book – is amazing.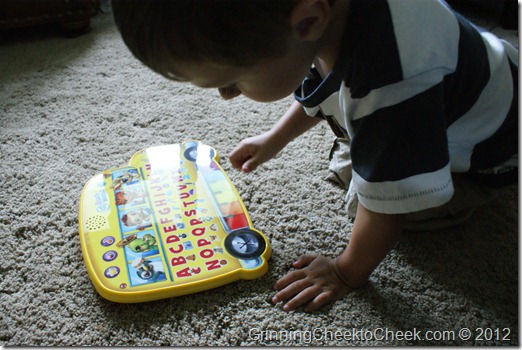 There are LOTs of games to play –
When you first turn it on, the learning bus is in the default 'learning' mode'.  In learning mode, you touch a letter, and it tells you the letter name, and makes the sound that is associated with the picture under the letter. Touch it again, and it makes the letter sound.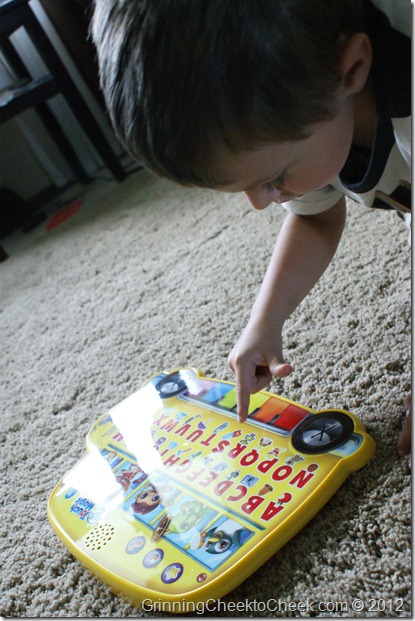 Andrew's Favorite part of the Learning Bus is the Games.
One of the games is where it makes the sound of the picture below the letter, and you try to guess the letter.  He is challenged enough by it, but not so impossible for his 3 1/2 year old brain.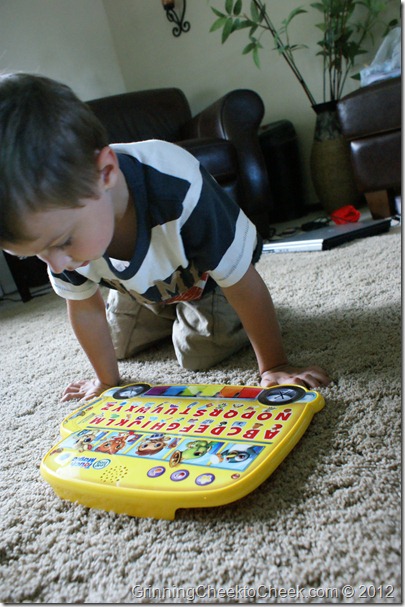 Otherwise he gets pretty frustrated by the game where he has to guess the sound that the letter makes – because he's not fully familiar with them yet, and always guesses wrong. Obviously not a fault – He wants to learn them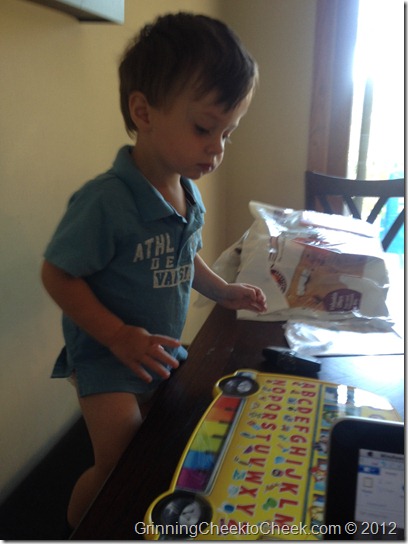 Ethan and Andrew both love the songs:  The Wheels on the bus song is Andrew's favorite, and the ABC song is Ethan's Favorite. Select a 'band member' from the bus and they will help sing/play the song with their instrument!
The volume options are great – I hardly can hear it when it's on the lower volume and Andrew is on the floor.  But when it's on Loud, it's still not so loud that I'm bothered.
To learn more about the Touch Magic items, visit their website, and check LeapFrog out on Facebook.  The LeapFrog Magic Touch Learning Bus and other Touch Magic products can be found at stores nationwide, and sells for approximately $24.99.
This post is sponsored by LeapFrog. I was selected for this opportunity as a member of Clever Girls Collective, and the content and opinions expressed here are all my own.