Just when you think you've got it figured out…
This happens: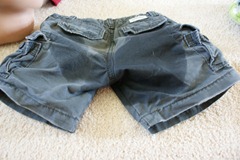 That's a lot of pee, dude.
He was wearing this diaper for about 1 1/2 hours.
Maybe it's that Andrew is so much older – he's holding it longer and then lets go of a bunch of pee all at once. I mean. that kid can fill HALF of his potty chair with one pee.
Yet he refuses to be 'trained' while wearing clothing. He's fully trained so long as he's naked.
That doesn't work at the park or the store…
It's days like these where I really miss my disposable diapers!
Do you change your kids diapers while at the store? Are you diligent in changing them every HOUR? How do you handle going to the park?