We love the awesome toys at K'NEX – but they are a bit advanced for the kids in my house – ages 1 and 3.  So it's so fun to see the toys that they have come up with for Preschoolers who really can't figure it out.
My 3 year old is a big fan of Roary the Racing Car – and I'm really excited for him to open this Roary Silver Hatch Garage Building Set.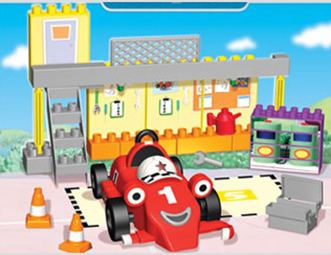 Take a break from the race to tune up Roary® the Racing Car in the Silver Hatch Garage! Your child can build the Silver Hatch Racetrack Garage to really experience a day in the world of Roary®! Set includes 40 chunky pieces for easy building fun with buildable gas pumps, removable hood on Roary®'s car, floor mat, and other accessories for realistic and thrilling after-building play! Set also offers interactive packaging and an adapter that lets car run on popular train track systems you may already own. For ages 3+.
I took the liberty of unwrapping the package and putting everything together just to see how it worked. It looks like Andrew is going to have a bunch of fun with it!
Sorry for the bad quality photo! – Andrew started waking up as I was taking the photo, so I had to rush and put it all away!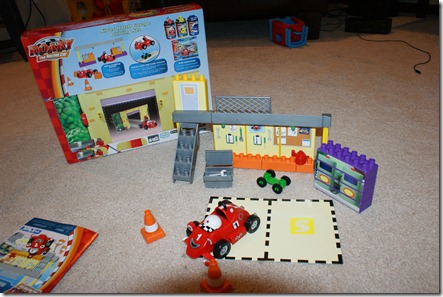 I love that the box has a cardboard cutout that can be used along with the toys – Andrew has always loved the backs of the boxes – it's like he uses them for inspiration. So we do typically cut out the backs of boxes anyway and let him keep them until they're almost ruined.
My favorite piece of this?  That little green wheel thingie.  That Green adaptor allows Roary to ride on most of our Train Tracks!  Andrew will *love* this.
Roary the Race Car for K'NEX can be purchased online at K'NEX.com for apx $24.99, or on Amazon.com
for only $17.99.
We also were able to review the Talking Elmo Pirate!
Your child will have lots of fun building Elmo and sailing the high seas to hunt for buried treasure! Plus – Elmo talks! Gently push on his head and hear him say 2 fun phrases about his nautical adventures! Includes a pirate themed "Play & Learn" activity sheet filled with educational and collaborative fun for you and your child. With 16 pieces to build Elmo and additional building ideas, your little one will enjoy hours of building fun.
Ethan managed to see the Talking Elmo Pirate that is for him – He spotted that red face a mile away and came RUNNING!  I'm sure he won't remember though by the time Christmas Morning comes around.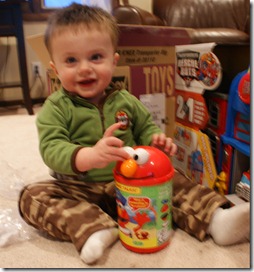 This is a perfect toy for a little guy like Ethan – because he loves the bright colors – and loves talking toys!  Andrew will thoroughly enjoy him as well, I'm sure!
It was a bit awkward going together, but It gets your imagination going to figure out different ways to make Elmo look funnY!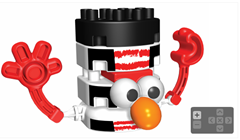 Priced under $17, this is a great toy for a Toddler who is a fan of Sesame Street!  You can purchase this online at K'NEX.com or on Amazon.com
for only $15.00.
We love our K'NEX toys and I'm sure will continue to love them as they grow with the boys!