Last weekend my half-sister who lives in Iowa got married.  I was so excited for her.  Her husband is really a sweet guy and treats her like a princess.  Love them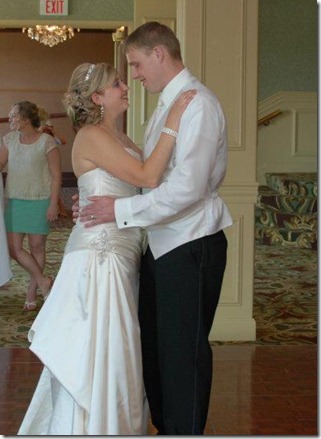 I've been relatively close with my sister (as close as you can be when you're only a half-sibling 5 years apart in age and you live an entire state apart.)  So we couldn't possibly miss the wedding.
The wedding was in Sioux City Iowa.  So originally, we had planned to make the trip down there in one hot-shot-drive… but then we realized that it was an almost 5 hour drive (not including stops), and then the kids would have to get out of the car and go sit in a wedding, being as still and quiet as possible…
Not. Really. gonna. work.
So – I started looking at ways to make a mini-vacation out of it.  One of our favorite family vacations so far has been to a water park.  It's great for the kids to get some good energy out, and they just love to be in the water.  Plus, the hotels are typically nice to stay in.  Win-Win!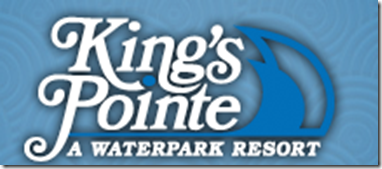 The closest Waterpark Hotel I could find to Sioux City was the Kings Pointe Resort in Storm Lake, IA. About 1 1/2 hours away.  But really, not so bad when you consider that it's WAY better than a 5 hour drive!  And, it was right on the way between our house and Sioux City.
So we made reservations there for two nights.  Headed down the day before the wedding so we could relax and play before the wedding, and went home the next day – so we were able to play before our long drive home!
I'm going to have to ask you to excuse some of the stock photos – My 3 year old was playing with the camera, and I think he figured out how to delete… bad. news.

We arrived a later in the eventing, so we were really hungry and the kids were as *cranky* as could be.  We ate in the restaurant that is attached to the hotel.  It was OK. The food was really good, and priced fairly – but the service we had was not so great.  I'm guessing that the waitress we had was training (As there were two waitresses) and they forgot to check on us while they were doing their closing duties.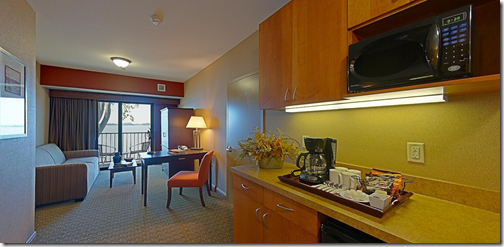 The beds were super comfortable – sheets were amazing – and they didn't have those creepy comforters or thick fleece blankets.  This is probably one of my favorite beds in a hotel – ever.  We all slept really well that night.  The kids for some crazy reason woke up at about 6:00am though, which just drove us mad – but … what do you do?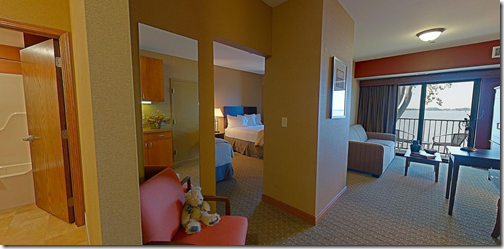 They didn't have a continental breakfast, and we weren't up for paying the restaurant for another just OK meal – so I ran to the grocery store quick and got us some milk and cereal.  Our room had a fridge, so that was easier for us, considering we were there for two mornings.
After lounging around a bit and getting ready, we headed off to our first day at the Water Park!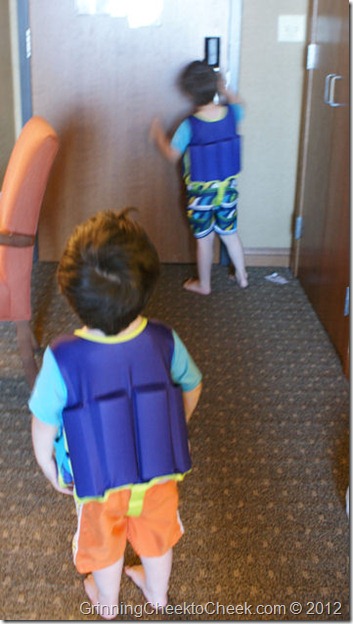 Right down the hallway and down the elevator was the entrance.  It was also the first day that the outdoor park opened for the summer! We were excited about that!
We played inside first (as the outdoor park opened a bit later). I loved that the room was heated, and the water felt really great!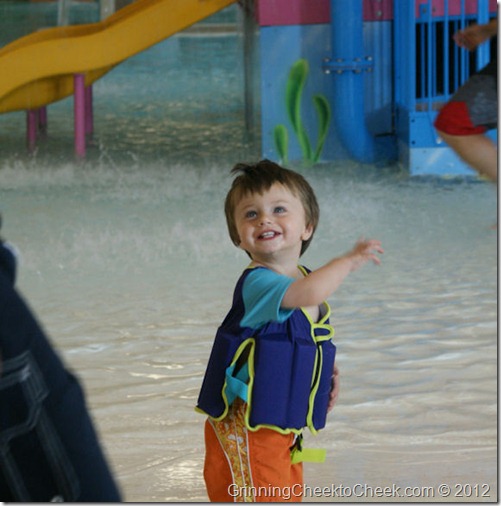 The kids had such a blast!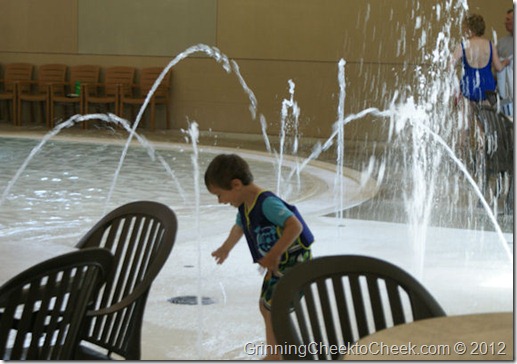 Andrew's favorite was the water fountain, and trying to spray me and Ethan with some of the water guns on the kids play area.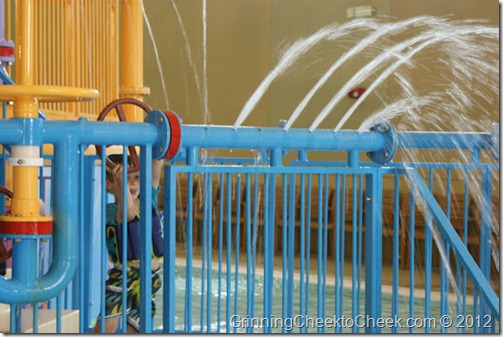 Ethan loved swimming with mom in the deeper end and going around the lazy-river.  He also loved the water slides. A few times we had to chase after him really quick down the slides ourselves, because he would just TAKE off on them.  The water is shallow, but he's only 19 months – and doesn't quite understand the fact that you land on your butt/back sometimes – under water.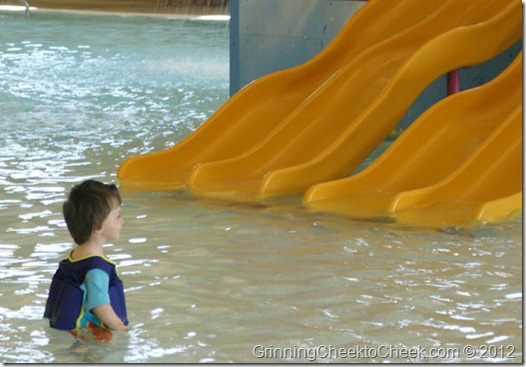 The lifeguards were really awesome. I saw one life guard jump in after a younger kid who seemed to have gotten disoriented after going down the bigger indoor slides.  It was really reassuring to know that they were well trained.
They had life jackets of all sizes for the kids – which we eventually put on both kids, because these jackets we brought weren't working as well as we would have liked.  More to come on that later though!
Joe loved the challenge of climbing the rock wall – as usual. I took this picture from across the entire waterpark, so it's blown up pretty big here, excuse the fuzziness!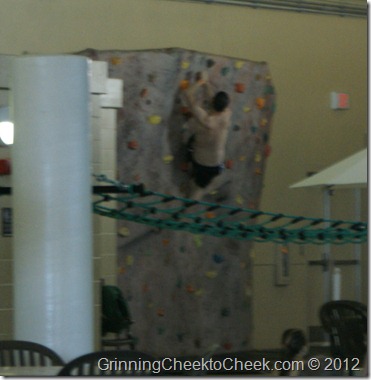 The outdoor pool opened, and we were really excited!
Except.. we were just in the SUPER warm water and heated room – and then going out to a breeze and not-too-heated water.  We, along with several others – chose to come back inside where it was warm.

It would be a lot of fun though to be outside, there was a lot of great stuff for the older and younger kids alike!  Joe and I talked about coming back with a babysitter so we could spend some time going down the outdoor slides ourselves! They look so fun!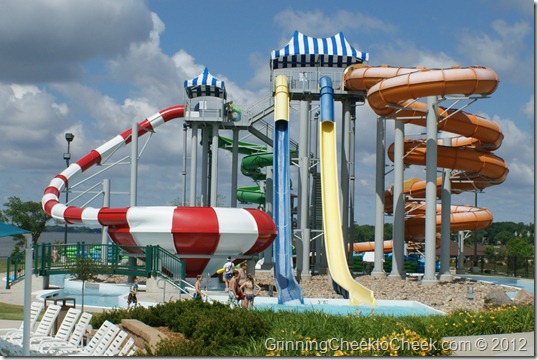 Overall, we had a really great time at Kings Pointe Resort.  We didn't have the opportunity to see the beach, where they have kayak, canoe, pedal boats, and pontoons available to rent- or out to the trails, to rent a bike.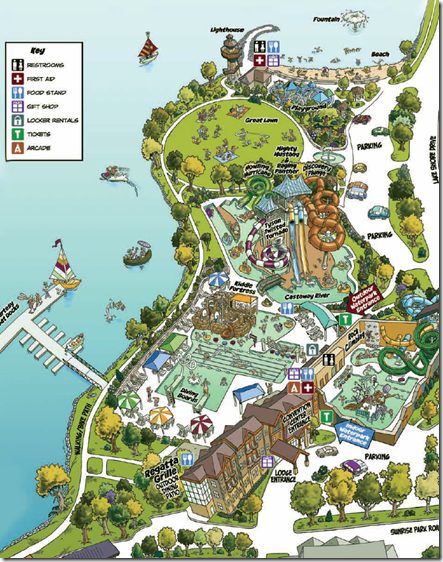 We will definitely be back to Kings Pointe – maybe the next time we visit my sister and brother-in-law

Definitely keep this place in mind for your next trip to, around, or in Storm Lake, Iowa!