When I was growing up, I wanted to own a horse – I had an older mentor from the Kinship program who owned horses, and would bring me to her home in the country and we would brush and prepare the horses. She wasn't allowed to let me ride on it, because her parent's didn't like the idea of another child possibly getting injured and having a lawsuit on their hands. Which, I totally understand, really.
In college, I had the opportunity to take a horseback riding class – which I subsequently disliked VERY much, and realized that it's not for me – but I'm guessing had I started earlier, I would have appreciated horses a lot more.
When choosing a sport for kids, horseback riding doesn't normally come to mind, but I think it should. While it's not available in all areas, it is a widely available activity that many parents overlook when finding something fun to get their children involved in.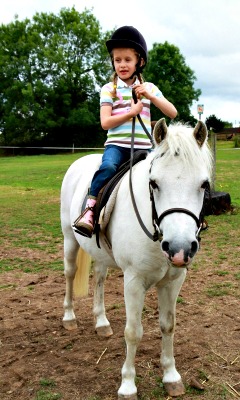 Finding horseback riding lessons couldn't be easier with the latest technology. Simply search for horseback riding lessons in your area using Google, Yahoo, Bing, or another search engine you like. You can even take a free lesson with a certified Learn to Ride and Drive in Style instructor.
Horses are a big responsibility. If you aren't ready to purchase and board a horse, riding lessons are still a great idea! Purchasing a horse gives you an advantage, because you will be training your own horse for shows, and you can board them where you take your horse riding lessons. Boarding can be affordable, and some ranches let you work off some of the cost.
Horse riding at a beginner level doesn't usually require any special clothing, or training. When you start riding to show your horses, that's when the money comes into play. Like with all activities and sports, there is a cost involved. Places like Equestrian Clearance keep costs minimal, while providing horse wear, riding wear, and more.
There are a few styles of horseback riding, so be sure to check to see which style(s) your instructor offers before signing up. Dedication, patience, and determination are all required for horseback riders. If your child gets bored easily, this may not be the ideal sport for them, but that's when it's a good idea to try out a free class (if you have them in your area), and go from there.
Thinking outside the box with kids is a great way to get them interested in physical activity. Keeping them off the couch and away from the computer, video games, etc can be a challenge. Horseback riding will give them the thrill of the video games, without being on the couch!