It's no secret in this house that we love Kidorable.  Having that cute Frog Raincoat set was one of the most fun things that I have personally received as a blogger – just because of all the joy it brings to Andrew and everyone who sees him in it.  When it rains – it's almost our excuse to get outside – because he can go jump in puddles in style!
But That's not the only cute things that Kidorable carries in their product lines!!  Since the day I found Kidorable online and got a chance to sit down and really look through their stuff – I have been in love with their Dragon Towel.  I just knew Andrew would love having this towel – I mean.. It has arms and feet and a spine and tail!!! How much cooler can one kid get in a bath towel?!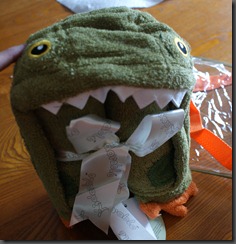 The towel comes wrapped so cute in this little bag with a handle and is all wrapped with ribbons.  Looks so perfect for a gift!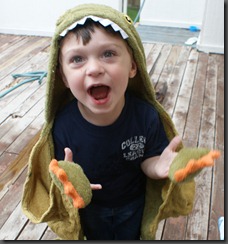 They're awesome fun for playing the 'ROAR' game!  My son loves to try and scare Mommy and Daddy – and even Ethan! And now, he can totally do that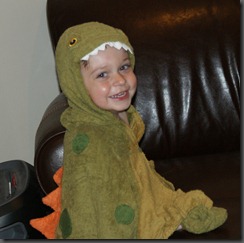 But it's even functional and cute for bath time! I love that it has a little button on the front – so you put the hood on, and then button across the chest – which then keeps the towel on their shoulders! That's got to be my favorite part.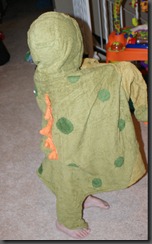 The back is so cute too with the detailing. It's just an all over –fun towel!
This towel and all other Kidorable items can be found at http://www.kidorable.com.  They are having a sale from the 1st to the 5th of July – where you can get free shipping for any order over $50 by typing in code JULY4TH22.