KidCo Go Pod
Our Busy 9 Month Old
Micah is mobile. He's 9 months old with 7 teeth and can crawl FAST! So, when we were packing, cleaning, painting, and getting our house show-ready, he either needed someone who could follow him around, or he needed to be stuck in one place. He does NOT like his baby gate and stands at it and cries. The KidCo Go Pod, on the other hand, is spectacular!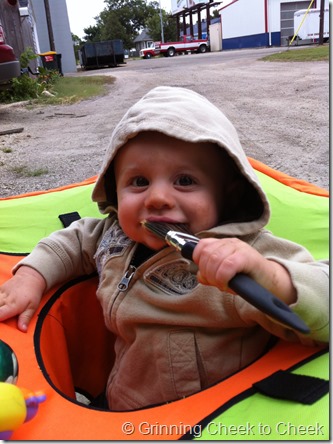 Micah Loves his KidCo Go Pod!
This Go Pod is great. It has attachments for toys, cup holders for drinks and snacks (or more toys), and 3 height levels so it will easily grow with Micah.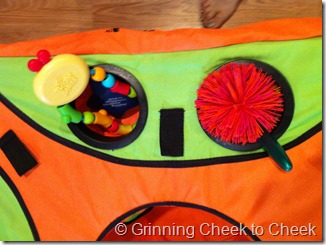 The attachments are basically loops that I can easily attach toys to. This is super easy, since most toys have some sort of a loop to attach hooks or clips to, and lots of toys come with links attached. Or, I can just set the toys on top or into the cup holders, which we did a lot of. This meant we had to pick them up off the ground a lot, as they kept sliding though the seat opening and onto the ground. Not a big deal: the floor of it is also a solid cloth so the toys didn't actually land in the dirt, yay!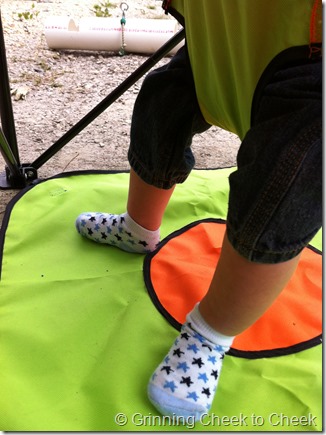 The cup holders are a good size for cups or snacks, which will be especially handy as Micah gets older and can pull a cup out of a holder. For now, they were toy holders and we put puffs into one for him to pull out. Easy peesy, works great.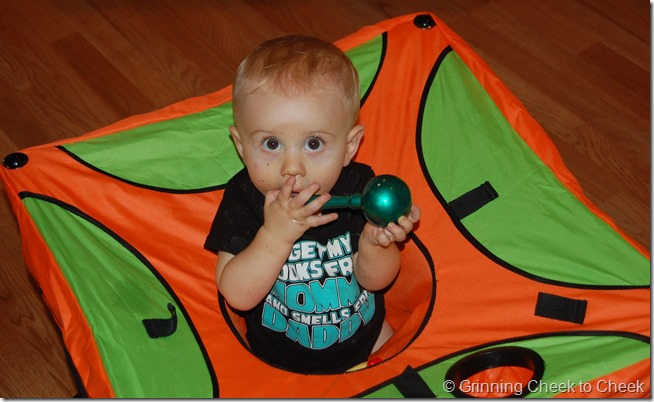 The KidCo Go Pod is Perfect for On-the-Go
The KidCo Go Pod easily folds up and tucks into it's travel bag, just like a camping chair would. The bag has a handle so I can throw it over my shoulder, and it's lightweight so I'm not worried about toting it around with Micah and his diaper bag.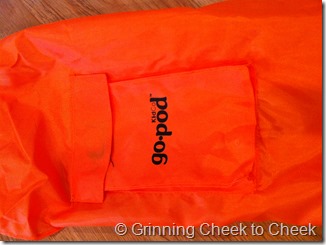 There is one button-latch to hold the Go Pod open, so I don't have to worry about it accidently collapsing. It's on the bottom of a leg, so I don't mix it up with the height adjustment buttons. So, we can easily pop it out when and where we need it. Like in the driveway while we painted the garage. Or the yard while I picked mulch out of the white rock pathway. After all, he likes eating gravel and mulch and I'd much rather he eats toys and puffs.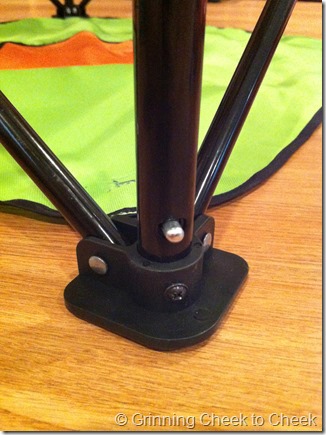 The KidCo Go Pod fits Micah Now and Later
With three height adjustments, a large seats/saddle to sit in, and strong fabric, the KidCo Go Pod is great for Micah now, while we were painting and packing, and still will be in the months and years to come. So it will be useful when we are unpacking (hopefully sooner than later!), when we have another baby and I need Micah restrained, when I'm tired after a busy day of work and just need a minute to put my feet up, and when we need to be outside and don't want our kids eating the rocks that are EVERYWHERE!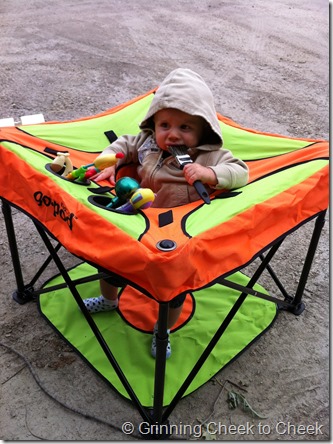 Check the KidCo Go Pod out for Yourself!
Check it out online, on Facebook, or Twitter.
Or win one for yourself! You pick the colors!
How to Enter:
Mandatory Entry: Leave a relevant comment about your little one.
Then: Fill out the Rafflecopter form
Be sure to come back each day for extra entries!!   
Rules: You do not have to be a blogger to enter/win. An email address is required to enter. The winner will be chosen randomly through Rafflecopter and contacted via the email registered in Rafflecopter. A reply to the winning email is required within 48 hours before a new winner is chosen. One person entering per household please. US only please.
This giveaway ends at 11:59 PM EST on October 25th, 2013
I was provided with my own KidCo Go Pod as compensation, but opinions are 100% my own.