Lately I've been obsessive about drink ware containers. While I do love a cup with a straw for myself around the house – I also like to have a portable, reusable, and safe container for usage while we're outside of the home.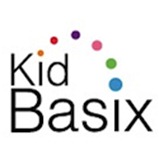 Kid Basix has stepped up in the market for making a great quality line of drinking cups for the whole family. Kid Basix are made with 18/8 food-grade stainless steel, a natural antimicrobial used in hospitals for it's cleanliness and durability.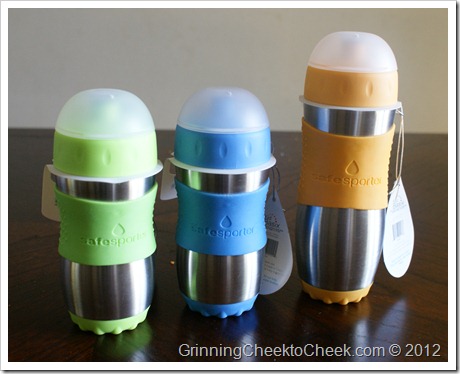 They're asking that parent's re-think plastic, because it took so long for the warnings about BPA to become a real issue that parents are concerned about – who knows what else is going on behind the scenes. Stainless steel is just a safer option.
At first when I saw these, I ordered three of the sports cups. A larger 16oz one for me – and then two smaller 12oz ones for my boys.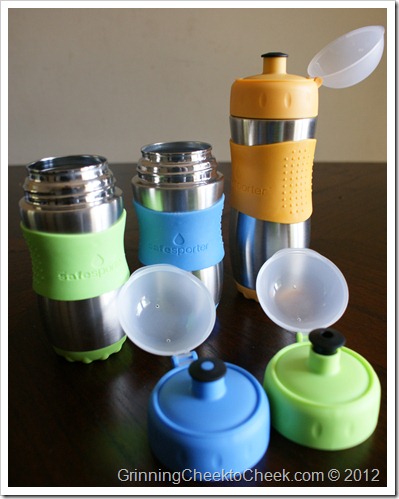 So pretty, Right??
After using them, I quickly realized that Ethan (then, barely 18 months) was getting overly frustrated with opening and closing the pop-top lid. But no problem, since Kid Basix carries a line of drink ware including bottles and sippy cups as well as their sport cup lines.
So I ordered Ethan a SafeSippy2, which I adore. It's got a few different options for use: You can use it simply as a tipping type sippy, or you can put a straw in it and suck the liquids out of the top.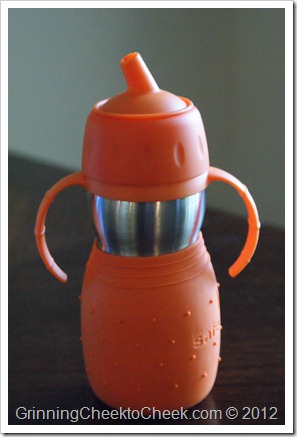 The idea behind this cup is that when younger children are transitioning from a 'baby's sippy cup' to a big kid's straw cup – do you reach for your straw-adaptor, or your wallet?
It's important to note with the sippy cup that the valve is not spill-proof. Important to know for those who use things other than water in their cups. But there is a solution that I love for traveling with your cup – there is an extra insert that fits inside the cup without the valve, so that the cup does in fact become spill proof while it's in your diaper bag – but can simply be changed out for the real valve when you want to use the cup again.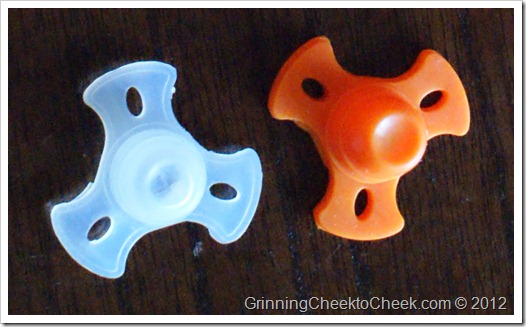 Overall, I think that Kid Basix is a great design, oh-so-cute, and very practical.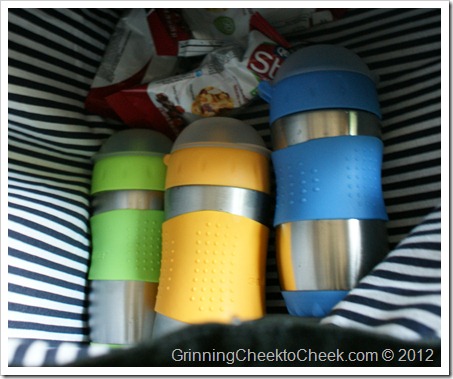 Their cups range in price from about $11 to $16 each and can be found online at www.kid-basix.com or on Amazon.