It's hard NOT to have Bieber fever.  Especially after watching Justin Bieber Never Say Never.  To follow along with the story of a gorgeous young boy: advancing from such a young age to become a highly loved and talented artist that can do SO much, is really inspirational! I love how he keeps grounded with friends and family and is so filled with faith. It instantly made me an even bigger fan.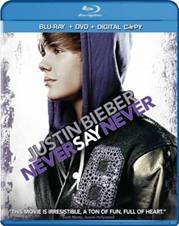 What an amazing process to see how he went from posting videos on YouTube to finding someone who was willing to bank on the fact that he would be the next big thing.  It's so cool to see how Bieber was originally not being played on the radio due to his age, but then soon ended up selling out the most famous stage in New York City in 22 minutes!
Justin Bieber: Never Say Never is being sold starting tomorrow Friday, May 13th!  There are several major events going on to showcase this movie.  I know in the Twin Cities area Radio Disney and Wal-Mart in Coon Rapids is having an event with prizes Friday, May 13, 4:00-7:00 pm.
"Join Radio Disney as they roll out the purple carpet for the Blu Ray/ DVD release of JUSTIN BIEBER'S : NEVER SAY NEVER.   There will be fun prize giveaways, and you can even test out your pop star skills on the karaoke stage where you'll get the chance to record your performance and share it with your friends!"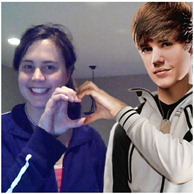 If you're not up for going to an event – there is also going to be a huge Online event you can visit http://www.nsnweekend.com/ where they will be celebrating all weekend with exclusive access to Justin Bieber Party Favors like Bieber-Berry cupcakes; Sweethearts Smoothies; Photos With Justin; and T-Shirt Stencils!!
If you're a Belieber, and would like to have this movie for yourself – have no fear – I have TWO to give away! 

Win It!!!
Please read the rules found here for entering giveaways!
Enter To win one of two Justin Bieber: Never Say Never DVD's!
This first entry is MANDATORY: you must 'like' me, GrinningCheektoCheek on Facebook in order to enter this giveaway.
Optional Extra Entries: (only after mandatory entry is done!)
Subscribe to my blog via email
Follow my blog publicly via GFC
Follow my blog via Networked Blogs
Post my NEW Button on your blog. This button is different from the old one and the coding will need to be changed.
Follow GrinCheek2Cheek on Twitter on twitter and tweet about this giveaway:  (this may be done daily)
I <3 Justin Bieber and want to #Win The #NeverSayNever DVD @GrinCheek2Cheek #NSNWeekend #NSNDVD #Giveaway Ends 5/27 http://tiny.ly/wZ7l
Vote for me on picket fence blogs. One Entry per vote.
Enter any of my other Current giveaways. 1 extra entry per CURRENT contest entered.
NEW: Post my link on any of

that day's

CURRENT

Public Giveaway linky for this giveaway.  Should say something like – GC2C– Justin Bieber: Never Say Never on DVD- Ends 5/27 *and the link*. Comment to me the link to where you submitted it. (i.e. for a Tuesday Giveaway Linky – post it anytime before midnight that same Tuesday)
Open to U.S. and Canada.  Giveaway ends May 27th, 2011 at 11:59pm. Winner  will be drawn by 'andthewinneris…', and will be e-mailed. Winner will have 48 hours to respond or a new winner will be drawn.  I also received a copy of the DVD for review purposes. All opinions here are 100% my own.