I was so excited when I got an email from Just Jen – a company who makes custom rhinestone shirts asking if I wanted to review  a personalized shirt.  I was extra excited, because I was in the process of trying to pick out things to wear to BlogHer, and this would help me stand out in the crowd, having my very own Grinning Cheek to Cheek t-shirt!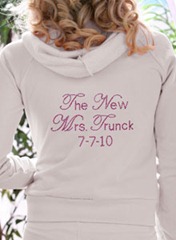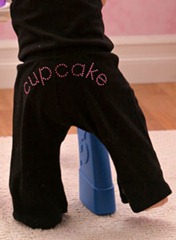 On their site they have several great pre-designed options, as well as ideas for custom designs.  After looking their site over quite well – I decided that I wanted to have a black cotton/spandex short sleeved t-shirt with pink rhinestones, because I wanted them to pop – and I love pink

  I'm all about the sparkles, so doing bigger and prettier fonts that would add to the design was really what I was going for.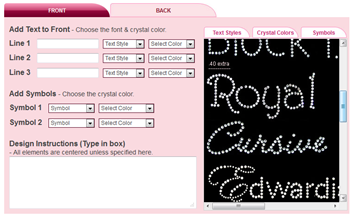 I had a hard time envisioning what I wanted my fonts to look like – whether I wanted more than one font or all the same.  I do wish that they had some sort of 'preview' screen on their website that allowed you to preview your words in your colors and fonts chosen – so that you could see yourself how the shirt would look.  I think it would save them some trouble, and might ease some minds about the ordering process.
But my shirt turned out great!  I love it – the overall quality of the shirt is really nice.  I love the length in this shirt too – It's just below the belt, but above my butt – and has room for comfortable movement without feeling like my back will show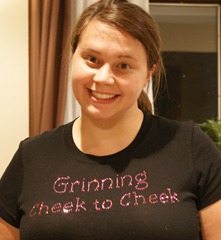 The sizing is perfect – I followed the sizing guide exactly which normally I am a 14/16 or XL – so that showed that I needed to order a 2XL.  Wow.  That scared me a little bit that I was going to get a baggy shirt.  But – again. Trust the sizing guide.  It fit perfectly. .

Anyway – Stupid part of this story??? I forgot my stinkin' shirt at home for BlogHer.  I was so bummed.