Thank you to Ubisoft for sponsoring this post. Please click here to learn more about Ubisoft. I was selected for this opportunity as a member of Clever Girls Collective. #UbiChamps
After many years of dance lessons as a kid, it's something I genuinely like to do.  Now, while my dance activities lately amount to shakin' it with two toddlers in the living room, I like to tell myself I have a little rhythm.  Because I need something better to dance along with than Wheels on the Bus on loop, I'm really addicted to dance games.  It's been that way since I found my first copy of Dance Dance Revolution 12 years ago.  When I heard about the Just Dance series and found out that it wasn't a four directional button dance game, I cried foul!  How could this genre be reduced to movements with a Wii-mote; never!
Like a good little gamer, I decided to try to accept change.  The game's not overly expensive, so if I didn't like it I wouldn't feel bad for blowing my budget on it.  You can pick up
Just Dance 4 for Nintendo Wiiat Best Buy for only $39.99. I saddled up with my Wii-mote, moved the coffee table out of the way, and decided to dive into this new way to play.  You know what?  I actually enjoyed it.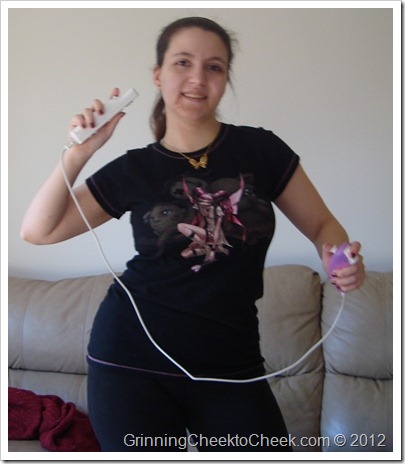 No you don't *need* a nunchuck… I really just wanted to show off my pink and purple one for the picture.  The controls for the Wii are about what you would expect from any Wii game, but they're very new-player friendly which makes this a really easy game to jump right in to even if you haven't played anything like it before.
I love that you have the opportunity to expand your selection by downloading new music.  At the end of November, they're even making Gangnam Style available!
I know a certain four-year-old boy who saw that trailer and begged me to download it right now!  While the controls don't really register well at his small stature, he still had a blast and likes a lot of the music available.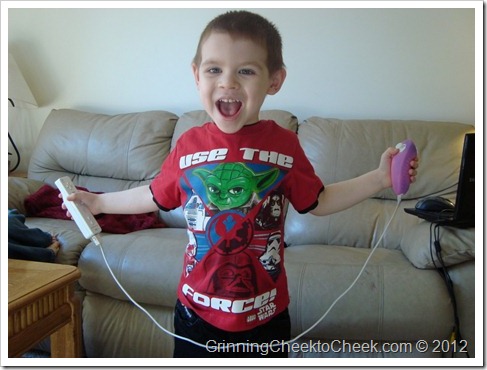 While there is one song by 2 Unlimited, I really hope to see more dance and electronica tracks to download soon. Some of the track list:
Maroon 5 ft. Christina Aguilera – "Moves Like Jagger"
Alexandra Stan – "Mr. Saxobeat"
Rick Astley – "Never Gonna Give You Up"
Marina and The Diamonds – "Oh No!"
Jennifer Lopez ft. Pitbull – "On The Floor"
The Girly Team – "Oops!… I Did It Again"
The B-52′s – "Rock Lobster"
Overall, we had a blast and this game is definitely going to Thanksgiving dinner with me as our activity after the food is done.  The variety of songs and ease of play makes this something I can share with everyone in the family and we can all enjoy.
About the Author: Brooke is the somewhat creative, pixel-obsessed mind behind The Gaming Goddess.  When not pretending to slay dragons by rolling a D20 or slaving over tradeskills in the latest MMO, she raises two toddlers with her beloved Player One in Ohio.