I was asked to talk with you all today about childhood hunger during the summer – and ways that ConAgra Foods and 29 food banks in 20 states are working together to bring awareness to the issues, and help bring and end to Childhood Hunger in the Summer. Disclosure: This post is brought to you by ConAgra Foods and The Motherhood, and I've been compensated for my time. However, all opinions are my own.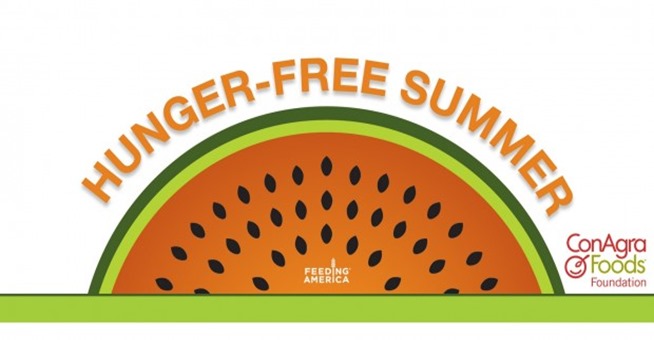 During the school year, 21.5 million children rely on reduced-price or free meals at school.  For some children, this is their best meal of the day. When school is out, only 2.3 million children participate in a Summer Food Service Program.  That's a HUGE difference.
So ConAgra Foods has stepped up over the last 20 years and has been supporting organizations that bring solutions to hunger to the table and funding these programs diligently. This is the fourth year of the hunger-free summer program – and over the last three years ConAgra has supported the delivery of more than 2.5 million meals and snacks to children struggling with hunger. This year, ConAgra's goals have increased by 25%, and half of their $10 million commitment to feeding America is being dedicated solely to Summer Hunger through 'Hungry-Free Summer Grants'.
ConAgra would love to increase national awareness about the issue of summer hunger in children – so to raise that awareness – they have made a video with actor Chris O'Donnell.
For every VIEW, a meal is donated.
So: Without further ado, Please watch this video – a LOT! Forward it to your friends, family, co-workers, and more! More views equals more meals!
If you want more information about how the issue of childhood hunger is affecting people in your area: check out this interactive map called Map the Meal Gap, which will show you the number and percentage of people in your area who are food insecure (as of 2011), the cost of one meal, and the amount of money required to meet food needs.
To learn more about ways that you can help: visit ChildHungerEndsHere.com/TakingAction or FeedingAmerica.org.  Follow along with ConAgra Foods on Facebook and Twitter to keep up with their latest details and progress.
Again, Thanks to ConAgra and The Motherhood for sponsoring this discussion today.