I'm not talking about the monsters under the kids' beds that my boys are terrified of.  But I am talking about the hazardous things in your home that you cannot see. 
Germs, dust mites, and mold are all examples of invisible dangers – but one of the most dangerous things that you cannot see, taste, or smell is carbon monoxide (CO). Carbon Monoxide can be deadly within minutes and is the leading cause of unintentional poisoning deaths in the U.S..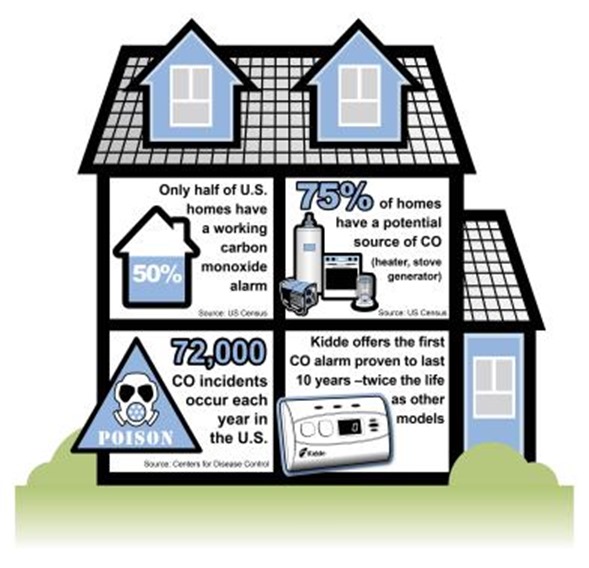 At one point in time I thought to myself that I was 'exempt' from Carbon Monoxide poisoning because I just didn't think about it clearly, and assumed that it was so rare that it couldn't possibly happen to us (Sort of like the lottery!).  But when we moved into this home – there were so many unknowns. We now had the responsibility of the water heater and furnace that we had no idea the actual condition of.  We also have a tuck-under garage which we have to be really careful not to let the cars run (even when it's SUPER cold out) while they're in the garage.
When we moved in, we had three Kidde Carbon Monoxide Alarms installed in our house.  We were going along just fine – until they started chirping every few mintues.  Within a few hours we had a second chirping alarm… I was freaking out that it was something other than the batteries.. I read the instructions thoroughly and realized that it was just the batteries dying, but it was scary nonetheless. We didn't have any extra 9volt batteries in the house to change out the batteries at the time, so I took the kids out of the house on a drive to go get some batteries.  We came back and changed them to no more beeping.
The next day? we had another beeping alarm.  Clearly these batteries have a predictable life-span… ha! So I had to go buy another pack of 9volts.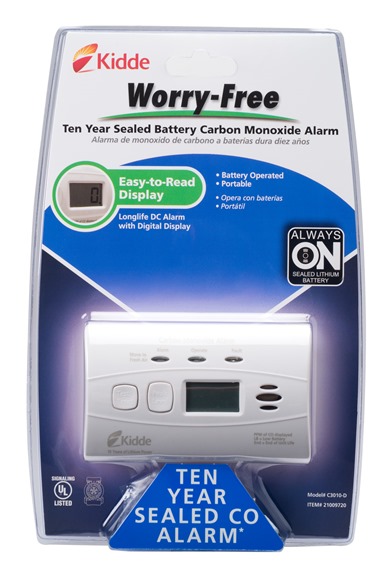 Now that I have discovered the new Kidde Worry-Free Carbon Monoxide alarms, I'm so excited to have one for myself.  No more guessing on whether or not the beeping is due to batteries, or what is actually happening when it does beep!
The Worry-Free Alarm has a 10 year sealed battery – so I won't have to worry about it for 10 years!  On top of which, it also has a display panel which shows the actual readout of Parts-Per-Million (PPM) of Carbon Monoxide, so if it does go off – I can look at it and tell what kind of danger we are dealing with.
I love having that peace of mind when it comes to my house – knowing what the sounds are, and what to do in the case of the alarms.. So much better than being curious about whether or not it's safe to be inside.
Do you have a Carbon Monoxide Alarm?
According to the U.S. Census, while 75% of all homes have a potential source of carbon monoxide – like a water heater, fireplace, furnace, generator or any other fuel-burning appliance – only half of U.S. homes have a working CO alarm.
Other Hazards?
As for the other invisible hazards, like monsters in the closet? We use Monster Spray (at the suggestion of a friend.)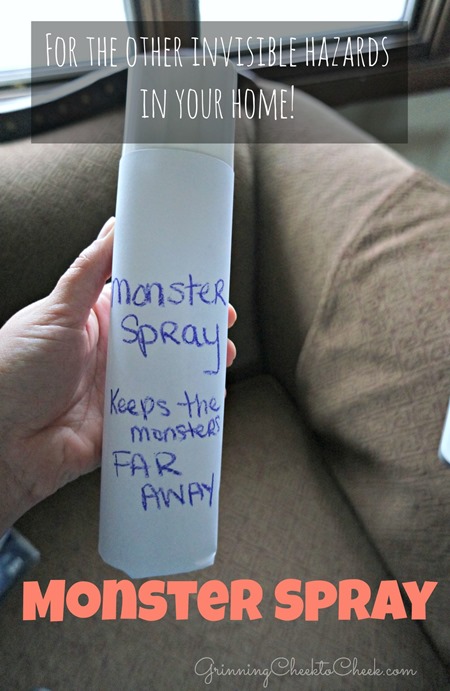 Monster spray keeps the monsters far away – and makes the room smell really nice! – great for sweaty little boys!
Keep up with the latest from Kidde by following them online, finding them on facebook, and on twitter. Right now Kidde is hosting a "Worry-Free Spring" sweepstakes on its Facebook page to win a $300 gift card to The Home Depot or Wal-Mart.
I was given a Kidde CO alarm and a promotional gift in exchange for my thoughts on Invisible Hazards. All thoughts are my own.