Since I recently got a new Phone… The iPhone 4s – My iPod Touch has now been inherited by my almost 3 year old.  I know. I know.  I never would have thought that my 3 year old would own such a fancy toy… but. What am I going to do with it?! my iPhone rocks!  Just Sayin'.
Andrew loves to play the games, but he often gets frustrated at the level of the games that we download – he's not quite old enough to comprehend the full idea of any game, and can't seem to get the right grip on the iPod.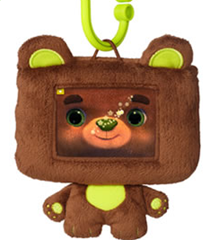 So when I heard about Infantino's HappiTaps, I got Really exited – it's so cute, and the games are perfect for my 1 year old and 3 year old!
The best part?  The App is free to download.  Anyone can get it and use it!  But it's WAY cooler when you have the rest of the bear – which you can buy from HappiTaps for only $19.99
Not only is the bear an adorable addition to the App – The bear also helps your toddler have something to hang on to. It's perfect for Andrew and Ethan's little hands.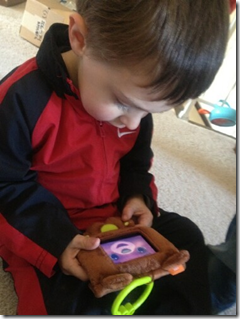 This afternoon we opened up "Beary".  It was love at first sight.  Not too long after, Andrew was sad because it turned off… it was much like the dramatic sadness of Andrew in this video.. The battery died.  I charged the iPod as Andrew napped.
He woke up and immediately asked for 'Beary'.  I couldn't figure out what he was asking (because I still hadn't heard him referred to as 'Beary').  I thought he was asking for Batteries.  I followed him around the house looking for what he might have needed batteries for – but all the while he was looking for BEARY.  Ooohhh!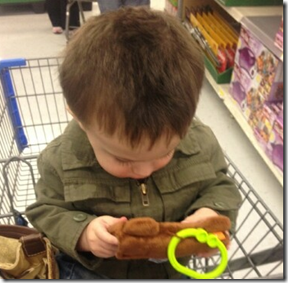 Ethan, my newly 1 year old, got a few minutes to play with Beary in the store – but he was mostly interested in hugging and "kissing" (aka slobbering) Beary.  He was highly amused by the 'peek-a-boo' session I showed him – and was roaring with laughter.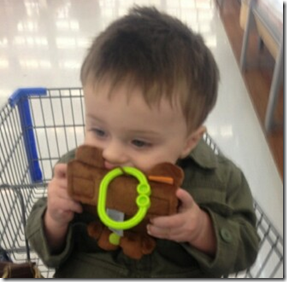 I *LOVE* the features of this app.  Having a toddler menu that ACTUALLY works – You literally have to pull the bar down far enough – and then you can change the menu.  Something a little one would only do on a very lucky accident.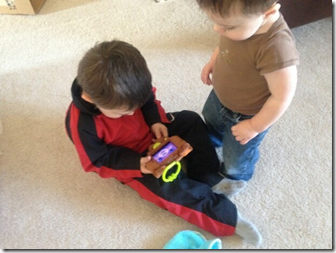 During the toddler menu, Beary cycles through several modes and keeps your toddler entertained.  One bad thing about this mode is that if your child walks away from Beary while in Toddler Mode – It's not going to turn off automatically.  So keep your eyes on that, as you'll drain your battery.
I also love that you can turn off in-app purchases.  Just in case if they click and your password isn't needed (for some odd reason).  I am slightly saddened that along with the purchase of the HappiTaps Bear – you're not also getting the extra songs and stories – and you have to purchase those separately.  But – It's worth the extra money I think.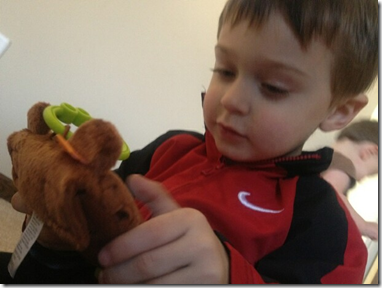 There is also a menu button lock – so you don't have to worry about your kid leaving the app and going online or deleting other programs. So nice!
Right when we turned Beary on, he sang the whole alphabet, which Andrew is currently working on – but I can't seem to find where to get him to play it again.  I haven't heard it since.
We're so happy to have Beary as an addition to our family – I love that it's keeping Andrew busy and with mostly educational things too – like the ABC's and Counting!  I only wish I had another iPod and another Beary for Ethan to play too!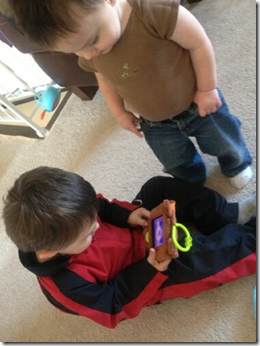 This Christmas – get your toddler this fun toy and app for your phone or iPod.  Trust me – It will come in handy when you need them distracted for a few minutes!!
I wrote this review while participating in a campaign by Mom Central Consulting on behalf of Infantino HappiTaps and received a product sample to facilitate my review and a promotional item to thank me for taking the time to participate.