Peter's brother and his wife Jess have been back in town the last two weeks so we've also gotten to spend some time with Jess and their baby Brielle. Micah enjoyed some time yesterday with both of his cousins and put up with being surrounded by all girls all afternoon. We love it when Jess and Brielle are home and are already looking forward to seeing them again next time.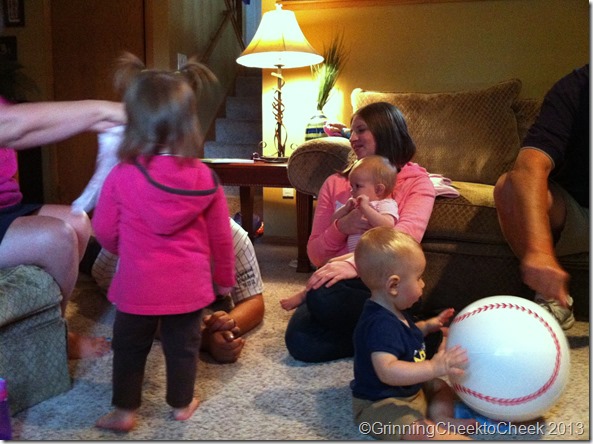 Getting a picture of all three with Nana Nubs and Grandpa is a general fail though!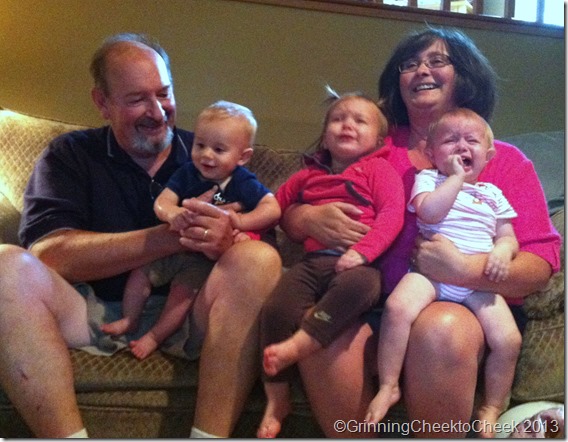 My 7 Month Old is Standing!
Oh! And Micah has mastered pulling himself up to his knees and feet! He's getting really good and crawling around and exploring the house.
Taken with my phone camera, sorry about the blurriness….
 With the possibility (hope!) of moving sooner than later (when Peter gets a job), we have been working on home improvements! So nothing really exciting has happened in babyland this week other than house projects, which mostly happen during nap time.
Sometimes Micah gets "help" us, though, and Friday he enjoyed helping his daddy construct a new trailer from an old broken trailer.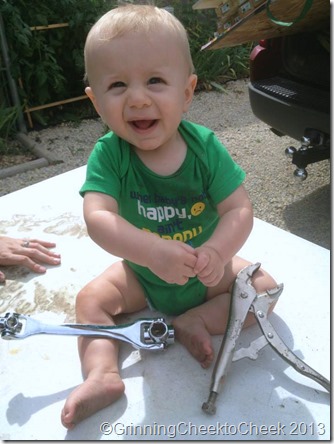 Peter has been thinking about how in the world he's going to move his Yamaha Virago to another state when he gets a job. It's not really highway-worthy, and only holds 3 gallons of gas, so he's been keeping his eyes peeled for a cheap trailer. A friend sold him a 4×6 trailer cheap, and mentioned that Peter would have to fix the electric and take its contents to the dump.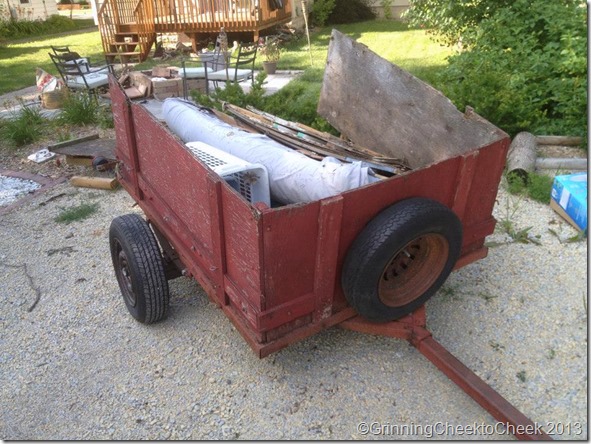 Fixing up a Trailer
The trailer was functional, but in pretty rough shape. So, he started over. Took all the wood off, using a saw on the rusted bolts, and sanded the metal frame. Armed with spray paint, new wood from Home Depot, and a variety of tools, he started rebuilding.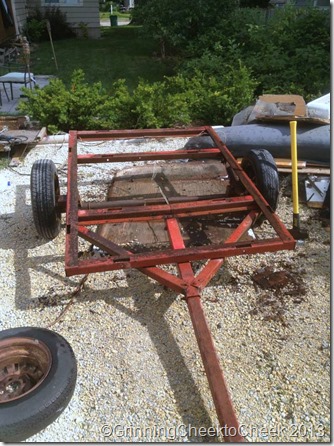 Micah helped! Sort of. He mostly sat and brought us joy while Peter worked. He loved playing with daddy's tools, crawling around in the trailer, and trying to eat everything in sight (grass, gravel, tools, whatever was in reach!). It meant one of us had to be keeping track of him at all times, but he brought us joy and giggles all day so it was well worth it.
It took all day Friday and some of Sunday, but it looks awesome! And works perfectly. Total cost was about $400.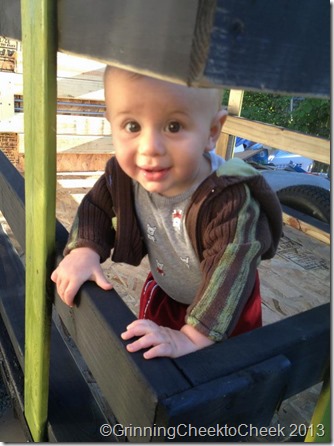 I've also been painting areas that desperately needed repainting in the basement, which the cat tries to help with…. his tail doesn't make a very good paintbrush though, so he quickly gets kicked out.
Of course, while I work around the house, I can't help but get anxious about the future. The "what job, where at, when will it happen, and how will we get all our stuff there" builds up quickly. And the waiting kills me! Then I have to take a breath and remember that God has it all under control. We are open to whatever He wants to do, and He will do it, in His time. So I just have to keep praying and believing that the right job in the right place will come along, and He will provide the means to get there.