I mean, I'm not going to get radical.. I'm actually going to the Get Radical Women's Conference in a few short weeks with Best Buy WOLF.
The Get RADICAL Women's Conference is about Power Women Making Power Moves.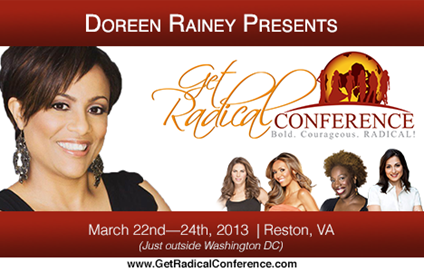 If you are you a woman seeking a powerful, transformational and educational experience, all in one value-packed event…then this event if for you! Stay connected with and I will share with you the best of what this conference is all about.
Best Buy WOLF is the premier sponsor for the conference – which means that us bloggers will be able to attend to be empowered by some of the great speakers that are lined up, like Jillian Michaels, Giuliana Rancic, Farnoosh Torabi, Judy Smith, Lisa Nichols, Angela Jia Kim, and the founder of this empowering event Doreen Rainey. Best Buy's own Liz Haesler will also be a main stage guest as she shares powerful leadership qualities needed to excel in today's business world.

If you're unable to make the trip to Reston, VA (right outside of Washington D.C.) on March 22nd – 24th then Stay connected with Grinning Cheek to Cheek right here, on Twitter, Facebook, and Instagram to see more about the conference.
Additionally, During the conference myself as well as many others will be sharing with you key messages and take-a-ways from all of the expert speakers and content providers over the weekend. Follow the action at #getradical2013, #bbyspringforward, and @BestBuyWOLF
I am attending the conference as a Best Buy WOLF Blogger. I will be sharing about the conference in exchange for the trip.