Ever since Andrew was born (3 years ago) I've been dreaming of a video monitoring device. We couldn't personally justify a monitoring device when the boys were born though because we lived in a tiny condo – where they were only a few steps away separated only by a few (quite thin) walls.
But now that we have a larger home (it's officially been a YEAR!) and we have two toddlers running amuck – we're experiencing the need for some more monitoring.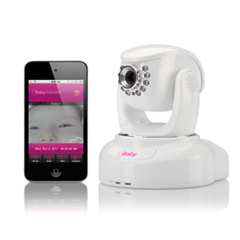 Best Buy has a new product in stock – called the iHealth – iBaby Monitor. It's a camera that is connected with Wi-Fi to your home network – or even beyond that. It works in conjunction with your iPhone, iPad, or iPod Touch – and also with your computer.
And Lucky Me – they sent one for us to review! I'm super excited about it – and am already totally addicted to it. I'm always watching the kiddos play now!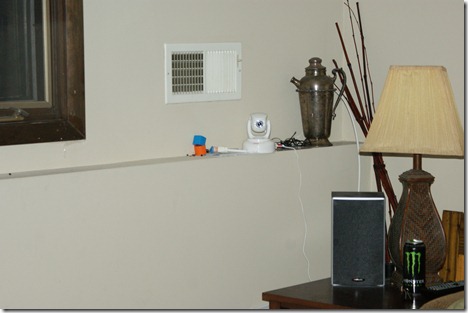 I have currently found it more beneficial for us to have the iBaby Monitor downstairs vs. in Ethan's room only because he's a decent sleeper in his crib – and hadn't started any shenanigans there… yet! But downstairs is where all the action is.
Just a note: This camera is fairly new, the camera itself is solidly built, but their software still is in need of a few adjustments before it is perfect. That being said, I'm going to tell you all the things we love and don't love about the camera, as we see it now.
Installation:
I let my husband take over the configurations to set up the camera– and he didn't seem to have a problem with this. Within minutes of opening the box, we were watching.
I captured Andrew playing ever so sweetly with his PEZ Mater..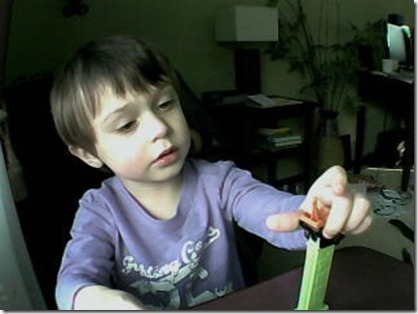 Watching from my iPhone:
I love that on my iPhone I can just touch the screen to turn on the camera – and in a few seconds I can see what the boys are up to.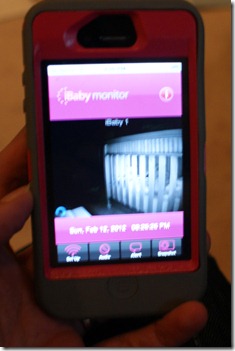 My favorite part of the camera is the rotation abilities. I can simply touch my finger to my phone and drag it any direction. The camera goes really high up to look at the ceiling, or down to look at the floor. It also turns fully to the back from either direction. But the App is not without it's flaws: Every couple of times of turning it on – it takes several seconds to attempt to load – and then shuts itself down. Sometimes it can do this 5 or 6 times before you actually get the image loaded, which can be frustrating.
Watching from the Computer:
We installed the CD onto my husbands laptop because the iBaby website did not have the software to download yet, and my desktop does not have a working CD drive. The computer software itself is a little more techy than I thought it would/should be. But I did figure it out – and now find it to be easy. However, after installing the software onto my new laptop – I'm having a tough time getting it to find the camera. Not sure what I'm doing wrong… Another thing I'm sure my husband can figure out.

The camera sets up nicely for families who have more than one camera in their home, so they can monitor several (up to 4) rooms at a time.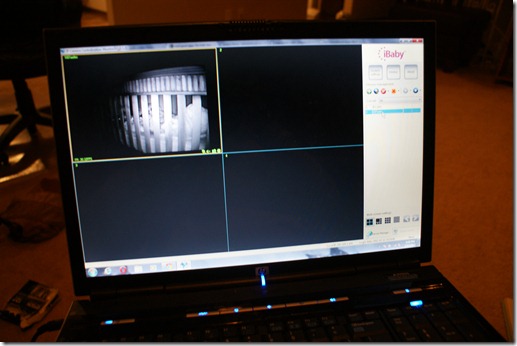 But you can watch just the one camera in the small box – or as a full screen!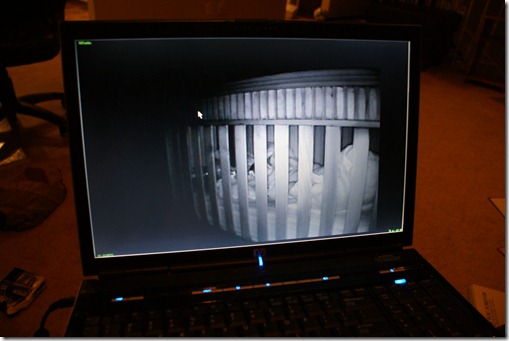 I would love to eventually purchase more cameras for this so I can monitor more than one room at a time. Like I said – it's addicting to be able to see what your kids are doing when you're not RIGHT there.
Watching Online
One feature of the camera is that you can watch the camera from whatever location you're at, so long as you've got internet access. The instructions were not very detailed about how to set this up – but after contacting support, I received an email with detailed instructions. I read a little bit about setting up port forwarded – and simply couldn't read another word… That is REALLY way over my head as far as computers go… So I let my husband take a stab at it. Within minutes he had it set up to go.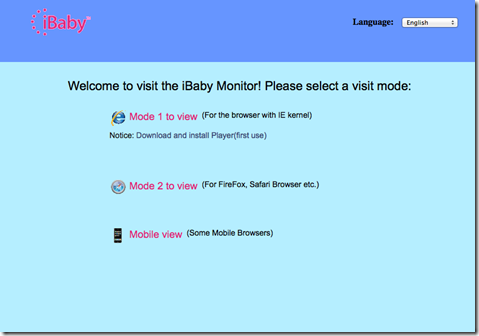 Due to the fact that there is no Mac-compatible software for the iBaby – I am only able to watch the kiddos online from the Mac . Unfortunately, while viewing online, there is no audio option.
Infrared:
I love that I can see so clearly still in the dark. The infrared on the camera is great quality – and I'm able to see so many things in the dark!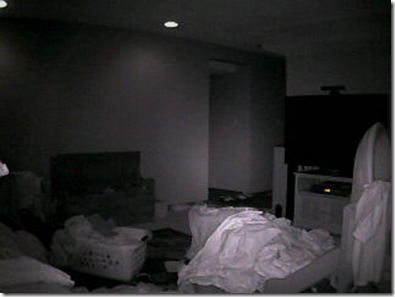 While viewing in the dark – there is clearly a brighter area and the sides are much dimmer. But the fact that you can maneuver the camera to see the other darker areas is a great help.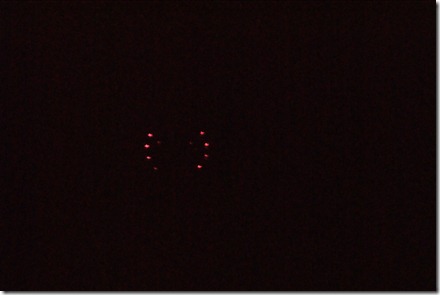 In the dark, you barely notice the lights of the camera – and even in a perfectly quiet room you cannot hear the camera moving – it's that quiet.
Audio
The iBaby camera also has an audio feature that is easily controlled (on/off) just at the tap of the button on the iPhone. There is a port to hook up speakers to the iBaby Monitor so that you can have a two way conversation. Speakers do not come with the monitor. I can see the two-way speakers come in handy soon, when Ethan starts using his crib as a toddler bed – so I can tell him to get back into bed when he's out – without having to go into his room.
Alert
There are a few options for alerts – the easiest being on your iPhone/Pod/Pad. On the iPhone App there is a simple button to push to turn off or on the sound or movement alerts. When you have selected an audio alert – the alarm will sound.. It is quite loud, and continues for several seconds (which seems like an eternity) and has no 'snooze' type button to turn the alert off or to acknowledge that you have heard it. For some strange reason our Wi-Fi internet here likes to go in and out – constantly. Every time that the camera loses signal, the alarm goes off. Which… Happens often in the middle of the night. Even on silent this little bugger vibrates at least 10 times per night telling me that the camera has been disconnected. To combat this alarm, I just have to be sure that the application is fully closed on the iPhone before going to sleep…. which therefore defeats the purpose of monitoring your child while they sleep.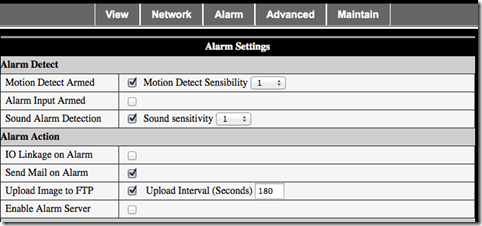 There is also an alarm feature through the online settings – where you can set motion or sound alarms to notify you via email during certain selected hours of the day/week. The camera will even take and send a snapshot of the alarm trigger, so you can see what is going on. This can be a very handy tool really from birth through young adulthood! It's only slightly a pain in the behind to get it set up though…

Yeah, each of those little boxes needs to be manually checked if you're wanting to monitor all of those hours.
Overall:
Overall we love this camera, and have found it to be a great addition to our home. I love that I am able to quickly unplug it and move it to wherever is the most important for me to be monitoring. I also love the fact that while I'm away I can check and see what the kiddos are up to (assuming they're in the downstairs playing). I do think that with the software upgrades that need to be done, this camera will be amazing. I would not recommend this camera for families who are looking for infant monitoring software, so you can wake up in the middle of the night when they do – for a few reasons: Running the software all day or night is really not practical as far as I'm concerned with using your phone/pod/pad. Not that you have to constantly have it on, because of the alarm settings, but still not extremely practical. Also, you might just drive yourself batty every time that they wake up because your alarm goes off. I realized quickly that Ethan sits up several times in the night and turns around and lays down again. As I'm being notified of his movements, I'm not getting the sleep I need to be rested the next day. I would, however, recommend this camera for anyone with babies through teenagers really who are looking for a less constant form of monitoring. If you're looking for a way to take 5 minutes away from work to see your kids, or checking on a babysitter, or any other form of periodic checking that you can think of… this is a great camera. I love that I will have this camera when my youngest goes through the transition out of his crib. I remember with Andrew it was a tough task, and every time I came to check on him, he would get up and start playing again. This way I can watch without disturbing. Also I have encouraged quiet/alone time for each boy even as young as 6 months old, and this would be a great tool to use for that to be sure they're not getting into mischief. To learn more information about the camera and order one for yourself – check out the iHealth – iBaby Monitor online at bestbuy.com.

I have received the reviewed product from Best Buy for free. All opinions are 100% my own.