Printing at my household is touch-and-go. See; I have a laptop that I use around my house to work on, wherever is convenient that day – and my printer just does not look that good in my kitchen, so I keep it downstairs and plug it in as-needed. I print a lot of things at once when I do print. Unfortunately it seems to be that every now and again I go to print all the things I've been waiting to print in a while, and suddenly my printer is out of ink, or I can't find the cord to connect it to my computer! Thankfully I don't have to worry about either of those any more! The Hp – Envy 5530 Wireless E-all-in-one Printer
and the Hp – Instant Ink Program
have changed my LIFE! No-Joke.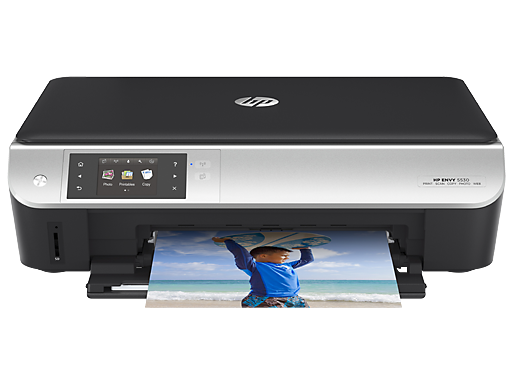 First let's talk about the printer. This printer is so cool – It's got a touch-screen and is completely wirelessly connected to all of my devices. I can even print on-the-go from my phone or any computer that's not even connected. When I registered the printer, it gave me an email address for the printer – and anything I email to it, will print. Couldn't love that more.
Also, another huge feature I love is the wireless scanning. Being a blogger I go through several contracts, printing, signing, scanning, resending. This became a pain when I had to bring the computer downstairs – plug it in – and then scan, edit, name and send the file on. Now – I simply walk downstairs to get the papers I printed, fill them out and sign them, and place them right back on the scanner, and push the buttons. Easy as that! When I walk upstairs I'll find the files in my documents. I could also scan directly to email or my to my connected mobile device. Smart Printer!
HP Instant Ink
Along with this super smart printer – we tried out the new Hp – Instant Ink 100-page Monthly Plan For Select Hp Printers
. For a very minimal $4.99/month (there are also $2.99/mo and $9.99/mo plans based on your printing needs!) HP Instant Ink takes care of all of your ink needs.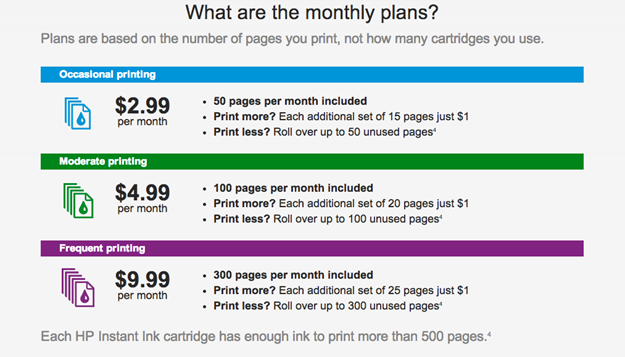 After registering with the program, HP sends out your special cartridges which are actually much larger than the original cartridges that come with the printer. These then are able to be monitored by the printer and let's HP know when you're running low on ink and sends you the new ink before you run out!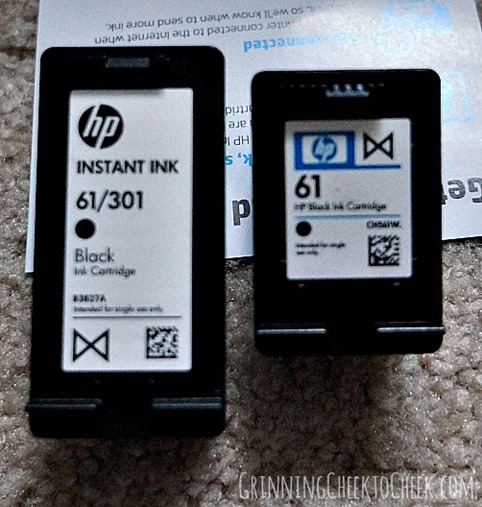 Not only that – but for the $4.99 plan per month, I'm allowed up to 100 prints per month. If I don't use all 100 prints, I can carry over up to 100 prints to other months in case if other months have higher needs. It doesn't matter if I'm printing in black and white or full color prints – all prints are priced equally.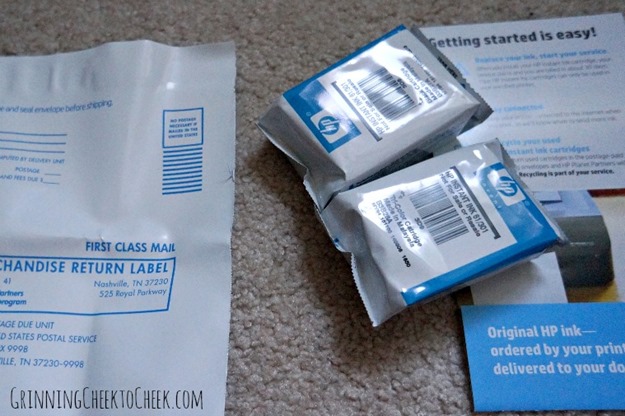 If I need to print many more, I can always upgrade my plan – or if I go over a few prints I can pay per print. Billing of the monthly service doesn't start until you insert the cartridges for the first time. When you receive your new cartridges, a pre-paid label is included to return your empty cartridges by dropping them in your mailbox! Easy as that!
I recommend buying all of your electronics – including the Hp – Envy 5530 Wireless E-all-in-one Printer
and the Hp – Instant Ink Plan For Select Hp Printers
from Best Buy and ordering Geek Squad protection. The HP ENVY 5530 retails for $99.99. A very small price for a fantastic printer!